Mahbubul Khalid`s Durga Puja song highlights religious harmony
News Desk || risingbd.com
Published: 09:38, 15 October 2021 Update: 09:47, 15 October 2021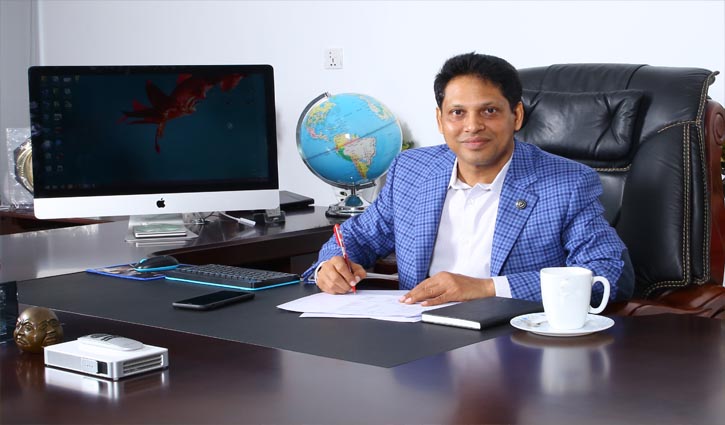 Durga Puja, the biggest religious festival of the Hindu community, is being celebrated across the country amid festivity and religious fervor. Traditionally held for 10 days in the month of Ashvina (September–October), the seventh month of the Hindu calendar, Durga Puja celebrates the victory of the goddess Durga over the demon king Mahishasura.
Durga Puja's first day is Mahalaya, which heralds the advent of the goddess. Celebrations and worship begin on Sasthi, the sixth day. During the following three days, the goddess is worshipped in her various forms as Durga, Lakshmi, and Sarasvati.
The celebrations end with Vijayadashami ("Tenth Day of Victory"), when idols are carried in huge processions to local rivers, where they are immersed. That custom is symbolic of the departure of the deity to her home and to her husband, Shiva, in the Himalayas.
Devi Durga, known to Hindus as the 'destroyer of evil', is characterized by her ten arms carrying various lethal weapons, as well as her vehicle – the lion. Also known as Bhavani, Amba, Chandika, Gauri, Parvati, Mahishasuramardini, Durga is the 'Mother goddess' and the 'Protector of the Righteous' to Hindu devotees.
Noted Bangladeshi poet, lyricist and composer Mahbubul Khalid has penned a song in praise of Durga which highlights the nature of the goddess and calls for harmony among people of different religions.
Prominent composer late Ahmed Imtiaz Bulbul has composed the music of the song titled 'Ma Durga'. Veteran singer Dinat Jahan Munni has rendered her voice to the song.
A music video for the song has been released on the YouTube's 'Khalid Sangeet' channel. In the video, singer Dinat Jahan Munni has appeared to the audience on a beautiful set decorated with various items of Durga Puja.
The song has also been published on Mahbubul Khalid's musical website 'www.khalidsangeet.com'.
Mentionable, the poems and songs written by Mahbubul Khalid contain religious and social festivals of different religions. He writes and composes songs for all humankind irrespective of race, religion and caste. To him, music is not for any race or religion, music is for everyone. His songs and poems are rich with the message of love and humanity.
Apart from Durga Puja, Mahbubul Khalid also wrote songs about Mahalaya and Lord Krishna. He has written songs on the Muslim religious festivals of Ramadan, Eid-ul-Fitr, Eid-ul-Azha, Shab-e-Qadr, Shab-e-Meraj, Shab-e-Barat, Hajj, Eid-e-Miladunnabi etc. He has also written songs on other religious festivals such as Christmas of Christians, Buddha Purnima of Buddhists and so on. These songs written by Mahbubul Khalid clearly show the perspectives and significances of the respective days and festivals.
Augustin Sujan/Mukul