Mahbubul Khalid's song portrays significance of Eid-e-Miladunnabi
News Desk || risingbd.com
Published: 09:07, 20 October 2021 Update: 09:10, 20 October 2021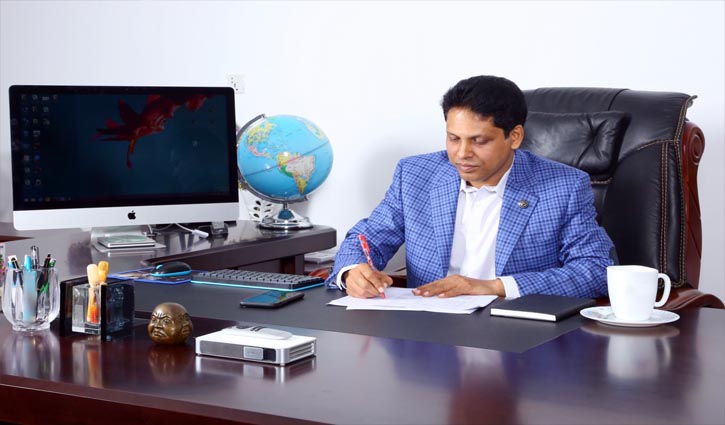 Mahbubul Khalid
The holy Eid-e-Miladunnabi (SM), marking the anniversary of birth and demise of Prophet Muhammad (SM), is being observed today (October 20) with due religious solemnity.
On this day in 570, the 12th of Rabiul Awal of the Hijri calendar, Prophet Muhammad (SM) was born in Makkah of Saudi Arabia to Abdullah and Bibi Amina. He also passed away on the same day in 632 AD.
Prophet Muhammad (SM) attained enlightenment in a cave named Heera near Makkah. He later preached the teachings of the Quran, the holy book of the religion of Islam.
On this day, hymns are sung in praise of the Prophet and it is also believed that listening to those will make one receive worldly and heavenly rewards. Muslims also wear green ribbons or green items of clothing, carry green flags or banners on this day. The green colour is a symbol of Islam and paradise. People also conduct activities like marches, parades, and night long prayers meetings.
Renowned Bangladeshi poet, lyricist and composer Mahbubul Khalid has penned a song on the holy occasion that's highlights the significance of the day and praises Prophet Muhammad (SM). The music of the song titled 'Eid-e-Miladunnabi' has been composed by popular composer late Ahmed Imtiaz Bulbul.
Young and promising singers Kona and Rajib rendered their voices to the song.
A video of the song has been released on YouTube's 'Khalid Sangeet' channel, the song also been published on 'www.khalidsangeet.com', a website that contains the songs and poems of Mahbubul Khalid.
Listeners can also set the song as ringtone and welcome tune of their cellular phone.
Mentionable, the poems and songs written by Mahbubul Khalid contain religious and social festivals of different religions. He writes and composes songs for all humankind irrespective of race, religion and caste. To him, music is not for any race or religion, music is for everyone. His songs and poems are rich with the message of love and humanity.
Apart from Eid-e-Miladunnabi, Mahbubul Khalid also wrote songs on various Muslim religious festivals including Ramadan, Eid-ul-Fitr, Eid-ul-Azha, Shab-e-Qadr, Shab-e-Meraj, Shab-e-Barat, Hajj etc. He has also written songs on other religious festivals such as Durga Puja, Mahalaya, Lord Krishna and Holi of Hinduism, Buddha Purnima of Buddhism, Christmas of Christianity and so on. These songs written by Mahbubul Khalid clearly show the perspectives and significances of the respective days and festivals.
Augustin Sujan/Mukul