Mahbubul Khalid`s song for solidarity with the Palestinian people
News Desk || risingbd.com
Published: 10:23, 29 November 2021 Update: 10:26, 29 November 2021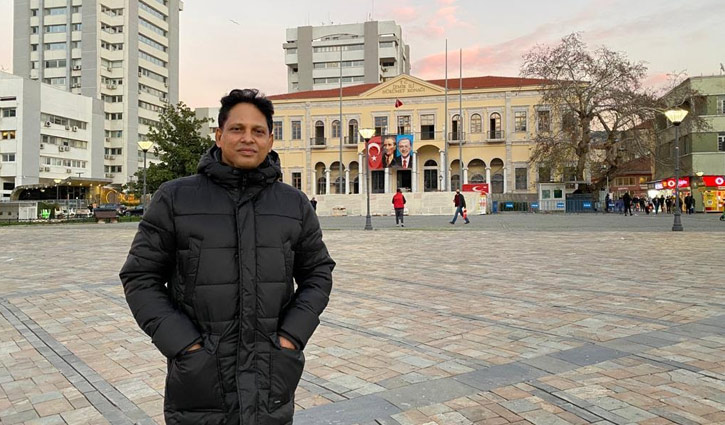 November 29 is observed annually as the International Day of Solidarity with the Palestinian People. On this day in 1947, the United Nations General Assembly (UNGA) adopted resolution 181 (II) which provided for the partition of Palestine into two States.
The UN traditionally celebrates the day by undertaking its annual debate on the question of Palestine. The observance is held at United Nations Headquarters, the United Nations Offices at Geneva and Vienna and elsewhere around the globe.
The day provides the world an opportunity to reflect solidarity with the people of Palestine and to raise awareness of the fact that they still have not gained their rights including the right to self-determination as well as the right to independence.
In over 70 years of the resolution, the world has only seen the Jewish state precipitate on the world map, while the dream of a separate Arab homeland remains stranded.
Noted Bangladeshi poet, lyricist and composer Mahbubul Khalid has penned a song titled 'Save the Palestine' to express his support and condolence to Palestinian people and protest against the atrocities of Israel. The music and tune of the song has been composed by late music director and composer Ahmed Imtiaz Bulbul. Two famous vocalists of the present generation Kishore and Konal have rendered their voices to the song.
In the song, the lyricist calls on the world to save Palestinian women and children. In every lines of the song, feelings of pity and sorrow for Palestinians are seen. Every word of the song is like a protest itself. "Palestine, Palestine, Palestine; We love Palestine; Save the children, Save the women; Save the Palestine," he wrote. Urging the world conscience, the lyricist also wrote: "Arise the world conscience, Resist violence, Stop genocide, Happens over and over."
The lyricist also calls for giving back the rights of Palestinians over their mother lands. "Give back our mother land, give back full rights. Give back our food, They are snatching away yonder. In the name of humanity, they are breaking laws," he wrote.
Beside 'Save the Palestine', Mahbubul Khalid also wrote many other songs, which advocate for humanity and call upon all to stop violence, war and atrocities against humans.
Among the songs 'Juddho Noy Shanti Chai' (No more War, we want Peace), 'Udbasto' (Refugees) and 'Rohingya People' are most noteworthy. Late composer Ahmed Imtiaz Bulbul tuned all the songs.
The songs have been published on Mahbubul Khalid's musical website 'khalidsangeet.com'. Besides, music videos of the songs are also released on YouTube's 'Khalid Sangeet' channel.
Mentionable, poet, lyricist and composer Mahbubul Khalid has penned and tuned a vast number of songs including various days or observance, popular and renowned personalities, social awareness etc. His recent song on Covid-19 pandemic titled 'Corona Ke Voy Koro Na' has been widely appreciated and created awareness on the deadly virus.
Web link of the song: 'Save the Palestine': https://www.khalidsangeet.com/music/save-the-palestine
Augustin Sujan/AI