Is peeling better than scrub?
News Desk || risingbd.com
Published: 18:51, 20 April 2022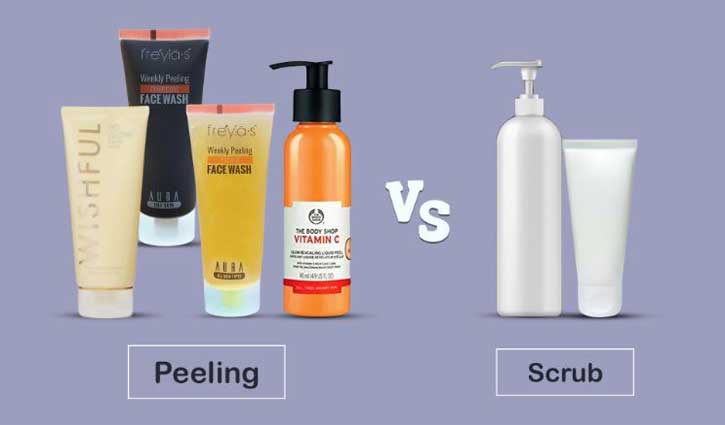 Flawless and glowing skin is cherished worldwide by everyone irrespective of any gender or age.
But to achieve a healthy skin, one must follow the correct and effective way to skin care techniques and methods otherwise it may cause long term permanent skin damage. Exfoliating is one of the most important steps for skin care routine. Exfoliation is not a daily step, instead, it should be done 2 to 3 times a week.
It deep cleans our skin from inside, clears out clogged pores and removes dead skin. When it comes to exfoliation, we often prefer scrubbing to deep clean our skin. But at what cost?
Scrubbing actually does more harm than good, in fact it causes damage to our skin especially when we have dry or acne-prone skin. As people are getting more and more aware of these common skincare problems and seeking effective solution to these issues, many companies have taken initiate to launch innovative skincare products in the market to address these common issues. One such innovative product is "peeling gel" which also works as an exfoliator and works well on most types of skins.
But, the debate still remains which is the best exfoliation technique for our skin? Scrub or peeling solution? Deciding which version is the best, most dermatologists suggest that the peeling solution is much easier and more effective exfoliation process for our skincare routine.
This exfoliator usually has a watery consistency, unlike scrubbing which consists of a gritty texture. Scrubbing damages skin cells, make the skin irritated, and even leaves a micro scratch on the skin that ends up making skin more exposed to UV rays. Peeling is more precise and goes deep into the skin without harming skin cells.
Moreover, peeling helps to treat skin issues like hyperpigmentation, dryness, kills harmful bacteria.
For years' people had to rely solely on scrubbing products as peeling solution wasn't available recent past years in Bangladesh. To help out the customers, Purple Care Ltd. has introduced Freyias Weekly Peeling Face Wash for the first time in Bangladesh.
Freyias Weekly Peeling Face Wash removes the dead skin cells & dirt from the skin which is hassle-free and gentler. It comes in five different exciting variants that include- Milk, Aloe Vera, Charcoal and Papaya. Freyias Weekly Peeling Face Wash enhances the natural beauty with the help of groundbreaking natural extracts-based formulation that aims to improve rough and dull skin.
Sk Sumon/Nasim