'Kaalidas' a whodunit that thrills audience with breathtaking suspense
News Desk || risingbd.com
Published: 13:03, 6 August 2022 Update: 13:04, 6 August 2022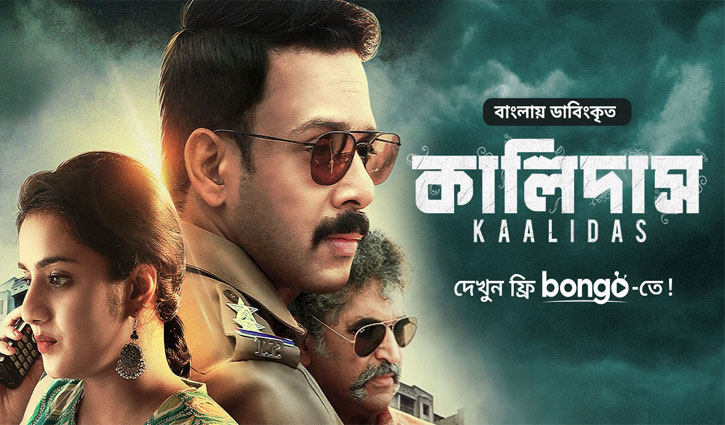 Have you heard of Blue Whale Challenge, an online dare game that went viral a few years back causing of mass suicide around the globe? If you have, this film will glue you to the screen.
Bongo's movie of the month is "Kaalidas", Bangla Dubbed as same, is a true mass suicide story-based Tamil blockbuster action, crime, mystery-thriller starring Bharath Srinivasan and Ann Sheetal. Don't miss this movie if you are a mystery, action and thriller fan. This film will shiver down your spine! The dark web enthusiasts will get awestruck 100% guaranteed!
The story is about Kaalidas, a dedicated cop who is tasked with investigating a series of apparent suicides in his city. However, it puts a strain on his marriage with his wife Vidyaa, who soon seeks solace in their new tenant Aarav.
The film opens with an aerial shot of a multi-storey apartment. A girl falls from the terrace and dies on the spot. A small police team, headed by Kaalidas (Bharath), examines the body and assumes it to be a suicide case. The case turns interesting when several other such incidents happen that leave Kaalidas perplexed. His superior, the ACP George (Suresh Menon), also assists Kaalidas in solving these mass suicide mysteries. But unknown to Kaalidas, his wife Vidya (Ann Seethal) parts with him as she feels her husband doesn't spend enough time with her. Also, Vidya falls for a mystery man Aarav who is not only their tenant but also seems to have connections with the murder traces that Kaalidas follows. How Kaalidas will solve the mystery and resolve his marriage is the prime matter of the story.
The storyline for the crime mystery thriller, written and directed by Sri Senthil, was developed over five months, from October 2017 to February 2018. In March 2018, the shooting started. Finally, it was released on December 13, 2019, and became a box office success.
About this movie of the month, Bongo's Deputy Chief Content Editor, Zahid Ahmed, said, "Our movie Kaalidas (Bangla dubbed as same) is for those who love to solve mysteries and have the patience to hold the curiosity till the end. The director doesn't hold back when it comes to engulf the audience with the web of suspense. The haunting score and stylized editing enhance the thrill even more. So much so that it is promised to freeze our audience to their seats. We hope our audience enjoys this thrill ride and go on to check out our other South Indian Blockbuster movies too."
If you want the best content from Bangladesh and worldwide, download the Bongo app from Google Play Store or iOS Store; visit www.bongobd.com.
Dhaka/AI