Mahbubul Khalid's football song calls for harmony (video)
Desk Report || risingbd.com
Published: 18:02, 24 November 2022 Update: 18:04, 24 November 2022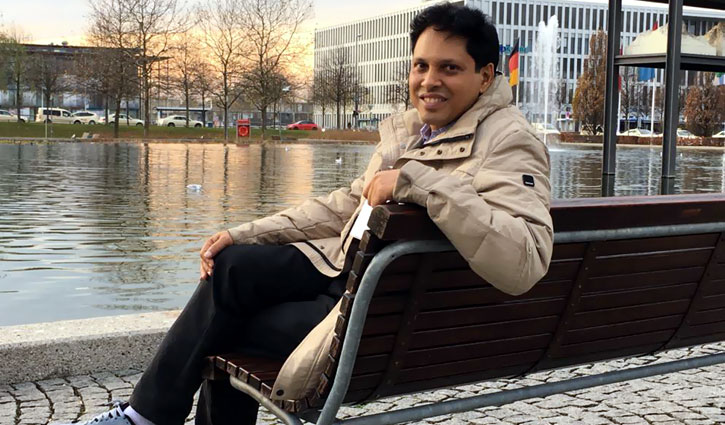 The world is experiencing football madness on the occasion of the ongoing football's greatest show on earth, the FIFA World Cup, being held in Qatar.
Bangladeshi poet, lyricist and music composer Mahbubul A Khalid has composed two songs regarding this great football event, calling for peace and harmony in it.
Tuned by Mahbubul A Khalid himself, the two songs are titled as 'Eso Football Kheli' (Come to play football) and 'O-Le-Le-O-Le-Le Biswacup Biswacup' (O-Le-Le-O-Le-Le World Cup World Cup).
Note that Mahbubul A Khalid used to compose songs for every football and cricket world cup. Those songs allow different social messages beside the games' entertainment inside. His other songs composed on different previous world cup events, include 'Bishwa Tomar Dristi Ferao' (World, turn your eyes), 'Agiye Chol Royal Bengal', (March on Royal Bengal), 'Cricket Moder Garbo Cricket Ahangkar' (Cricket is our Pride) and 'Ayre Ay Tarun Dal' (Come on youngers) got huge popularity.
Two young vocalists Dip Bappi Sabrina Nowshin rendered their voices for 'Eso Football Kheli' song while noted musicians Rajib and Sangeeta for 'O-Le-Le-O-Le-Le Biswacup Biswacup'. The songs are released and available at Khalid Sangeet (khalidsangeet.com), the personal website of the composer.
A music video has already been released for the song -'Eso Football Kheli'- on the 'Khalid Sangeet' YouTube channel and simultaneously on 'Khalid Sangeet' Facebook page. However, the music video for the 'O-Le-Le-O-Le-Le Biswacup Biswacup' song is underway and will be released on those platforms soon.
The song 'Eso Football Kheli' calls for people to stop war and fighting, throw away malevolence with following the path of morality and forget the differences of religion and caste and pull everyone together.
Football is not only a game but one of the ways to unite the worldwide people. This game is a medium of bonding peace, harmony, and brotherhood among people. These two football world cup songs have revealed a message.
Click here to listen and watch the song 'Eso Football Kheli'
Augustin Sujan/Nasim