Devoted football fans experience 'dangerous' levels of stress
Published: 05:37, 27 January 2020 Update: 15:18, 26 July 2020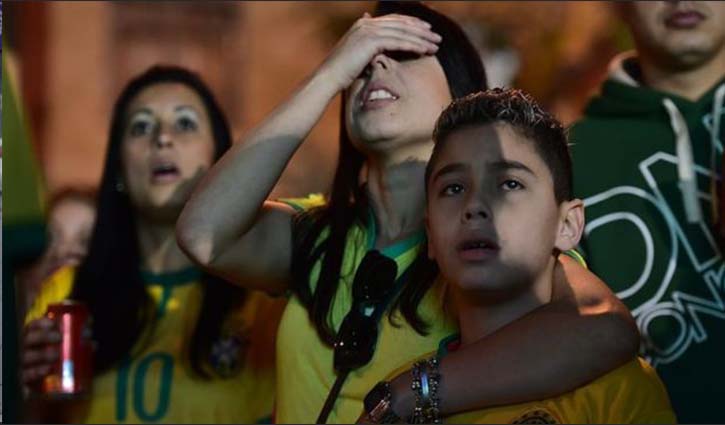 Devoted football fans experience such intense levels of physical stress while watching their team they could be putting themselves at risk of a heart attack, research suggests.
The Oxford study tested saliva from Brazilian fans during their historic loss to Germany at the 2014 World Cup.
It found levels of the hormone cortisol rocketed during the 7-1 home defeat in the semi-final.
This can be dangerous, increasing blood pressure and strain on the heart.
The researchers found no difference in stress levels between men and women during the game, despite preconceptions men are more "bonded to their football teams".
"Fans who are strongly fused with their team - that is, have a strong sense of being 'one' with their team - experience the greatest physiological stress response when watching a match," said Dr Martha Newson, researcher at the Centre for the Study of Social Cohesion, at Oxford.
"Fans who are more casual supporters also experience stress but not so extremely."
Raised cortisol can also give people a feeling of impending doom, that their life is in danger or they are under attack.
Previous research has shown an increase in heart attacks among fans on important match days, whether supporting club or country.
In their study, the University of Oxford researchers tracked cortisol levels in 40 fans' saliva before, during and after three World Cup matches.
We now know this is not a virus that will burn out on its own and disappear.
Only the decisions being made in China - including shutting down cities - can stop it spreading.
Scientists have revealed each infected person is passing the virus onto between 1.4 and 2.5 people.
It is known as the virus's basic reproduction number - anything higher than 1.0 means it's self-sustaining.
Those figures are early estimates, but put coronavirus in roughly the same league as Sars. There are two crucial outstanding questions - who is infectious and when are they infectious.
The fact only 25% of reported cases are severe is a mixed blessing.
Yes, that is less dangerous than Sars, but if those hard-to-detect mild or maybe symptomless cases are contagious too, then it is much harder to contain.
And we still don't know when people are contagious. Is it before symptoms appear, or only after severe symptoms emerge? One is significantly harder to stop spreading than the other.
The impact of the coronavirus is not limited to Hubei province. Authorities have also shut major tourist sites including the Forbidden City in Beijing and a section of the Great Wall and cancelled major public events in other parts of the country, including:
Source: BBC
Dhaka/Mukul
risingbd.com