Autistic Saniya Rahman wins heart in Social Media
Benjir Abrar || risingbd.com
Published: 13:14, 6 July 2021 Update: 14:37, 6 July 2021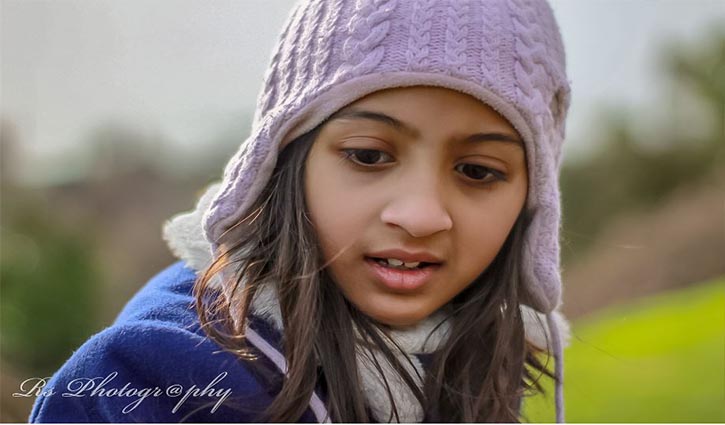 Autistic children are neglected by everyone, but this is completely wrong. We should remember that they are also parts of our society. Sajmun Nahar is saying the words on his mobile phone from London.
Let's begin the story. Children with autism should be immersed in themselves. Their world is full of infinite wonder. They want to touch the world. Never caught, never given. They are just like them.
They stay with themselves along with their own attitudes of smiling or tearing. Is this a sign of arrogance? But when it comes to children with autism, let's not forget about their parents. This is the story of one of these parents who accepted immense sacrifice and suffering.
Sajmun Nahar and her husband Lutfar Rahman are now living in London, UK. Lutfar is a professional event organizer. 9 years ago today, twins Saniya and Sanika were born to this couple. However, it was later found out that Sania is autistic.
Sadly, the families of children with autism face high physical, mental and emotional burdens in almost all societies. This couple could have thought it too, but they didn't. They are satisfied with the child given by the creator.
But in the midst of their busy lives, they seemed to be peeking at the word 'neglect' made up of autistic children in society. Are they really neglected? This is where the new story begins.
Find out why they are being neglected! The solution is to find that most autistic children have to gain a little speed in their families to understand the needs of their children or for various reasons, but not so in the case of the Lutfar-Sajmun.
So this couple thought that by posting a video of caring for her child online, they would play a helpful role for other autistic children. It did not take much time to implement the thought. The launched social media-based channel Saniya Rahman vlog.
They started posting their own baby videos and everyday pictures. The goal is very simple, the Bangladeshi parents can find out about their autistic children. Where every video shows the image of Saniya's daily story and the duties of parents.
It did not stop there. In addition to daily life, online live sessions are being organized, where various experts from Bangladesh are appearing to discuss the duties and care of an aesthetic child.
How are you responding? Listen to the answer from Lutfar, 'In fact, in the beginning, I didn't think people would accept it so well. We are getting quite a good response. Not only that, many parents in Bangladesh are asking us various questions about their autistic children, we are trying to solve them. There are currently more than 16,000 families connected to this virtual world created for autistic children. Saniya's current age is 9 years.
Lutfar said autistic children are also able to play an important role in society. They should be brought among all and allowed to live well. What is the plan for the future? The goal is the same - to ensure their healthy life.
Dhaka/Mahfuz/Mukul