How to clean bold hypertension
Md. Injamul Huq || risingbd.com
Published: 09:23, 19 October 2021 Update: 09:37, 19 October 2021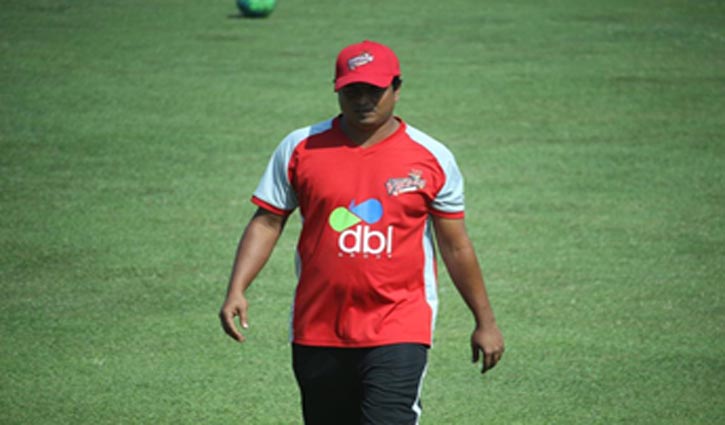 Ashraful Alam (Ziko), 35 years old athlete, has kept his type-2 diabetes and hypertension under control.
Every day, millions of people just like us are being diagnosed with high or low blood pressure in our neighborhood and across the country.
Ashraful Islam Ziko (35) has kept his type-2 diabetes and hypertension under control by measuring blood pressure, and maintaining healthy values by lifestyle adjustments and required medication. He has been living with type-2 diabetes mellitus and hypertension for over 3 years.
Ziko is serving as senior specialist coach in Masco Shakib Cricket Academy and assistant coach & trainer of Gazi Group Cricketers & Dhaka Metro.
As much as he was surprised to think of himself as a diabetic patient as an athlete, he wasn't so surprised about hypertension. Because he has to endure different types of mental stress in the workplace, which makes it normal for him to have high blood pressure.
In his opinion, there is more stress on a coach than a spectator or player on the field. Since his grandfather and father were also suffered from the same type of disease, he takes these diseases as a genetically unavoidable disease. Yes, he indeed became stress when he was diagnosed with diabetes, but he managed this by some interesting management.
As an athlete, there is some difference in his way of life than civilian people e.g. physical exercise, swimming, fixed diet chart, etc. Regular early morning jogging and swimming are mandatory for him and his team, even he can't take food randomly except calculation by the analysis of their official dietician.
When I wanted to know how you control the pressure in the case of exciting matches; He replied that "Just like we do regular physical exercise, we have to do mental exercise too; There is a trained psychologist who strengthens us mentally so that we (everyone from players to coaches) can accept any result and get better results from the current situation". So, these are the factors how he controls his hypertension and diabetes. According to his opinion, a strict disciplinary lifestyle not only saves you from diabetes and hypertension but also help in living a healthy and happy life.
"You may not realize that Wasim Akram is a diabetes patient because he lives a disciplined lifestyle, so why not I try? Alhamdulillah at this age not only my diabetes and hypertension is under control but also my physical appearance and physical strength are much better than other. And it is not necessary that you must be an athlete to live a disciplinary life, it will depend entirely on your mental willpower", said Md. Ashraful Islam (Ziko).
He recommends everyone to control hypertension and diabetes by taking a healthy diet, being physically active, quitting smoking and alcohol, getting enough sleep- overall a disciplined lifestyle.
Writer: Md. Injamul Huq, Program Implement Officer, Eminence Association for Social Development. [email protected]
Dhaka/Mukul