US election: Trump 108, Biden 131
News Desk || risingbd.com
Published: 08:33, 4 November 2020 Update: 09:51, 4 November 2020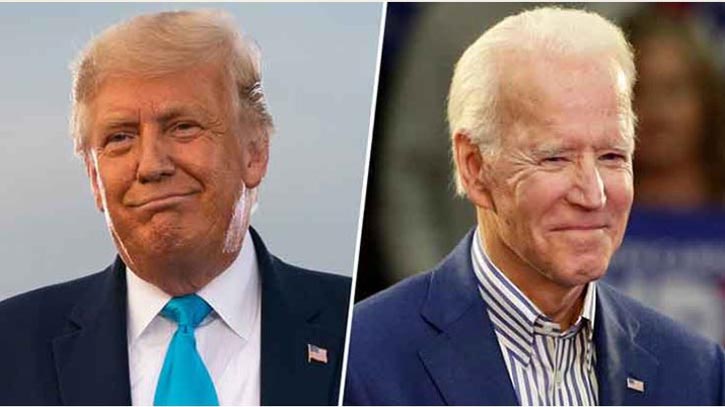 Joe Biden is still favoured to win Tuesday's presidential election, according to the final opinion polls, but a tightening race in several key states offers Donald Trump rising hopes of a pathway back to the White House and brings the election down to the wire.
Biden's electoral vote count now stands at 131, meaning he is about halfway to the 270 votes needed for victory. Donald Trump has captured 108
We still have a long night ahead of us, but the results so far indicate Joe Biden has underperformed in Florida and Georgia in comparison to his polling there.
With about 91% of the Florida vote in, Donald Trump leads Biden by about 3 points, 51%-48%.
In Georgia, where 54% of the vote is in, Trump leads by 13 points, 56%-43%.
Florida was seen as a toss-up, although a recent poll showed Biden ahead there by 5 points. The Democratic nominee was also seen as slightly favored to win Georgia.
It's important to remember Biden did not absolutely need to win Florida or Georgia. If he can win in Michigan, Pennsylvania and Wisconsin, he will still capture the White House.
However, Biden wins in Florida or Georgia would have almost certainly eliminated any chance of a Trump victory. That does not seem to be the case tonight.
Instead, we will likely have to wait for results from the Midwestern battlegrounds to determine the winner of the presidential race.
Dhaka/Mukul