Biden will not publish contents of Trump`s letter
Chhabed Sathee, Staff Reporter, USA || risingbd.com
Published: 15:35, 21 January 2021 Update: 15:39, 21 January 2021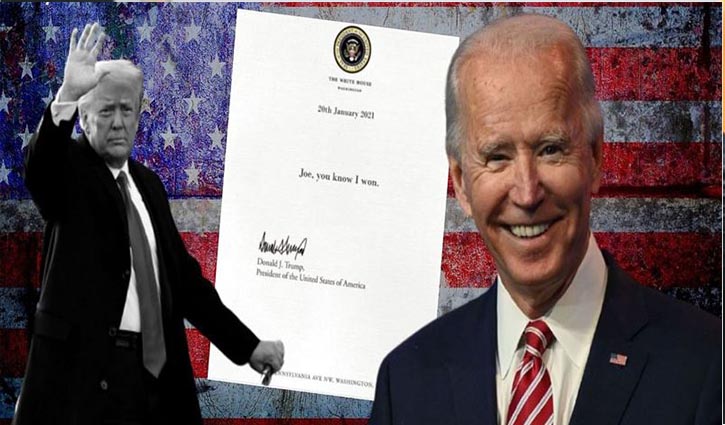 Biden will not comment on a secret letter written by outgoing President Donald Trump to US President Joe Biden.
Trump has traditionally left a letter in the Oval Office for his successor, Joe Biden.
Trump wrote letter to Biden before leaving the Oval Office on January 20.
Biden received the letter from his predecessor. This information was confirmed by White House spokesman Jad Derry.
President Joe Biden said Wednesday that former President Donald Trump left him a "very generous letter" before departing the White House.
Biden, speaking from the Resolute Desk in the Oval Office after signing Day One executive orders, said he would not immediately reveal the contents of the letter out of respect for Trump.
"The President wrote a very generous letter," Biden told reporters. "Because it was private, I will not talk about it until I talk to him, but it was generous."
A senior Trump aide described the letter to media as a "personal note" that prays for the success of the country and the new administration to care for the country. The aide said writing the letter to Biden was one of the many items on Trump's list in the Oval Office Tuesday night.
It is a modern tradition for outgoing presidents to write their successors a letter and leave it for them on the Resolute Desk in the Oval Office. Trump did not show the note he left Biden to many of his aides, according to one person.
In a briefing Wednesday night, White House press secretary Jen Psaki declined to offer more details on the letter Trump left for Biden, telling reporters that, based on comments from Biden, "this is a letter that was private, as he said to you all, it was both generous and gracious, and it was just a reflection of him not planning to release the letter unilaterally."
Dhaka/Mukul