Biden announces U.S. troops to leave Afghanistan
News Desk || risingbd.com
Published: 08:28, 15 April 2021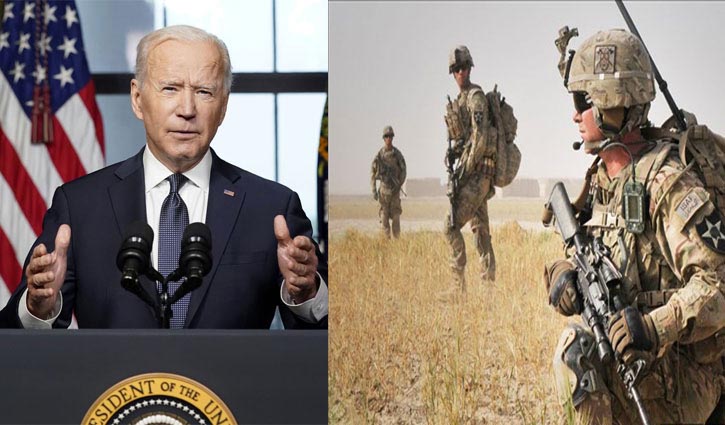 President Joe Biden said Wednesday he will withdraw U.S. combat troops from Afghanistan by Sept. 11, ending America's longest war.
The removal of approximately 3,000 American service members coincides with the 20th anniversary of the Sept. 11, 2001, terror attacks which spurred America's entry into lengthy wars in the Middle East and Central Asia.
"It is time to end America's longest war. It is time for American troops to come home," Biden said in his televised address from the White House Treaty Room, where former President George W. Bush announced military action against al-Qaeda and the Taliban in October 2001.
"I am now the fourth American president to preside over an American troop presence in Afghanistan. Two Republicans. Two Democrats. I will not pass this responsibility to a fifth," Biden said, adding that the U.S. mission would be solely dedicated to providing assistance to Afghanistan and supporting diplomacy.
During his address, Biden invoked the military service of his own son — Beau Biden, who deployed to Iraq for a year and later died of cancer in 2015. He is the first president in 40 years to have a child serve in the U.S. military and serve in a war zone.
The president said the U.S. achieved its objectives a decade ago when it killed Osama bin Laden, the leader of al-Qaeda — the terrorist group that launched the Sept. 11 attacks. Since then, the U.S. reasons for remaining in Afghanistan have become unclear as the terrorist threat has dispersed across the globe, Biden said.
"With the terror threat now in many places, keeping thousands of troops grounded and concentrated in just one country, at a cost of billions each year, makes little sense to me, and to our leaders," Biden said. "We cannot continue the cycle of extending or expanding our military presence in Afghanistan, hoping to create ideal conditions for the withdrawal and expecting a different result."

Dhaka/Mukul