Prayers offered for relief from coronavirus on 'Jumatul Bidah'
Staff Reporter, USA || risingbd.com
Published: 11:15, 8 May 2021 Update: 14:55, 8 May 2021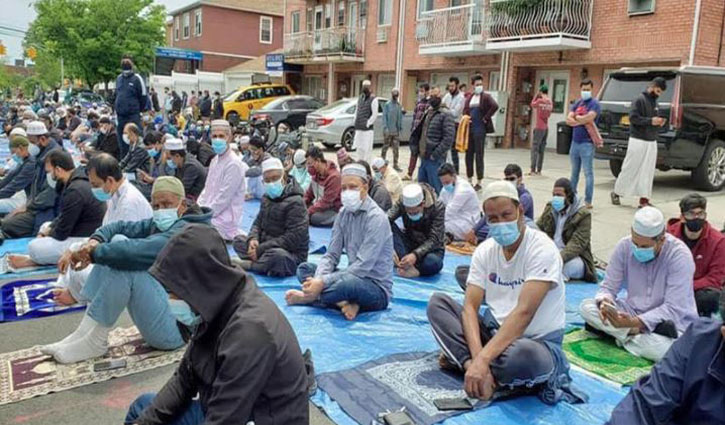 The last Friday of the month of Ramadan, 'Jumatul Bidah' prayers in mosques in different states of the United States, including New York, are offered for world peace and relief from coronavirus.
Besides, the Friday sermon also called for providing assistance to the able-bodied people in this situation.
Located in New York, New Jersey, Pennsylvania, Washington DC, Virginia, California, Texas, Florida, Ohio, Illinois, Colorado, Delaware, Georgia, Kansas, Maryland, Michigan, South Carolina, Washington D.C and Kentucky Worshipers started coming to different mosques from 12 noon on Friday to observe the last Friday in different states. Before the prayers began, all the mosques were filled to the brim. In many areas, they performed Jain prayers in the open field.
Besides, religious statements are made in different mosques. Islamic thinkers are making important statements highlighting the significance of Ramadan in the light of the Qur'an and Hadith.
Although hygiene and social distance were supposed to be observed at all levels, the distance was not observed in many mosques due to the large number of people. However, most of the worshipers had masks on their faces. In these mosques, people are asked to pay Fitra before Eid prayers.
Everyone prays for salvation on the day of Jumatul Bidah as part of fasting and worship during the month of Ramadan. In every mosque, prayers are offered for world peace and liberation from coronavirus. Besides, the worshipers seek forgiveness and mercy in the court of Allah Almighty. Many broke down in tears to be saved. Prayers are also offered for the rest of the year to be free from sin and evil.
Friday is more important to Muslims than any other day of the week. The Fridays of the month of Ramadan, which bring gifts of mercy, forgiveness and salvation, are even more dignified. Especially the last Friday of this month is celebrated with utmost importance by the devout Muslims. At the same time, this day is also called Al Quds Day.
According to Islamic thinkers, the best day of the month of Ramadan is Jumatul Bidah. The last Friday or last Friday of the month of Ramadan is known in the Muslim world as Jumatul Bidah. Al-Quds Day is celebrated on the last Friday of this month. So the importance and significance of the day is immense.
Dhaka/Chhabed Sathee/AI