Putin, Erdogan discuss ties, Ukraine crisis
Published: 13:12, 18 March 2022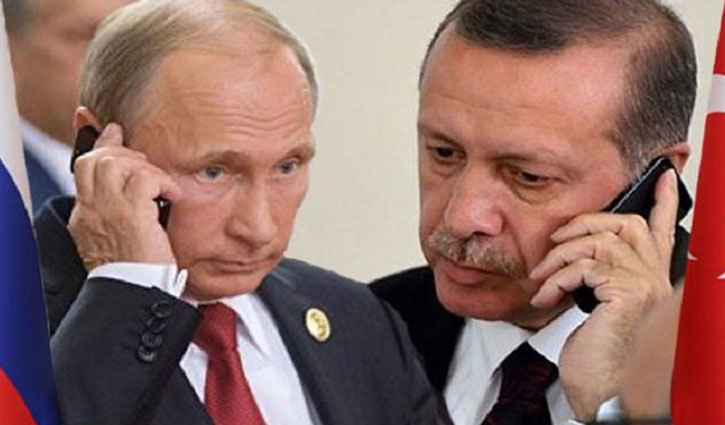 Russian President Vladimir Putin and Turkish President Recep Tayyip Erdogan discussed bilateral cooperation and the Ukrainian crisis during a phone conversation on Thursday.
The leaders positively assessed the recent talks between their foreign ministers and voiced support for the further development of mutually beneficial trade and economic cooperation, the Kremlin said in a statement.
They also exchanged views on Russia's special military operation in Ukraine, and Putin briefed Erdogan about the Moscow-Kiev peace talks.
Erdogan thanked Putin for the evacuation of Turkish citizens from Ukraine and the safe exit of ships with Turkish cargo from Russian ports in the Sea of Azov.
In the call that came amid the ongoing Russian invasion of Ukraine, Erdoğan also underlined that Turkey has been sincere in its efforts to find a solution to the ongoing conflict.
Erdoğan also told Putin that a permanent cease-fire will lead to a long-term solution, and that he wishes the talks between Ukrainian and Russian officials will bear fruit.
The president also told Putin that the humanitarian situation on the ground should be assessed and humanitarian corridors should be managed effectively.
Erdoğan underlined that "war does not benefit anyone" and said Turkey will continue its efforts to establish a dialogue between the two sides while also stressing the importance of humanitarian corridors.
The president also told Zelenskyy that Turkey continues to exert diplomatic effort to restore peace between Russia and Ukraine and aims to achieve a permanent cease-fire as soon as possible.
Russia's invasion of Ukraine, which began on Feb. 24, has drawn international condemnation, led to financial sanctions on Moscow and spurred an exodus of global firms from Russia.
Source: Agencies

Dhaka/Mukul