Maharashtra Chief Minister Thackeray resigns
News Desk || risingbd.com
Published: 11:26, 30 June 2022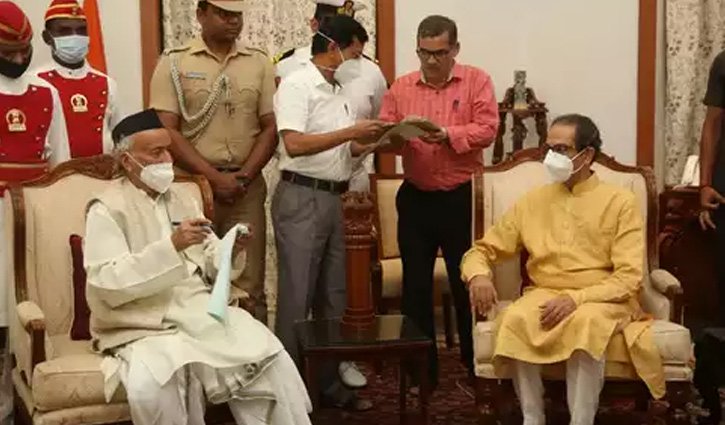 Uddhav Thackeray on Wednesday resigned as the Chief minister of Maharashtra.
This comes immediately after the Supreme Court refused to stay Maharashtra Governor's direction to the Uddhav Thackeray-led Maha Vikas Aghadi (MVA) government to take a floor test in the Assembly on Thursday.
"I had come (to power) in an unexpected manner and I am going out in a similar fashion. I am not going away forever, I will be here, and I will once again sit in Shiv Sena Bhawan. I will gather all my people. I am also quitting as member of Legislative Council," Thackeray said while addressing the people live on Facebook.
He said he has no regret about leaving his post. "I am not sticking to power. I don't want to play this game," he said.
Thackeray also expressed gratitude to NCP and Congress parties for supporting him during the address. He also appealed to Shiv Sainiks to not interfere in the celebrations of rebel camp tomorrow.
"I am asking the Sena not to interfere and let them (rebels) celebrate the bringing down of the govt of the son of Shiv Sena supremo Bal Thackeray. I need just your love (Sainiks)," he said.
The rebels, earlier in the evening, left Guwahati where they were camping for over a week and landed in Goa.
Let the rebels who grew politically because of Shiv Sena and Balasaheb Thackeray get joy and satisfaction of pulling down his son from the post of chief minister," Uddhav Thackeray said. "I don't want to get into the numbers' game. It would be shameful for me to see if even one of my own party colleagues stands against me," he said.
Earlier, vacation bench of Justices Surya Kant and J B Pardiwala of the Supreme Court said it was "not staying the floor test as convened by the Governor" but "tomorrow's proceeding in the Assembly will depend on the final outcome of this petition.' The Shiv Sena had challenged before the apex court Maharashtra Governor Bhagat Singh Koshyari's order to the Assembly secretary to schedule a floor test on Thursday morning._The Economic Times
Dhaka/AI