Hurricane Ian approaches Florida as Category 4
News Desk || risingbd.com
Published: 21:35, 28 September 2022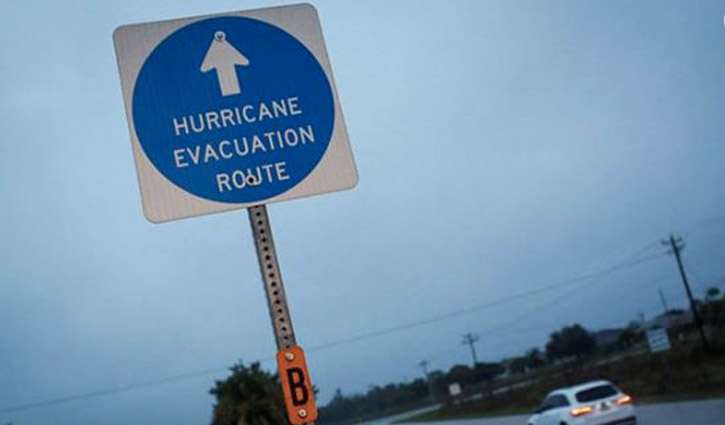 File photo
Hurricane Ian rapidly intensified off Florida's southwest coast Wednesday morning, gaining top winds of 250 kilometres per hour, just shy of the most dangerous Category 5 status. Damaging winds and rain lashed the state's heavily populated Gulf Coast, with the Naples to Sarasota regions at "highest risk" of a devastating storm surge.
U.S. air force hurricane hunters confirmed Ian gained strength over warm Gulf of Mexico waters after battering Cuba, where island residents were left without power.
The. U.S. National Hurricane Center in Miami said Ian was centred about 100 kilometres west-southwest of Naples at 7 a.m. ET, swirling toward the coast at 17 kilometres per hour. Meteorologists and the Federal Emergency Management Administration have said that speed could slow as it nears landfall in Florida, meaning the storm could linger before it passes through.
The major hurricane has prompted warnings of possibly dangerous storm surge along the state's heavily populated Gulf Coast from Bonita Beach to the Tampa Bay region.
"Ninety per cent of your fatalities in these tropical systems come from the water — it's the storm surge, it's the rain," said National Weather Service director Ken Graham.
Graham emphasized the slow speed of the system at a Wednesday briefing, indicating that it would take about 24 hours after landfall for Ian to pass through Florida. He also urged residents to exercise caution and follow instructions if using gas generators, which also have led to storm-related death in past hurricanes.
The precise location of landfall was still uncertain, but with Ian's tropical storm-force winds extending 280 kilometres from its centre, flash floods were possible across the whole state. Isolated tornadoes were spinning off the storm well ahead of landfall, one of which damaged small planes and a hangar at the North Perry Airport, west of Hollywood along the Atlantic coast.
The most damaging winds could hit a rapidly developing coastline where the population has jumped sevenfold since 1970, according to the U.S. census, which shows Lee County has seen the eighth-largest population growth among more than 180 Atlantic and Gulf coast counties in the past 50 years.
There were 250,000 people in the Fort Myers/Lee County mandatory evacuation zones, and authorities worried ahead of the storm how many would leave.
"This is going to be a nasty, nasty day, two days," Florida Gov. Ron DeSantis said early Wednesday. "This is going to be a rough stretch."
Floridians rushed to board up their homes, stash precious belongings on upper floors and flee.
"You can't do anything about natural disasters," said Vinod Nair, who drove inland from the Tampa area Tuesday with his wife, son, dog and two kittens seeking a hotel in the tourist district of Orlando. "We live in a high-risk zone, so we thought it best to evacuate."
Nair and his family were among at least 2.5 million Florida residents ordered to evacuate in anticipation of a powerful storm surge, high winds and flooding rains. _Agencies
Dhaka/AKA