Anwar Ibrahim reiterates to give up his PM salary
News Desk || risingbd.com
Published: 16:35, 26 November 2022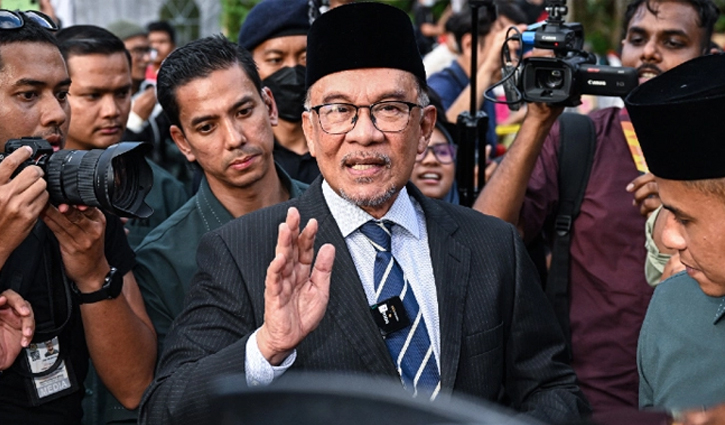 Photo: Collected
Datuk Seri Anwar Ibrahim, Malaysia's newly appointed Prime Minister, reiterated that he would not take his PM's salary, in solidarity with the people who are struggling with the rising cost of living.
He stressed that the new government's first step should restore the confidence of the people, "so that they don't see ministers and leaders regardless of political party and religion who think about salaries, contracts and shares."
"So I choose to not take my prime minister salary," he replied to a reporter's question at his first press conference, after being sworn-in as Malaysia's PM.
He says he will focus on the economy, tackle Malaysia's rising cost of living and combat corruption.
Anwar also intends to downsize his Cabinet and lower the salaries of ministers.
Many ASEAN countries' leader, including Singapore Prime Minister Lee Hsien Loong have relayed their congratulation to Mr Anwar.
"My warmest congratulations on your victory at the 15th General Election and on being sworn in as Malaysia's 10th Prime Minister," said PM Lee.
On 24 November, 75-year-old veteran politician Anwar has been successfully sworn in as 10th prime minister in front of the Malaysia King at Istana Negara, marking the end of his two-decade-long "Reformasi" political struggle.
During the campaign period, the Pakatan Harapan(PH) chairman promised that he would not take his salary if he is appointed the prime minister.
He explained that this is because he was ashamed that the people were struggling with rising prices while their salaries remained the same.
"I will not take a salary as the prime minister because I am ashamed to take an RM80,000 salary when the Orang Asli villagers I visited find it difficult to get RM400 a month, so do people who are receiving RM1,500 (minimum salary)," Mr Anwar said so when he was campaigning at Sungai Siput, Perak on 14 Nov.
He also made a promise during the political campaign, that he and his family members will not receive any government projects, to strengthen the faith of the people who assumed all politicians are the same and are only interested in enriching themselves. _Agencies
Dhaka/AKA