Congratulations pour in as Erdogan wins Turkish presidential election
News Desk || risingbd.com
Published: 10:10, 29 May 2023 Update: 10:15, 29 May 2023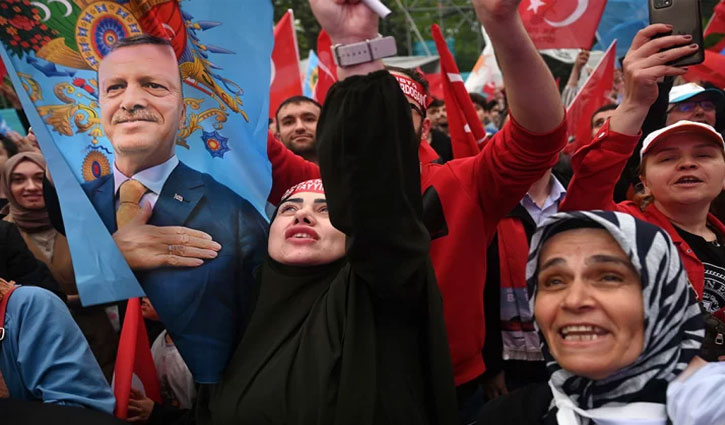 Turkish President Recep Tayyip Erdogan appealed for national unity Monday after winning a historic runoff election that extended two decades of his transformative but divisive rule until 2028.
The 69-year-old overcame Turkey's worst economic crisis in a generation and the most powerful opposition alliance to ever face his Islamic-rooted party on his way to his toughest election win.
Streets erupted in car-honking jubilation and tributes poured in from across the world as Turkey's most important leader in modern history led a sea of supporters in celebratory song outside his presidential palace in Ankara.
"We should come together in unity and solidarity," Erdogan told the chanting and flag-waving crowd.
"We call for this with all our heart."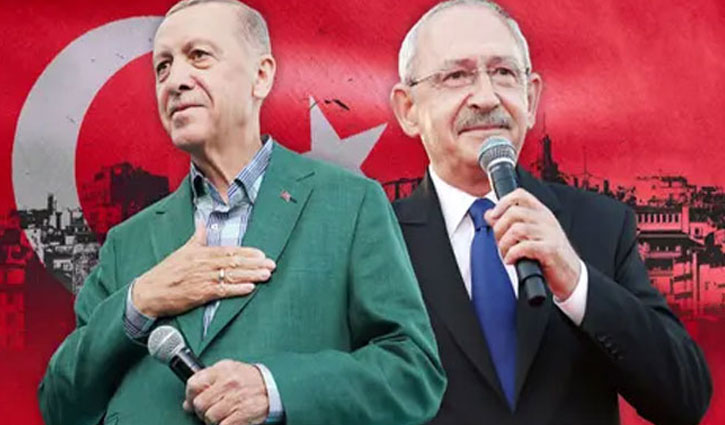 Leaders around the world expressed their regards to Recep Tayyip Erdogan after he won another term.
UN chief Antonio Guterres said through a spokesman that he "looks forward to further strengthening the cooperation between Turkiye and the United Nations", using an alternate spelling for Turkey.
German Chancellor Olaf Scholz congratulated Recep Tayyip Erdogan on his election victory.
"Congratulations to President Erdogan - together we want to advance our common agenda with a fresh impetus!" Scholz said on Twitter, hailing the two countries' close "partnership and alliance."
US President Joe Biden expressed his best wishes to Erdogan, saying he looked "forward to continuing to work together as NATO allies on bilateral issues and shared global challenges."
Russian President Vladimir Putin also congratulated the Turkish leader, saying his victory was "the logical result" of his dedicated work as head of the Turkish Republic. Putin also praised Erdogan for his "personal contribution to the strengthening of friendly Russian-Turkish relations."
Ukrainian President Volodymyr Zelenskyy said he was counting on building the partnership with Turkey, in his congratulatory words to Erdogan. He said he looked forward to strengthening cooperation "for the security and stability of Europe."
Pakistan's Prime Minister Shehbaz Sharif described the long-reigning Turkish leader as a "pillar of strength for the oppressed Muslims" as well as an "ardent voice for their inalienable rights." Qatar and Iran also offered their congratulations.
Separately, Hungary's Viktor Orban praised Erdogan's "unquestionable election victory" on Twitter.
Both the European Union and the NATO alliance sent their congratulations to Erdogan, with whom both organizations have clashed multiple times during his 20-years of ruling Turkey.
Leaders across Europe and the Arab world also sent their congratulations -- as did former US president Donald Trump.
Longest-serving leader
Turkey's longest-serving leader was tested like never before in what was widely seen as the country's most consequential election in its 100-year history as a post-Ottoman republic.
Kilicdaroglu pushed Erdogan into Turkey's first runoff on May 14 and narrowed the margin further in the second round.
Opposition supporters viewed it as a do-or-die chance to save Turkey from being turned into an autocracy by a man whose consolidation of power rivals that of Ottoman sultans.
Kilicdaroglu's brief concession statement expressed "real sadness about the big difficulties awaiting the country" with Erdogan.
The opposition leader had re-emerged a transformed man after the first round.
The 74-year-old former civil servant's message of social unity and freedoms gave way to desk-thumping speeches about the need to immediately expel migrants and fight terrorism.
His right-wing turn was targeted at nationalists who emerged as the big winners of the parallel parliamentary elections.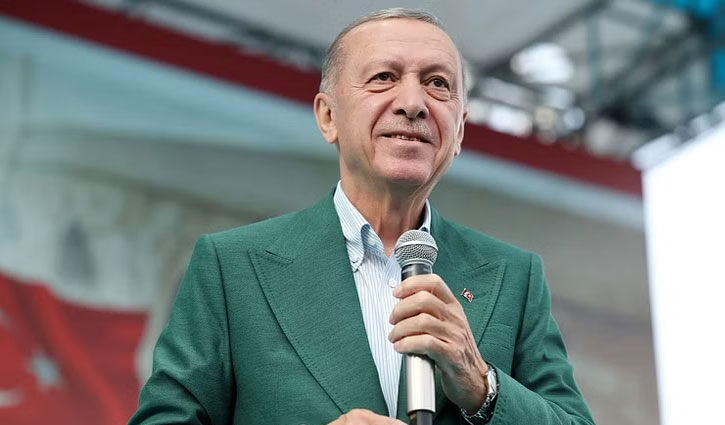 Champion of poor
Erdogan is lionised by poorer and more rural swathes of Turkey's fractured society because of his promotion of religious freedoms and modernisation of once-dilapidated cities in the Anatolian heartland.
But he has caused growing consternation across the Western world because of his crackdowns on dissent and pursuit of a muscular foreign policy.
He launched military incursions into Syria that infuriated European powers and put Turkish soldiers on the opposite side of Kurdish forces supported by the United States.
His personal relationship with Putin has also survived the Kremlin's war on Ukraine.
Turkey's troubled economy is benefiting from a crucial deferment of payment on Russian energy imports that helped Erdogan spend lavishly on campaign pledges this year.
Erdogan also delayed Finland's membership of NATO and is still refusing to let Sweden join the US-led defence bloc._Agencies
Dhaka/AI