'Give up journalism, leave the country'
Ariful Islam Sabbir, Savar || risingbd.com
Published: 12:12, 27 April 2021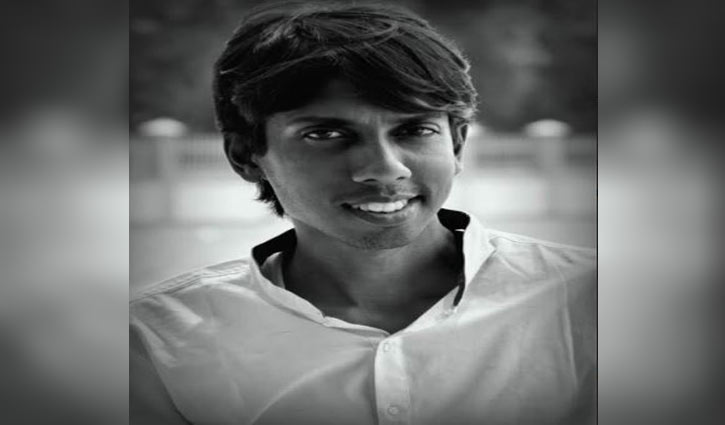 Journalist Siam Sarower Jamil was abducted on April 22. He has been working as a senior reporter at the Dhaka bureau of the Kathmandu Tribune published from Nepal. Prior to this, he worked in RTV for a long time. He is also the Bangladesh correspondent of Indian newspaper 'Aajker Kagaj'. He was held hostage for about 24 hours after the abduction. He was brutally tortured at that time. His body has numerous sharp weapon marks. He was rescued from Nabinagar area of Savar on the night of April 23 and was later admitted to a private hospital in the capital. While lying in the hospital bed, he had an open conversation with Ariful Islam Sabbir, a correspondent of online news portal Risingbd.com.
Risingbd: How is your physical condition now?
Siam: I was released from the hospital after three days of treatment today. I am now okay but not completely. I still feel pain in different parts of my body. The injuries I have in my body have not dried yet. It may take another week to get complete recovery. I am taking medicine as per the advice of a doctor. I am currently at home.
Risingbd: Looking at your Facebook status before you go missing, many people suspect that you left home because of a family problem. Is the incident really true?
Siam: That is not true. In reality, nothing like that happened. That night I forgot to charge my phone. In the morning, I came to the house of my elder sister to get some official documents. At that time, I only charged for a while, but the power button was not pressed. I used that phone like that all day long. I work for a media outlet in Nepal called Kathmandu Tribune. On that day, there was an assignment for the lockdown coverage in Dhaka. So, I went to Aminbazar Bridge area. To save the charge, the phone is completely charged after taking pictures around the area in flight mode. It was getting dark. But the matter still did not come to my mind. I was crossing the Aminbazar bridge and walking a little after getting cold air. Looked good.
Risingbd: Can you describe the way you were abducted?
Siam: When I was walking along the highway, I had a mobile phone in my hand. At that time, a young man rushed to me from behind, grabbed my phone and ran away. The man fell when he was kicked in the back by me. Just then two more came and grabbed me from behind. A fourth person covered my face with a towel or lungi. There was an immediate scuffle but I could not with the four of them. The place was quite secluded. There were no people. The sound of a car stopping next to it. I could not see whether the car was a truck or a small lorry due to eye obstruction.
Risingbd: What kind of torture do they inflict on you?
Siam: The miscreants got into the car and beat me randomly. They hit my feet with something. I assumed that the car leads to a village road. Going up in a secluded area, one of them asked me in a very chatty tone whether I do journalism, why I do it, why I don't give it up. Whatever I answer to every question, he laughs haha. And the sharp weapons kept wiping my hands, neck, throat, chest and legs. But I didn't think he wanted to kill me. Every poach was not much deep. Not more than half an inch. During the night, he stabbed me in the body with hundreds of blades. I didn't have a chance to scream. There was moaning. Because there was cotton in my face and the tape was a barrier.
Risingbd: Can you recognize those who have tortured you?
Siam: No. But at least one of the four people who tortured me knew me. I realized this when one of them was checking my wallet and saying, "Didn't you know that he is a journalist?" He replied, "I took him that teach him journalism." When the Azan of Fazr prayers was being made at dawn and night, he kept saying, "Leave him, brother." Let's throw him on the road. Nothing can be done in the morning. The man with the chattering accent was saying over and over again, "Steady, let's get a little more into the devil." At dawn, someone gave me a few tablets with water. Gave me some vegetables and rice to eat. Then they leave the car.
Risingbd: How did you get rescued?
Siam: In the evening, two abductors brought me to a secluded area of Nayarhat with my arms and legs tied. One of them had a revolver. My hand was tied to the front and the way the shirt was tied on top of it, it would look normal from the outside. They told me to lie down on a lonely palm tree. One of them told me I would lie here for ten minutes. Don't move until we leave. He said, I have to give up journalism. I don't have to stay in the country. I can't stay in the country. Boss, this time we are releasing you. But you will not get the second chance. Be careful. I know everything. Ten minutes later they left and I got up and walked in the dark towards Aricha Highway. At this time, I saw a young pedestrian. Go and get him to untie my hands and feet. He quickly started calling the surrounding people. He untied me. The whole area also circled. But the kidnappers were no longer seen.
Risingbd: How did you inform the family?
Siam: Rescuers took me to a garage on the Dhaka-Aricha highway. There they found out my identity and called the local journalists. My wife was informed over phone. At that time, my professional and well-wishers also came from Dhaka. Feed me. I was given anesthetics, so I don't remember much of what happened that day. How I came to Dhaka from there. I don't remember that either. The next day I found myself admitted to a private hospital in Panthapath. I am grateful to all of them who rescued me, arranged treatment for me and stayed by my side every moment. At the same time, I wish that no one else would be the victim of such incidents. But some things seemed strange in the abduction, they did not ask for my ransom. They had no interest in my mobile phone and wallet. But in the end they took. And at least one of the kidnappers knows me, I'm sure about that.
Risingbd: Do you want to file a case?
Siam: My condition is still not good. I don't have the ability to take pressure right now and I'm traumatized. If all goes well, I will move to file a case soon.
Risingbd: Thank you so much.
Siam: Thank you, too.
Dhaka/AI