An hour with Turkish delight
Shakil Bin Mushtaq || risingbd.com
Published: 13:40, 29 November 2021 Update: 14:28, 29 November 2021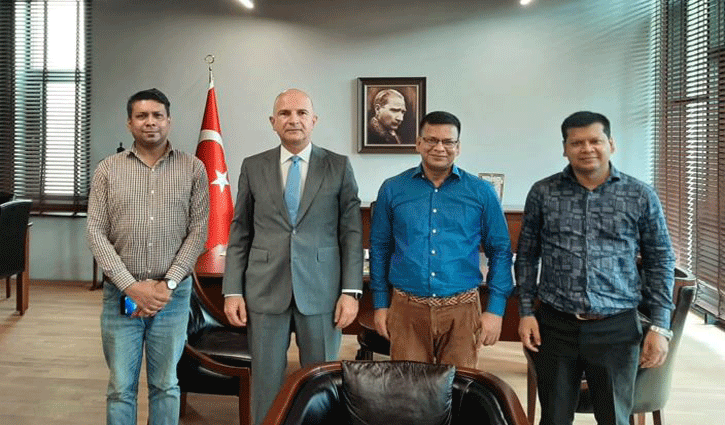 It was a shiny morning of late September. Bright sunlight reflects on a newly built architecture at Baridhara diplomatic enclave in capital Dhaka. Near to the US embassy and the High Commission of Canada this modern era building grabs public attention while pedestrian and people inside vehicle are passing in front of this diplomatic facility. It's the newly constructed Turkey Embassy in Dhaka. And the story began from here.
Bangladesh Travel Writers Association planned to talk with HE Turkey Ambassador in Dhaka and propose about strengthening both country relationship packages including familiarization trip (FAM) etc. A three-member delegation team from the association led by Ashrafuzzam Uzzal, President of the BTWA and two other members including the writer and Mohammad Anisuzzaman.
The discussion started after HE Mustafa Osman Turan, Ambassador, Embassy of the Republic of Turkey, welcomed the small team to his chamber with authentic Turkish tea and sweet. And of course a sweet topic came in to the discussion about the increasing popularity of Turkish TV serials in Bangladesh. HE Mustafa Osman Turan said that there are different reasons why Turkish movies and serials are famous all over the world. The contents are interesting. They chose historical stories from Ottoman Empire, but there are also modern stories. Very good actors, Beautiful scenic view of Istanbul city. Production quality is very good sound and cinematographic.
The discussion gradually goes on travel and tourism sector as the tea was getting less hot and the amount was decreasing. As a Bangladeshi, we had a common query like how many Bangladeshi are visiting Turkey roughly a year?
'I will look for it and let you know' said HE Ambassador Turan informed us later that 17,165 Bangladeshi citizens visited Turkey in 2019. HE also said that around 200 Turkish people are currently living in Bangladesh. Most of them are business persons working in garment industry. At this moment, we slightly turned in to business and bilateral issues from tourism.
One of the biggest conglomerate Koç group's energy wing is now investing in Chattogram on LPG sector. They will fill and distribute gas cylinders to household for cooking.'- said HE Mustafa Osman Turan. HE also added that 'another big company, also from Koç group is Arçelik renowned for producing home appliances like Walton in Bangladesh. Partnering with Singer from 2019 they are producing TV, AC, refrigerator, and now they will manufacture, washing machine. Their brand Beko is also available in Bangladesh.'
In the discussion, some more information came in like in garment sector LC Waikiki and Colin's have been investing in Bangladesh for many years. Also construction company EPiK who built the Turkish Embassy compound, now also is working with USA Embassy.
About export and import between two countries, HE Mustafa Osman Turan said, 'From Bangladesh, Turkey mainly buys jute for their carpet industry in Gaziantep, almost 300 million dollars' worth of jute every year. One third of their trade is jute from Bangladesh. Trade volumes are around one billion dollars.
Turkey sells textile machineries and chemicals. The country also sells some raw materials and cotto to be used in the garment industry. But they are thinking of diversifying their trade. They will consider buying pharmaceutical items and sell more product from Turkey. There is a good trade relation between two countries, said the ambassador.
We have question that is what is the main reason to visit Turkey? HE took a deep breath and smile that indicated he has a lot to say and so he said, 'There are many reasons why people visit Turkey which is filled with thousands of history and culture. Most people visit Istanbul. People can visit Şanlıurfa to see the temple discovered few years ago named Göbekli Tepe. It was the oldest religious site in the world and was built 12,000 years ago. It was built even before the Egyptian pyramids and Stonehenge. Göbekli Tepe is located in Upper Mesopotamia, in South East of Turkey. An hour and a half hours fight from Istanbul. Also the Cappadocia region in Turkey is full of history and natural beauties. Apart from the historical sites, Turkey has some amazing beach resorts, five star hotels. People also visit the Black sea coast. It is filled with greenery, a mountainous area.
HE mentioned that in Turkey, a person will find any kind of climate. Their Southern part's climate is similar like Bangladesh and the Northern part is more like Switzerland, full of beautiful forest, lakes and mountains. Western coast is more like Greece Mediterranean climate. People need to visit this part of Turkey especially for the cuisine. Also the Mediterranean is crystal clear for swimming.
Another reason why people visit Turkey is their education. Turkish universities offer all kind of subjects, but engineering is most famous. Around 50 government scholarships for Bangladeshi students have been granted. Medicine study is affordable comparing to other countries. HE expresses his hope about Medical tourism – Turkey is one of the top five destinations in the world for medical tourism. People don't know about it. But they are promoting their medical tourism. Hospitals in Turkey are very good quality and reasonable. Turkish government is investing in health sector a lot. They have built city hospitals. Each city hospital has up to 3500s beds. Even people from the Western countries also visit Turkey for dentistry, surgeries like organ transplant because in some countries insurance doesn't cover the surgery expense. Also with Halal food is an attraction for Muslims who comes for treatment.
Even the state-run airlines are an attraction too. People go to Turkey by Turkish airline. They provide such good service. 350 destinations they cover. They are also budget friendly.
What HE thinks about Bangladeshi tourism? HE Mustafa Osman Turan expressed his thoughts. He thinks Bangladesh needs to rebrand their tourism to attract people to visit us. Target the young people who are looking for new experiences. Like Sundarbans, Sylhet, Cox's Bazar, Old town in Dhaka. Those who would experience these places would be very good pioneers who would talk about Bangladesh.
What Civil society does in Bangladesh is amazing –said the ambassador. He recalled names of Friendship NGO and BRAC. HE said that there can be some programs for young tourists to show them what these NGOs are doing in the rural areas of Bangladesh. Tourist programs should be combined with some social purposes. He mentioned about a blood donation organization named Bloodman, they basically visit remote touristy places to operate one-day medical camp where they offer free medical services involving young people. Turkish Ambassador supports the organization. He also suggested them to collect garbage and plant trees also they make the event like a festival which includes music and B-B-Q. These types of tour for social good arrangements can attract tourists, HE said. Young people will join and when they go back to their country they will tell these stories to families and friends, post on social media platforms. This will highlight Bangladesh, HE added.
Ambassador felt surprised when we informed him that in Bangladesh there are around 20 books on Turkish tourism.
Finally, the discussion ended with empty cup but full of information in notebook and beautiful memories in mind.
Last but not least. HE Mustafa Osman Turan gave us a hint about the embassy's recent initiative. A Bangladesh - Turkey business platform is going to be established soon. Through this platform, from December Turkish Embassy is planning to arrange cultural evenings which will take place every second month. The evening will include shared values and cultural elements of Bangladesh and Turkey. They will start with Sufism in December. Aiming to coincide with the International Peace Conference and commemoration of Mevlana, the Sufi master who lived and died in Konya. They can organize some kind of events where travel writers may join and share their ideas.
We thank HE and other embassy staff including Zahid Anwar, Personal Assistant to the Ambassador from our beloved organization Bangladesh Travel Writers Association and hope to take the relation to different level throughout travel writing.
The writer is a freelance journalist and analyst.
Dhaka/AI