Industrialisation at what cost
Azad Majumder || risingbd.com
Published: 12:37, 7 June 2022 Update: 15:57, 7 June 2022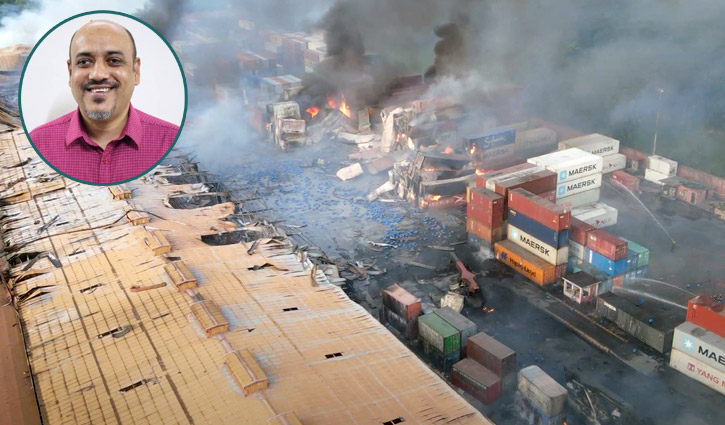 Commerce Minister Tipu Munshi at a programme on Monday hoped that the country's export earnings would exceed $80 billion by 2024. Bangladesh has already seen robust growth in export in the outgoing fiscal year. The country had set an export earnings target of $51 billion for FY22. It achieved the target in 11 months and export earnings are expected to reach $60 billion by the end of June. These are indeed very good news. Every Bangladeshi would take pride in the progress the country was making over the years.
The news of readymade garment factory owners in Gazipur announcing loudspeakers in their localities in an effort to recruit thousands of new workers is another welcome development. In a country, where the unemployment rate is high, new work orders for factories, and requirements for new recruitments should always be cherished.
The problem is that when we are bragging about the earning prospects and looking for new workers in one corner of the country, the other corner started burning. The fire and explosions in BM Container Depot in Chattogram, which took 41 lives so far and injured over 200, is not an isolated event. It is just another example of our greed, lawlessness and incapacity. We are doing everything in our country to boost our earnings, woo foreign investors but not clearly doing much to protect our citizens from burning in factories or dying under the rubble of collapsing buildings.
The fire in Tazreen Fashion in Savar, the country's chemical hub Nimtali and Chawkbazar, Tampaco Foils in Gazipur, Hashem Food and Beverage in Fatullah and now in BM Container Depot in Chattogram have all demonstrated how greed, lawlessness and incapacity made us helpless as a nation. We never saw anyone facing trial for these events and rarely took the initiative to enforce compliance in factories despite these many causalities. More agonisingly we did little to improve the capacity of our firefighters, who are so vital a force for a country in rapid industrialisation.
It has now been revealed that we have only 150 firefighters trained in to deal with chemical fires. Chattogram, which is the country's only port city, has only 11 such firefighters posted. And they too could not be drawn into action initially to douse the fire on BM Container Depot for the depot authorities' indifference. They failed to inform the firefighters of the presence of hazardous chemical hydrogen peroxide inside some containers. As a result, firefighters went too close to the fire and died in clusters.
The Department of Environment officials said that the depot authorities had no clearance to keep chemicals stored. Customs officials said no documents were submitted to them after bringing the chemical to the depot. These are compliance issues that the authorities cannot ignore. The chemical was stored there for export. Two days after the fire incident in BM Container Depot, customs authorities took the initiative to put a huge quantity of hydrogen peroxide in an auction. A Bangladeshi company reportedly imported it a few years ago but did not release it, for Bangladesh is no longer required to import this item, we are not an exporter of it.
This is a big change in our business dimension and another sign of our rapid industrialisation. We all know industrialisation has a cost. Overcrowded, badly built accommodation, diseases took thousands of lives in Britain during its industrialisation in the 19th century. We are now paying a similar cost, perhaps way too much.
The writer is joint news editor at New Age and Bangladesh correspondent of Spanish news agency Agencia EFE
Dhaka/AI