When prices of potato-onion to reach low-income people?
News Desk || risingbd.com
Published: 17:24, 31 October 2020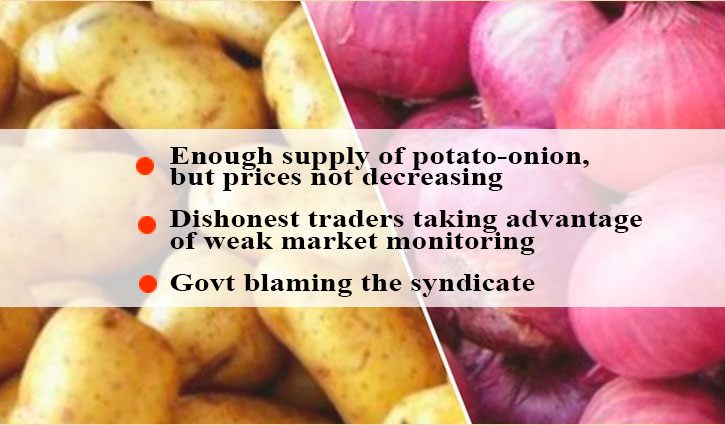 Traders are not selling potatoes at prices fixed by the government. They are keeping extra price of Tk 10-15 per kg.
Meanwhile, despite enough supply of onions, prices are not decreasing. Imported onions are being sold at Tk 70 per kg and local onion at Tk 95 per kg. Consumers allege that "dishonest traders" are taking advantage of weak monitoring situation by raising prices. However, the government is claiming that there is strict monitoring in the market. The prices of potato and onion will decrease soon.
On Saturday (October 31), potatoes were not seen being sold at the prices fixed by the government in Kaptan Bazar and Jatrabari Bazar in the capital.
Consumers said potato and onion are essential in everyday cooking. The rise in prices of these two daily commodities has put low-income people in crisis.
Abdur Razzak and Habibur Rahman who found in Jatrabari and Kaptan Bazar said, "We saw on TV news that the government has fixed retail prices of potato at Tk 35 and wholesale at Tk 30. But there is no reflection of it in the market. Potatoes are being sold at Tk 45-50 per kg.
When asked, wholesale trader Harlal said, "I bought per kg potato from farmers and cold stores for at Tk 37. I have sold it to retailers for a profit of Tk 1. Fixing prices by the government does not work here. We bought it at Tk 35, how can we sell it at Tk 35?"
Haji Gaffar Mia, proprietor of Mayer Doa Enterprise in Shyambazar, said, "The country has enough stock of potato. Some dishonest traders and cold store owners have syndicated and increased price of potato. I am buying it from a cold store at an extra price of Tk 35 to 36 and selling it at a profit of Tk 1 per kg."
An official of the Agriculture Ministry said, "The country has produced a record amount of potato. There is a demand of about 1 crore lakh tons of potato in the country throughout the year. In contrast, the production has been 1 crore 20 lakh tons. Potato was not exported this year due to coronavirus. There is enough potato stock to last for the next three months. The syndicate is behind the price hike.
Dhaka/Asad/AKA