Causes of motorcycle accidents in Bangladesh
News Desk || risingbd.com
Published: 16:55, 6 March 2021 Update: 17:06, 6 March 2021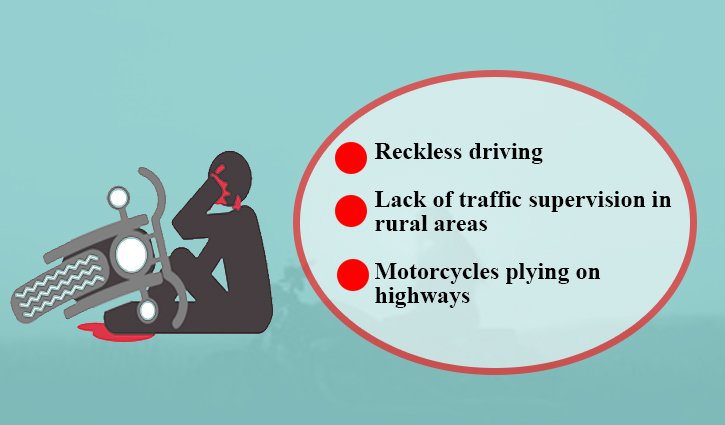 Road accidents are becoming a common news in the country. Of them, the number of motorcycle accident is in the highest position.
Experts said that accidents are on rise due to reckless driving, racing, lack of traffic supervision and other reasons are main. Many people are losing their lives as well as many of them are becoming handicapped.
Bangladesh University of Engineering and Technology (BUET) Road and Accident Research Institute (ARI) sources recently said, Bangladesh has the highest number of motorcycle accidents among Asian countries.
Concerned authorities said ride-sharing in motorcycles has increased extensively in the capital in last couple of years. Besides, many unregistered riders carry pillions. Whereas, most of the bike drivers are not trained. They don't follow traffic signals properly and keep substandard helmets. In addition, most of the motorcycle drivers have a tendency to run their vehicles through narrow spaces. These reasons are behind road accidents.
Following the issue, Passenger Welfare Association of Bangladesh secretary general Md Mozammel Haque Chowdhury said, at present, 64% of the country's motorcycle accidents occur outside of the town areas. The main reason behind it- lack of traffic supervision.
Mahamud Hossain, teacher of Dhaka University said, the current rate of motorcycle accidents across the country, including in the capital, is alarming.
He also said that the quality of bikers' helmet need to check. Bangladesh Standards & Testing Institution (BSTI) should monitor the qualities of the helmets of bikers.
DMP's additional commissioner said, there could be several reasons for the accident. Such as- drivers are desperate. It is tough to stop road accidents without awareness of drivers.
Dhaka/Hasibul/Nasim