City alleys crowded, shops set up every road junction
News Desk || risingbd.com
Published: 16:00, 17 April 2021 Update: 16:16, 17 April 2021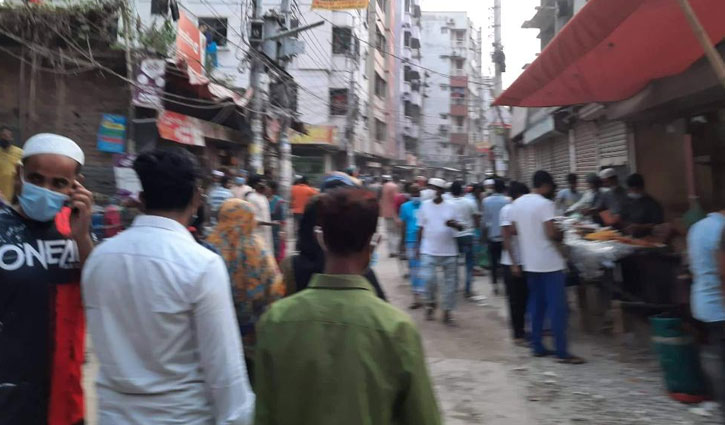 An eight-day 'all-out lockdown' is going on across the country to curb the coronavirus infection.
Transports remain suspended on main roads during the lockdown. Main roads and thoroughfares in the capital are largely free of vehicles but crowds were noticeable in the alleyways
Temporary shops of daily necessities and vegetable markets have been set up at intersections and road junctions. On Saturday (April 17), The scene was grabbed at the capital's Mirpur, Sheora Para, Pike Para and 60 feet area.
It was seen that there is no matter of maintaining hygiene rules anywhere. Everyone is moving freely as they wish. Nobody was seen to use mask. There is no social distance. The locals were chatting in the alleys group by group.
Masud, Sijan, Jabin Rafi were chatting. Rafi said, "It does not feel good to be at home all the day. So, I came out to chat with friends. College is closed now. There is no pressure of study. We will all walk together till the afternoon. I will return home during Iftar in the evening."
Chhotan Mia was selling pineapple on the street without a face mask. He said, "What will happen by wearing a mask? If coronavirus infects, nothing can hinder it. We have to pass away when Allah wishes. There is no benefits with this social distance."
Jahidul Islam came out with mask. But he doubts what will happen maintaining health guidelines alone?
He said, "No one around is obeying the rules. If everyone is not aware, coronavirus will never leave the country. I am out of work. But I see more and more people on the streets. When I went to buy something, three more people came and fell on me. How it is possible to maintain the health guidelines in this situation."
Dhaka Metropolitan Police Additional Deputy Commissioner Iftekharul Islam said, "There are instructions to sell vegetables from 9:00 am to 3:00 pm. Presence of some people can be seen during this time. However, police are doing their best to ensure health guidelines. Police are patrolling and announcing through loudspeakers to make people aware."

Dhaka/Yeamin/AKA