Musa, a mysterious name in Mitu murder case investigation
News Desk || risingbd.com
Published: 18:09, 17 May 2021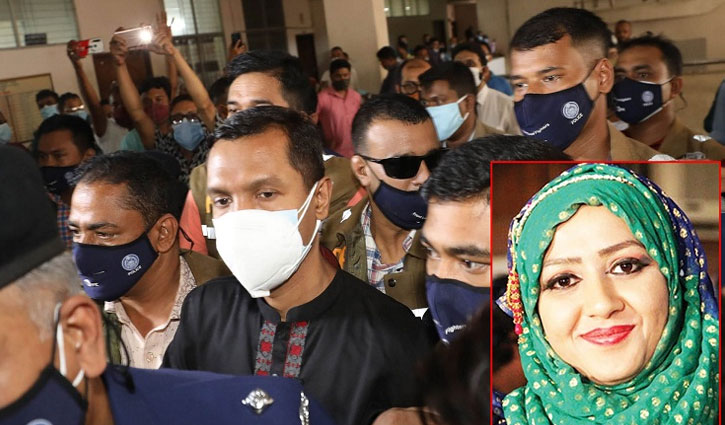 Kamrul Islam Sikder alias Musa is a mysterious name in the sensational murder case of Mahmuda Khanam Mitu, the wife of former Superintendent of Police (SP) in Chottogram Babul Akter.
Musa was a trusted source of Babul Akter, who is currently in jail in connection with the murder case. Police primarily suspected that the entire killing mission was completed by Musa.
However, during the remand interrogation till Monday (May 17), it was learned that Babul Akhtar did not open up over the killing to the detectives.
Police Bureau of Investigation (PBI) chief DIG engineer Banaj Kumar said Musa would also be arrested and interrogated. He is the second accused in the case filed by Mitu's father. Different agencies are also working to arrest him. However, as he has been missing for five years, it is getting a little trouble to find him.
The police official further told risingbd that Gayatri Amar Singh, the alleged girlfriend of Babul Akhtar and an NGO official, may also be questioned if necessary. As Babul Akhtar did not provide any information in remand, fresh remand for him may be sought.
Officials involved in investigation and Mitu's relatives suspect that Babul Akhter had an extramarital affair with the woman when he was in Cox's Bazar. One day at a resort, Mitul saw Babul Akhter and Gayatri, that led feud between them.
After that, Babul Akhter mainly planned to kill Mitu. As part of this, Babul asked his trusted and close source Musa to kill his wife Mitu. According to the police investigation, he also paid Tk 3 lakh for this. Babul paid Musa to buy arms worth Tk 120,000.
Shortly after the May 5, 2016 incident, the detectives arrested two people as suspected killers. Professional killers Anwar Hossain and Wasim made confessional statements in court and disclosed name of Musa. Musa has been mysteriously missing since then.
However, Musa's wife Panna Akhter recently told the media, "If my husband has committed a crime, why is he not being brought to justice?"
She claimed that a week after the incident, her husband was taken away from their Rangunia home in Cox's Bazar with the identity of police. After that, all possible places including law enforcement agencies were contacted in search of him but he could not be found. I cannot say where he is or he is being disappeared.
According to police sources, Musa, who came from Saudi Arabia after a long time, started sand business in Rangunia area in 2004-5. Babul Akhter was performing professional duties in the area in 2009. Musa built relationship with Babul through providing information of drug dealers of the area. At one point Musa became very close to Babul. Then, Babul started to make Musa to do secret and private activities. That is why, Musa is being suspected as one of the main accused in this case.
Mitu's father Mosharraf Hossain told risingbd that he had been saying from the beginning, Babul Akter had an extramarital affair with the woman. When Mitu came to know about the affair, there were several quarrels and altercation between them. But for unknown reasons, the investigation did not go to that way. If the investigation into this matter had been carried out earlier, the real cause of the incident might have come out.
It was learned that Gayatri is currently staying in the Netherlands. She needs to be quizzed in interest of investigation. Attempt is being made to that way. Searching is also being conducted at possible places across the country.
A few days before the Eid, the Police Bureau of Investigation (PBI) summoned Babul Akter to Chattogram for interrogation. At one point he was arrested. He was later remanded for five days. On Monday, he was sent to jail after end of the remand.
Officials involved in investigation say they will try to find out what happened that day to one of the key eyewitnesses and Mitu's son. Mitu's two children could not be found at the address and place mentioned by Mohammadpur in the Babul Akhter case. Search is being made to find out where they may be. The concerned officials of the case hope that the report may be submitted to the court just after investigation is completed.
Mentionable, Mitu was shot dead while she was waiting at GEC intersection in the port city Chattogram to let her son to get on school bus.

Dhaka/Maksud/AKA