Hajj rituals begin
News Desk || risingbd.com
Published: 14:30, 17 July 2021 Update: 14:42, 17 July 2021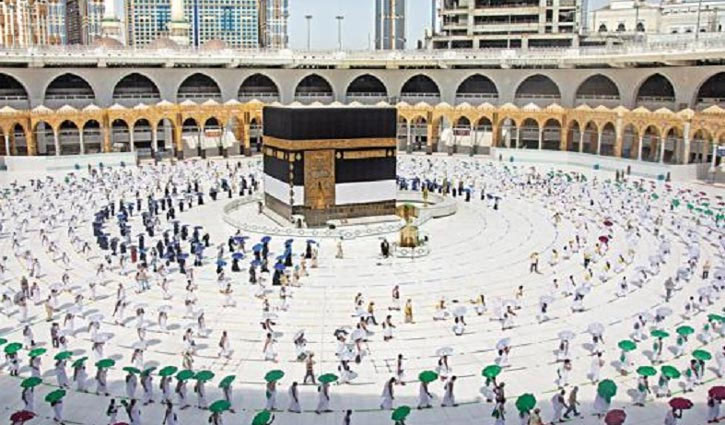 The annual five-day-long hajj rituals kicked off in Saudi Arabia on Saturday with only a few thousand people gathered there.
Pilgrims began arriving in Makkah on Saturday morning. Only 60,000 vaccinated Saudi citizens and residents between the ages of 18 and 65 were allowed to register for the annual pilgrimage. The year before, up to 10,000 Saudi citizens and residents were permitted to perform the Hajj.
A fleet of 2,500 buses are being used to make 26,000 trips between the kingdom's holy sites, officials said.
To ensure social distancing, the tawaf circle in the Grand Mosque will have 25 lanes, each 1.5 metres apart.
The ground level can accommodate up to 4,770 worshippers at once, with space for 1,000 more on the second level, and 3,000 on the third.
After the tawaf al qudum - the custom of circling the Kaaba that all pilgrims travelling to Makkah from outside its borders must perform - the pilgrims will leave the Grand Mosque and head by bus to their allotted accommodation in Mina.
Groups of pilgrims will be colour-coded, either red, black, green or yellow, and each group has designated buses and separate accommodation.
For Muslims, Hajj re-enacts the actions of Prophet Muhammad's "farewell pilgrimage" in 632 AD. It also hearkens back to the time of Prophet Abraham, who Muslims believe built the Kaaba, along with his son Ismail.
With pilgrims coming from across the globe all dressed in simple cloth, the Hajj strengthens the bonds of brotherhood among Muslims and removes markers of class, wealth and materialism.
Muslims ultimately perform the Hajj with the aim of cleansing their souls and reviving their relationship with God.
Dhaka/Hasan/Mukul