Sher-e-Bangla's 148th birth anniversary today
News Desk || risingbd.com
Published: 11:37, 26 October 2021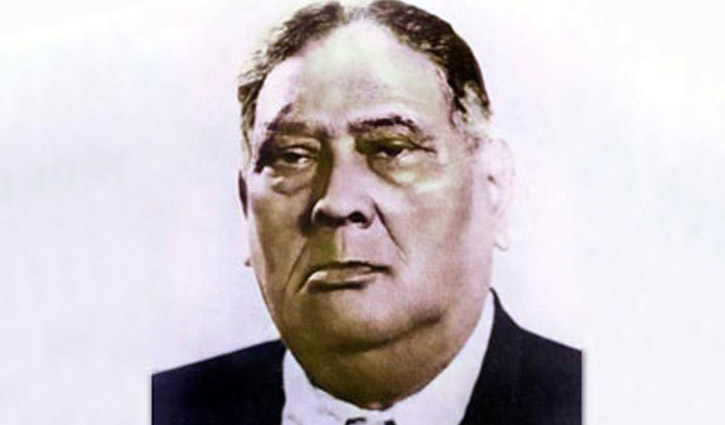 The 148th birth anniversary of Abul Kashem Fazlul Huq, also known as Sher-e-Bangla (Tiger of Bengal), is being observed today, Tuesday (October 26).
Different socio-cultural organizations have chalked out elaborate programmes to mark the day.
On this day in 1873, AK Fazlul Huq was born at his maternal uncle's house at Saturia village in the then Bakerganj district, now Jhalakathi, in Barisal Division. He was the only son of Kazi Muhammad Wazed and Sayeedunnesa.
Fazlul Huq was elected to the Bengal Legislative Council and appointed as the education minister in 1924.
In 1935, with the backing of Congress, he was elected mayor of Calcutta, the first Muslim mayor of Calcutta.
In 1943, he was elected prime minister of Bengal during the British empire. He also moved the famous Lahore Resolution in 1940. In 1955, Huq was the home minister of Pakistan and, from 1956 to 1958, governor of East Pakistan.
He passed the entrance examination in 1890 from Barisal Zila School and the FA Examination in 1892. He then obtained a Bachelor of Arts (BA) degree (with triple honours in chemistry, mathematics and physics) from Presidency College.
Later, Huq got admitted in Master of Arts (MA) in English at Calcutta University. Just six months before the final examination, a friend of his father teased him that Muslims were weak in Mathematics and that was why he (Huq) was studying English.
Huq opposed it strongly and challenged him that he would sit for Mathematics examination instead of English. With special permission to attend the examination he passed the MA in Mathematics from the university with distinction.
His formal education was completed with a law degree in 1897 from the University Law College.
Huq died in 1962 and was buried on the grounds near Suhrawardy Udyan in Dhaka.
Dhaka/AI