'Main aim to make Bangladesh a developed country within 2041'
News Desk || risingbd.com
Published: 18:59, 28 November 2021 Update: 19:19, 28 November 2021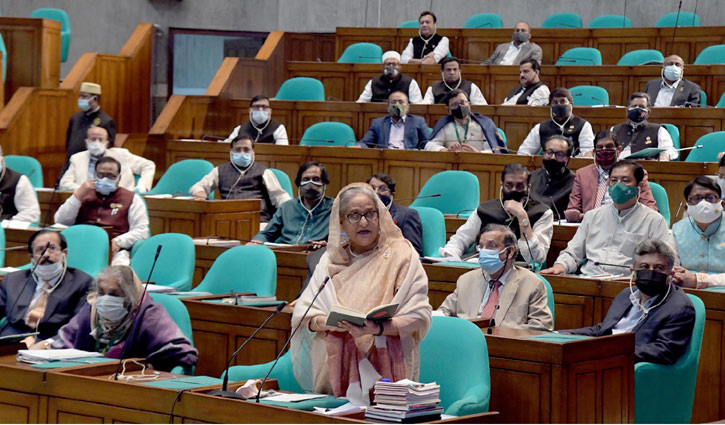 Prime Minister Sheikh Hasina has said that our main aim to turn Bangladesh into a developed nation by 2041 and we are working tirelessly to implement the "Vision 2041".
The Prime Minister said this while delivering her valedictory speech in the 15th session of the 11th Parliament on Sunday.
She told the Parliament that unanimous adoption of the resolution in the UN General Assembly (UNGA) on graduation of Bangladesh to a developing nation from the LDC category is a great achievement and 'rare honour' for the country.
Sheikh Hasina, also Leader of the House said, "It has been possible as we have proceeded with a well- thought-out plan and some specific targets."
"The graduation from the LDCs has created many opportunities for Bangladesh. I personally think it is another milestone in Bangladesh's journey towards development. It has created scopes for campaigning to brand Bangladesh in the global arena," she added.
She opined that many alternative opportunities would be created for Bangladesh as a developing country once the graduation is finally completed.
She said they had declared in their 2008 election manifesto that Bangladesh will be made a middle-income country by 2021.
"After assuming power, we have been working rigorously for alleviating poverty, ensuring socio-economic development, achieving self-sufficiency in food production, increasing the power generation, up-gradating the roads and highways, employment generation and many other works with a planned way to ensure the country's overall development. We have proved that if a country marches forward with a specific target, it can achieve what it wants," she added.
Referring to taking projects for quick rental power plants for speeding the country's development, the premier said they had to face criticism, adding, "The journey towards the achievement was not so smooth. We had to face numerous hurdles, criticism and propaganda."
The premier also thanked the people for voting the Awami League to power time and again, which helped the party to remain in power for a long time and carry out a massive development of Bangladesh.
Asad/Mukul