Prime Minister urges Khaleda Zia to visit Padma Bridge
News Desk || risingbd.com
Published: 13:14, 25 June 2022 Update: 14:57, 25 June 2022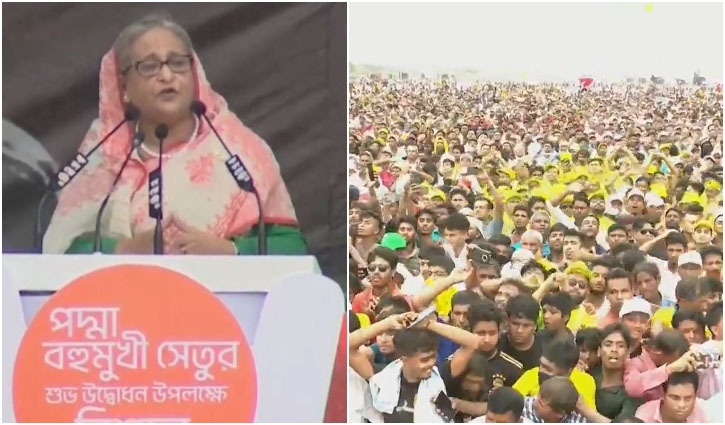 Prime Minister Sheikh Hasina has urged Khaleda Zia to see the much-anticipated Padma Bridge.
Sheikh Hasina said, "Khaleda Zia said I will not be able to build the Padma Bridge. Now Khaleda Zia should come to see the bridge".
The Prime Minister was addressing a public rally of Bangladesh Awami League marking the opening of the bridge at Kathalbari under Shibchar upazila in Madaripur district on Saturday noon.
Sheikh Hasina said, "People of Bangladesh cast their votes and we have been nominated. Then, we working to fulfil the dream of the countrymen."
She said, "Overcoming many odds, we have ensured food security of the people. We are now independent in food production."
About 10, 00000 people gathered at Kathalbari of Shibchar in Madaripur district on the occasion of Padma Bridge opening.
People from all walks of life and leaders of Awami League and its associate bodies thronged the rally venue since 6am, boarding buses, launches, boats, battery-run three wheelers and other modes of transport.
The gathering wore a festive look as people from different parts of the country, especially from the southern districts, started crowding the venue with colourful banners, festoons and AL's election symbol "boat".
In the morning, Prime Minister Sheikh Hasina opened the much-anticipated 6.15 kilometer Padma Bridge for vehicular movement which will bring a massive progress in road connectivity of 21 south and southwestern districts with capital Dhaka and other major cities.
The Prime Minister formally opened the Padma Bridge by unveiling the inaugural plaque and mural-1 after paying toll at the Mawa point.
She also joined a munajat offered there. More than 3500 distinguished guests including foreign diplomats, business leaders, leaders of professional bodies, senior government officials, different political party leaders and civil society members attended the event.
She began her journey for Jajira point in Shariatpur from Mawa point by road crossing the bridge.
The premier reached Jajira point and unveiled the inaugural plaque of the bridge and mural-2. She also joined a munajat there.

Parvej/NH/Mukul