Idi Ameen was directly involved in militant snatching
News Desk || risingbd.com
Published: 18:08, 29 November 2022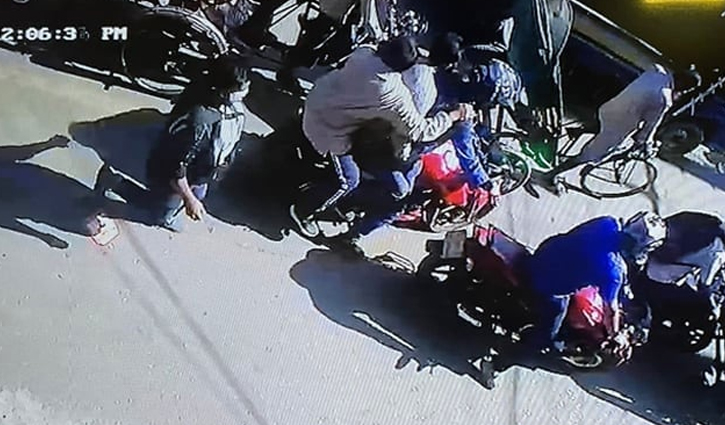 Photo: Collected
With the direct support of Idi Ameen, a member of the militant organization Ansar Al-Islam, the police were beaten up at the gate of the Chief Judicial Magistrate's court and two militants were snatched away after applying pepper spray in their eyes.
The Investigation Officer (IO) of the case Inspector (civil) of the Counter Terrorism and Transnational Crime Unit (CTTC) Mohammad Abul Kalam Azad produced the three persons who sheltered Idi Ameen after the incident at the Kotwali police station and sought a 10-day remand. The IO said this in the remand petition.
In view of the petition, the court of Dhaka Metropolitan Magistrate Shakil Ahmed ordered the remand of each of them for three days.
The three accused who were remanded are known as Idi Ameen's sister Khodeja Akhter Lipi, uncle of his wife Nasir Mia Farooq and Tanveer Hossain.
Meanwhile, in the remand petition, the investigation officer said that with the direct cooperation of Idi Ameen, the incident of militant robbery took place from the gate of the Chief Judicial Magistrate Court. Idi Ameen was absconding since the incident. After the remand interrogation and information technology analysis, it was found that on November 22, Idi Ameen was sheltered at Lipi Akhter's house in East Goran. From there, uncle went to Nasir Mia's house in Bijayanagar and stayed there from the night of November 22 to November 23 and 24 at his residence. He then went to Tanveer's house in Madhya Basabo area on November 25 and stayed there on November 25 and 26.
The investigation officer said these three accused knew that Idi Ameen was a fugitive and that he had committed an offence under the Anti-Terrorism Act. Knowing this and having reasonable grounds to believe it, they gave shelter to Idi Amin with the intention of protecting him from punishment.
The investigation officer sought a 10-day remand to determine whether the three accused are members of a militant organization, and if they are members, who else is involved with them.
Earlier, on November 27, Idi Ameen surrendered to the court and sought bail. The court denied bail and sent him to jail. On that day, in view of CTTC's 10-day petition, the court granted remand for four days.
Sub-inspector of the general registration branch of the court of Kotwali police station Ashraf confirmed the information.
Mentionable, the two militants, who were snatched away, are Moinul Hasan Shamim alias Sifat Samir, from Madhabpur village in Chhatak upazila, Sunamganj and Md Abu Siddique Sohel alias Sakib from Bhateshwar village in Aditmari upazila in Lalmonirhat.
They were awarded death sentence in murder cases filed over the murder of Jagriti Prokashoni's Foysal Arefin Dipan.
Mamun/AKA