Russia to launch lunar spacecraft in race to find water on moon
Desk Report || risingbd.com
Published: 22:49, 10 August 2023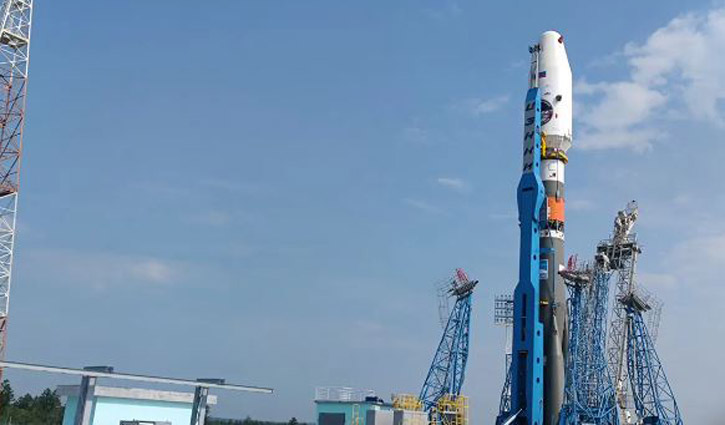 Russia made its final preparations on Thursday for the launch of its first lunar landing spacecraft in 47 years as it races to be the first power to make a soft landing on the south pole of the moon which may hold significant deposits of water ice.
For centuries, astronomers have wondered about water on the moon, which is 100 times drier than the Sahara. NASA maps in 2018 showed water ice in the shadowed parts of the moon and in 2020 NASA confirmed water exists on the sunlight areas.
A Soyuz 2.1v rocket carrying the Luna-25 craft will blast off from the Vostochny cosmodrome, 3,450 miles (5,550 km) east of Moscow, on Friday at 0211 Moscow time and is due to touch down on the moon on Aug. 23, Russia's space agency said.
The Russian lunar mission, the first since 1976, is racing against India which sent up its Chandrayaan-3 lunar lander last month and more broadly with the United States and China which both have advanced lunar exploration programmes.
"The last one was in 1976 so there's a lot riding on this," Asif Siddiqi, professor of history at Fordham University, told Reuters.
"Russia's aspirations towards the moon are mixed up in a lot of different things. I think first and foremost, it's an expression of national power on the global stage."
U.S. astronaut Neil Armstrong gained renown in 1969 for being the first person to walk on the moon but it was the Soviet Union's Luna-2 mission which was the first spacecraft to reach the moon's surface in 1959 and the Luna-9 mission in 1966 was the first to do a soft landing on the moon._Agencies.
Dhaka/Nasim