Soft Drinks increase risk of Asthma
Risingbd Desk || risingbd.com
Published: 13:36, 30 August 2013 Update: 15:18, 26 July 2020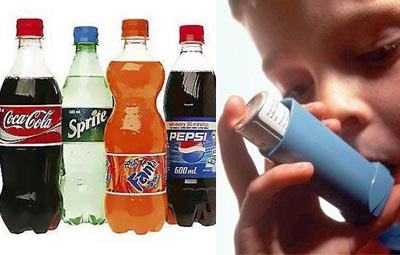 Soft Drinks increase Asthma risk
DHAKA, Aug 30: We know sugary drinks are harmful for our waistlines, teeth and overall our general health. Yet most of the people including children increase their consumption of sugary drinks on various occasions.

A recent research from the University of Adelaide of South Australia has shown that one in ten adults takes more than half of litre soft drink in a day, which really a bad news. In a single 375ml can of soft drink contains above 10 teaspoons sugar.

Researchers have discovered a new link between soft drink and asthma. Consuming too much soft drink increases our risk of asthma.

"People who consume more soft drinks are in higher chance of having chronic disease," lead researcher Dr. Zumin Shi of Adelaide says.

The main theme of the study is to emphasis on healthy food and prevention of chronic diseases like asthma, he (Zumin) added.

The high sugary content in soft drinks may make airways more vulnerable to allergic inflammation, says Dr. Zumin.

The researchers did their survey on sugar-fed mice and water fed mice and the result was the sugar-fed mice had more than twice as much airway inflammation than water-fed mice.

So, we should keep in mind that though sugary drinks are nice to taste but limit to consume.

Source : Readers Digest

risingbd/ferdusi shampa
risingbd.com