BSAUPM's executive committee formed
Abdullah All Fahad, Malaysia || risingbd.com
Published: 14:37, 30 September 2020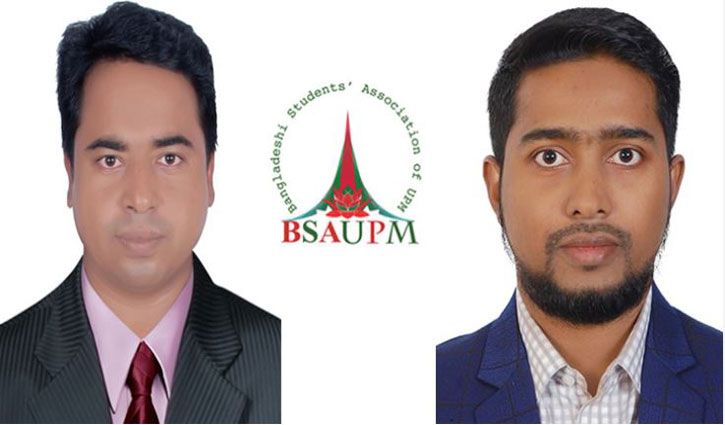 Saiful Islam (left), Abdullah All Fahad
Executive committee of Bangladesh Students' Association University Putra Malaysia (BSAUPM) has been formed.
The Election Commission unanimously approved the 2020-2021 executive committee of the association at the annual conference held recently.
Earlier, the election commissioners checked the applications of the interested candidates and arranged the interviews of the eligible candidates.
Saiful Islam was elected president, Shaharul Islam vice-president and Abdullah All Fahad general secretary of the 13-member executive committee of BSAUPM.
Besides, the new committee will have vice-presidents Shoaib Mohammad and Armia Zaheer, joint secretary Nihad Hossain and Directors Md Yeakub Ali, Tahanin Taher Omey, Gulam Mohiuddin Abdul Qader, Mohammad Kamran Khan, Md Nazmul Ahasan Mirdha and Shoaib Bin Kamal.
Md Al-Mamun, Chief Election Commissioner and Joint General Secretary of the UPM International Students Association, expressed his firm hope that the new committee would provide overall support to the Bangladeshi students at the university, including the implementation of various programs. Besides, agriculturist Ayesha Akhter, Major Mohammad Rezaur Rahman and agriculturist Md Motasim Ahmed acted as election commissioners.
The Bangladeshi students of UPM are very happy to get new leadership through fair and impartial system. It may be mentioned that, more than three hundred Bangladeshi students including 29 senior scientists under the NATP-2 project of the Ministry of Agriculture of Bangladesh, university teachers and senior government officials are currently staying at the UPM campus. The outgoing president Zahirul Islam welcomed the new committee and thanked all concerned including the Election Commission.
Fahad/Maruf/AI