A day dedicated to mobile journalism
News Desk || risingbd.com
Published: 17:10, 31 October 2021 Update: 21:02, 31 October 2021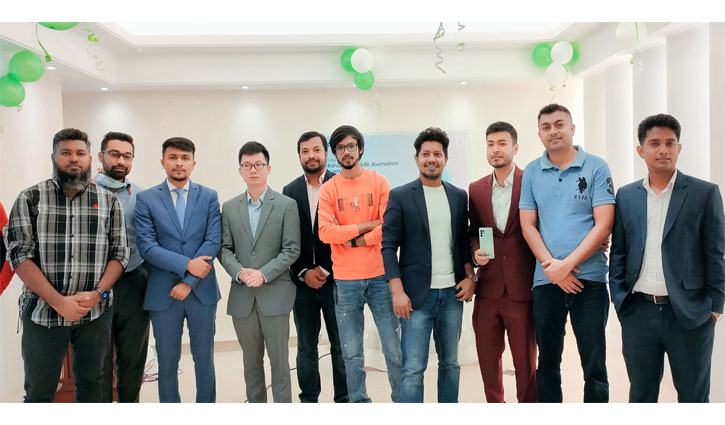 With the advancement of technology, many things are changing around us. The way we interact with people and the way we consume information are also undergoing major changes.
The main credit for this changing reality goes to the evolution of technological innovations including smart devices like smartphones that come equipped with cutting-edge technology and top-notch features. Owing to abundance of very high-quality smartphones, even the definition of mobile journalism is getting modified as people can now do journalism with just a smartphone in their hands. This has opened up many new doors, both for the professional journalists and the enthusiasts who want to do journalism.
Realizing the growing popularity of mobile journalism, the world's leading smart device brand OPPO has recently organized a workshop on mobile journalism on 23 October 2021. OPPO has always patronized mobile journalism in Bangladesh and taken various steps including organizing workshops from time to time to contribute to the development of media industry. In continuation of the efforts to develop mobile journalism scenario in the country, OPPO arranged this workshop. Dr. Abdul Kabil Khan, Assistant Professor of ULAB, conducted the workshop.
Students from different educational institutions, journalists from media houses and those who want to pursue journalism as a career took part in the workshop.
The workshop was an interactive one. Mobile journalism has been creating waves in recent years as digital transformations are redefining the processes involved in journalism and convenience has been the new deciding factor in journalism. That's why, people including professional journalists are resorting to hand-held smart devices to do journalism. Moreover, mobile journalism has created opportunities for mass people to do something for society and people.
Consequently, citizen journalism is getting popular among people where even an ordinary citizen can shoot videos and capture events in frames just with a smartphone.
All these things and perspectives were discussed at the workshop. Dr. Abdul Kabil Khan, Assistant Professor of ULAB, said at the workshop, "Mobile journalism is redefining the way we convey information to the readers and audience, and causing unprecedented changes in the industry. With almost everyone equipped with a smartphone, anyone can behave responsibly and help disseminate information in meaningful ways. Mobile journalism will expand and be an integral part of mainstream media in the near future."
The workshop also shed light on ins and out of mobile journalism, what someone needs to know about mobile journalism and how to do this with cent percent precision and accuracy. It was an enlightening session for the journalists as well as participants.
In the wake of rising smartphone penetration, content creators are also taking help of smart devices to develop meaningful contents that will make a difference. Consequently, many tech reviewers also participated in the workshop to get some insights about creating time-befitting contents using smartphones. Renowned tech reviewers, namely Ratul Osman, Sam from Samzone and Wahid from TTP (Tech to The Point), were also present at the workshop.
It was a day dedicated to mobile journalism and the participants came back home with new insights and a smile on their face as it created new outlets of thoughts among them. OPPO as part of its commitment will keep arranging such workshops in the days to come for people who take interest in mobile journalism.
Kabir Hossain/Nasim