Translation of five sonnets of Rabindranath Thakur
Gazi Abdulla-hel Baqui || risingbd.com
Published: 19:06, 15 November 2021 Update: 19:14, 15 November 2021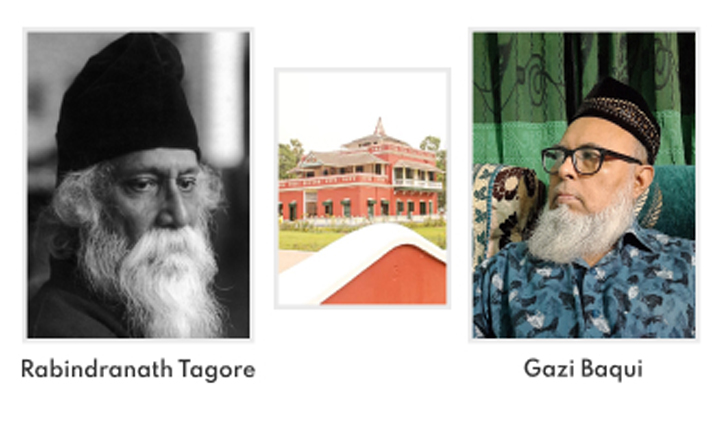 Rabindranath Thakur (7 May 1861–7 August 1941), a Bangalee Brahmin, was a poet, writer, playwright, composer, philosopher, social reformer and painter. Author of the "profoundly sensitive, fresh and beautiful verse" of Song Offerings,—a collection of 103 songs and lyrics, chosen from his ten books of poems and lyrics and one drama, translated by him,—he was the first non-European, and only Bangalee till date, to win the Nobel Prize in Literature in 1913.. Tagore's poetic lyrics and verses were viewed as replete with elements of mysticism. He established Visva-Bharati University in Kolkata. The following five sonnets, translated in English, are chosen from this great poet's a famous book of verses titled Kori O Kamo.

Original: Rabindranath Thakur
Translation: Gazi Abdulla-hel Baqui
Body
Still I love that body of yours.
This heart has grown listless in your body.
Flowers look graceful and tremulous in dew
The blooming youth bursts forth in passions.
The world worried thirsty bees
Murmur all around all day and night long.
The love-sick wind swings the ear-rings,
The smile of the infatuated full-moon breaks on lips.
Fragrance emits out of her full-bloomed body.
Oh! Excellent! Where that secluded abode is,
There the lovely solitary heart enveloped by body
Inhales and exhales on soft bed!
O damsel, I shall pick up that body on my chest,
A single garland of Fourteenth spring!
Feet
The feet tread upon the earth's surface.
The two feet are dull-red and soft.
Memories of hundred springs awaken on the earth,
The vision of touches of millions of flowers!
The bloomed Ashoka of hundred springs
After falling has as if merged with those feet!
The two suns, mellow morn-sun and eve-sun beam,
Have set as if under the shades of two feet!
Youth is spreading music along the path,
Anklets are bitterly weeping ensnaring the feet,
Dance is always fastened with sweet illusion.
There cruel is the soil, dry is the surface of the earth,—
Come, oh come to my heart, here are shedding
Red lotuses of lusty longing reddened with shame
Smile
In this far off foreign land, it is not known
Why only her smile flashes into my mind today.
When the evening sun has gone into setting,
When the roaring of sea gets stopped!
Where near the world-shore a solitary parting,
A Madhobi creeper has covered
The smile on the red tender-leaves of two lips
Under its own shade like a bud!
The night long shedding of tears
Has been stored with care for whom!
Who will come and pick up that very smile,
Depriving this entire covetous world!
Then the two flashes of smile struggling life and death
Will surely immortalise a kiss!
Prisoner
Untangle, O beloved, the fetters of your arms!
Do not make me drink spirituous kiss more!
Wind is blocked in this prison of flowers,
Set this confined life of mine free!
Where is the light of dawn, where is the sky!
Let this perpetual day of full-moon draw to its end!
Your disheveled lock of hair has covered me,
I do not find salvation within you!
The worried fingers by embracing with each other
Have spun the touch-trap on my whole body.
In drowsiness of sleep, raising my face I discover
In empty space an unceasing smile – a moon!
Liberate me, do not chain me up
I shall offer my free heart to your feet!

Memories
Glancing at that body makes me recall
Memories of hundreds of births of long ago!
Untold wealth of lost pleasure is stored in two eyes,
The songs of spring of births and rebirths!
You are as if my self-oblivion,
My happiness, sorrows and lamentation of eternity;
The flower gardens of so many new worlds,
The moon beam of so many new skies;
You are the pangs of separation of so many days,
You are the amorous shame of so many nights;
That very smile, those drops of tears and of words
Have come into view flashing upon today!
So, gazing at your face all day and night long
As if life is vanishing at a long distance!
Dr. Gazi Abdulla-hel Baqui, a poet, writer, translator and university professor, has already authored twenty books and a great number of poems, (including a large number of rubaiyat and haiku), articles and stories. He has been awarded nationally and internationally for his poetic accomplishments for several times. He writes both in Bangla and English.
Dhaka/Mukul