JP wants Dhaka-18 seat: Grand alliance seeks candidates list
News Desk || risingbd.com
Published: 19:59, 27 August 2020 Update: 21:20, 27 August 2020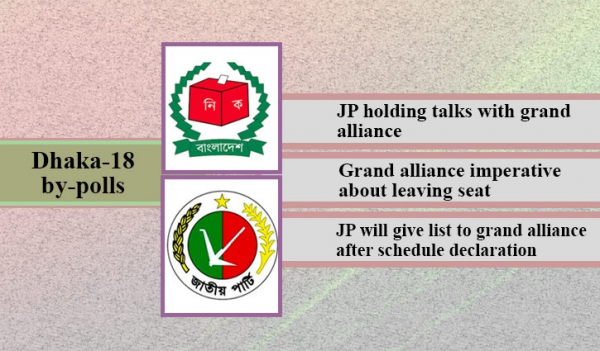 Jatiya Party (JP), an ally of the Awami League-led grand alliance, wants to give candidate from the grand alliance in the by-polls to Dhaka-18. Jatiya Party Chairman GM Quader and other top leaders are continuing discussion with the top level policymakers of the grand alliance over the issue. Following this, the grand alliance has sought list of candidates from Jatiya Party.
According to JP policymaking sources, the party has given a primary proposal this week to the grand alliance over leaving seat in Dhaka-18 by-polls. The grand alliance is considering it positively. The alliance will decide on leaving the seat to Jatiya Party after testing the popularity of aspiring candidates from both the parties ahead of the by-polls.
Regarding the issue, JP Chairman GM Quader on Wednesday afternoon told risingbd: "Dhaka-17 belonged to us. Party's founding chairman HM Ershad was the MP of the parliamentary seat. We left the Dhaka-17 seat for the interest of the grand alliance. That's why, we have proposed to the grand alliance so that they leave Dhaka-18 seat for us. Our party leaders also demanded the same. We are continuing the discussion over the issue. Hope, the prime minister will also take the matter into consideration."
It is learnt that Jatiya Party is picking opinions from top party leaders and local leaders over nominating candidate for the by-polls to Dhaka-18. The party will prepare a list of possible candidates for the seat after discussing it in party forum which will be sent to the grand alliance soon after the schedule declaration.
JP Chairman GM Quader sat for a meeting with co-chairmans at Banani office in the capital on Thursday for open discussion over preparing the candidates list and participation in the Dhaka-18 by-polls.
Jatiya Party Presidium Member SM Faisal Chishty said, "The party will take part in the by-polls to Dhaka-18 from being in the grand alliance. We are taking a preparation to contest in the by-polls."
Naymuddin/AI