USA BNP`s prayer meeting for Khaleda Zia`s recovery
Staff Reporter, USA || risingbd.com
Published: 09:25, 3 May 2021 Update: 09:54, 3 May 2021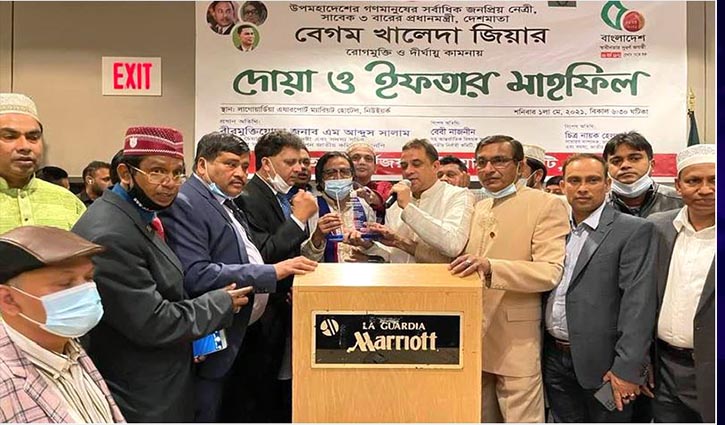 A special prayer and iftar mahfil has been held in New York for the immediate recovery of BNP Chairperson and former Prime Minister Begum Khaleda Zia.
Leaders and activists of the BNP, Juba Dal, Chhatra Dal and Jasas took part in the prayer and iftar mahfil organized by Independence Golden Jubilee Committee of USA BNP at the ballroom of the Marriott Hotel nearest to Lagarde Airport in New York on Saturday (May 1).
Abdus Salam, Member Secretary of the Central Committee and Adviser to the BNP Chairperson, addressed the function as the chief guest presided by Zillur Rahman Zillu and performance by Member Secretary Mizanur Rahman Bhuiyan Milton.
Central BNP co-international secretary and vocalist Baby Nazneen and Jasas general secretary and actor Helal Khan spoke as special guests.
Ashiq Islam, a former official of the former Prime Minister's Office, was present at the time.
Speaking as the chief guest in a brief discussion before Iftar, Abdus Salam said that the expatriates must work unitedly in the struggle to restore democracy in Bangladesh. It is only through a united movement at home and abroad that the present government can be overthrown. Therefore, forgetting all differences, everyone must unite and work to protect democracy. The movement has to be strengthened from exile.
He called upon the BNP leaders and workers in the United States to maintain unity and order within the party.
Zillur Rahman Zillu, convener of the United States BNP's Independence Golden Jubilee Committee, said more than 400 leaders and activists were present at the prayers and iftar gathering for Begum Khaleda Zia's immediate recovery.
Hundreds of pro-BNP leaders and activists took part in the iftar and prayer mahfil and took part in special prayers for BNP Chairperson Begum Khaleda Zia, acting Chairman Tarique Rahman, those killed in corona and those killed in the democratic movement.
Chhabed Sathee/Mukul