Bloodshed to get rid of shrimp farming
Rafiqul Islam Montu || risingbd.com
Published: 17:51, 13 August 2020 Update: 18:39, 13 August 2020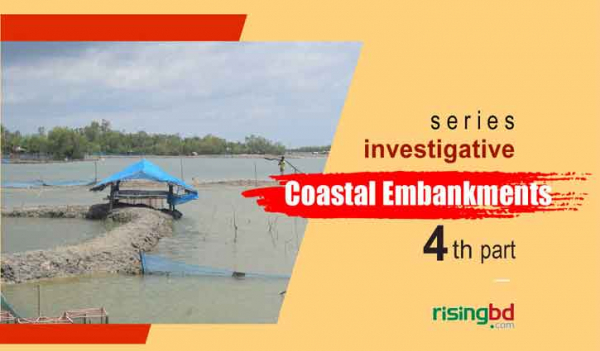 With the support of international banks, the shrimp farming was introduced to provide tantalizing dish to the rich of developed countries. International banks supported the shrimp farming as that are controlled by the rich.
As a poor country Bangladesh got trapped in the farming. But many movements were held against the shrimp conspiracy. From 1990 to 2000, there was a strong anti-shrimp movement in the coastal areas. Paikgachha in Khulna was one of the centers of this movement. From here the movement spread to other areas. At the same time, people resisted shrimp farming in other places as well. That is why, some people have given their lives! Thus, it has been possible to keep some areas free from shrimp farming. Deluti and Garaikhali of Paikgachha are two such shrimp farming-free unions. Deluti union is an island in Paikgachha upazila of Khulna. The farmers of the union are in good position compared to others. In the last watermelon and vegetable season, the farmers earned about Tk one lakh from one bigha of land. Claiming that all these are the outcomes of the movement, the anti-shrimp farming leaders said many areas of Dacope and Batiaghata are free from shrimp farming. People in these areas cultivate paddy twice a year. Cows and other cattle are freed like before. Overall, the environment is very beautiful.
Deluti is an island situated on the Shibsa River and it is seen from Soladana Ghat in Paikgachha upazila of Khulna. There is an embankment beside the river. Rows of Babla trees (acacia) on either side of the embankment look a very beautiful scenario. The yards of houses are covered with trees. There are cows in cowsheds. There are vegetables and paddy in fields.
Soladana is another union of the same upazila on the other side of the Shibsa River. The scenario of this union is quite opposite. There is no sign of open crop fields. No one can say exactly where the canals and fields were located before. There are houses burnt in salt all around through the water. Most of the people in this union have almost forgotten about their front yards. They see only salt water after coming out of the houses. Residents have had to change many rules of life due to this salt water and shrimp farming. People have to spend a lot of time and labour for drinking water. Many have forgotten rearing cattle. But at one time this area was like the other places of rural Bengal. Shrimp farming has destroyed all things, and the environment has changed rapidly. But the green of Deluti will survive.
In 1990, shrimp farmers became desperate to take over the crop fields. On the other hand, the landless people, who used to make a living by leasing khas lands and cultivating crops, opposed it. Most of the people in the union joined them. In one side, the people of then influential shrimp farmer Wazed Ali Biswas and in other side, people of Deluti. The common people won the fierce battle, but Karunamayee Sardar, the leader of the Landless Samity, had to give her life.
The sacrifice of this grassroots leader has kept Deluti's green alive, said Samresh Kanti Haldar, former UP chairman of Deluti Union. He was at the forefront of the landless movement as a result he gained huge popularity in the area. He won elections four times without a poster or campaign. Of the four polders in the union, three have gone under shrimp farming. Only the No. 22nd polder has been kept shrimp farming free. About 15,000 people in 13 villages use the polder for cultivation.
A different scenario is also seen in Deluti in the case of sluice gates and water management. Although the sluice gates are old, they have been repaired several times. The sluice gates were renovated under the Bluegold Project run by the Dutch government. Sluice gates and water management committees are also active, and the local public is involved in the activities.
Green in exchange of Karunamayee's blood
Karunamayee was at the forefront of the anti-shrimp farming movement. She was shot dead as she went ahead to resist the attack of the opponent. That is why the name of Karunamayee is shining in the history of anti-shrimp movement. The day of her murder, November 8, is still formally remembered by the people of the area. A monument has been built for her memory.
Karunamayee with her family members used to cultivate paddy by leasing kash land. This was the main income source of her family. But, salt water shrimp farming became a major obstacle to sustaining their paddy cultivation. As a result, she protested against it. Later, many more supported her. Gradually, the anti-shrimp movement became very strong. Landless people began fighting for their livelihood.
Locals disclosed the story of courage of Karunamayee. In 1990, then powerful leader of Jatiya Party, Wazed Ali Biswas became interested to do shrimp farming. He leased around 400 Bigha of land in the union and other areas. His concentration went to the land in Poldar number 22. But, landless people of the area was not agreed with him. Harinkhola Bittohin Association put bar against the Wazed Ali. They didn't allow him to enter salty water in the land cutting embankment.
Finding no other way, the followers of Wazed Ali took position on November 7 to cut embankment. On the other hand, locals also took preparation to stop them in Harinkhola. People from others areas joined the landless people. The both sides locked into altercation. At one state, Karunamayee received bullet injuries. However, his body went missing later.
A rare example was sent by repairing embankment voluntarily
"Embankment in Kurikahunia which we built after the cyclone Amphan, has washed away, the dam will be rebuilt today. Please, all male persons join us…" an announcement came from a microphone in Taltola Bazar in Protapnagar union.
Everyone in the locality was seen in hurry mood. Leaving all kind of tasks, people moved towards Kurikahunia and Harishkhali areas. They all knew, there is no alternative to repair the dam. Even, the kids had joined the repairing tasks. It's seem thousands of people joined a massive conference. Some were seen putting bamboo, some were seen cutting soil. Locals of the coastal areas created a rare example through the volunteer works. The bonding of people in dam building is strong. People from all walks of life including teachers, students, labourer join the tasks.
A question was put in front of a local youth who was seen leading the construction of embankment. How the coordination is done in building dam?
In reply to the question, Mahmudul Hasan Miron, convener of 'Prio Matrivumi Protapnagar' said, "Actually, there is no effective response from the government in repairing embankment. Locals do it ultimately. Usually, embankment repairing is done by the fees of local dwellers and fish farms. People spontaneously joined the work."
Shah Jahan Hossain, a student of Ashashuni APS Degree College said, "We are doing this work collecting money from locals. We have to do ours tasks.
Local sources said, after two days of cyclone Amphan, at least five thousand people joined the dam repairing tasks in four points of Protapnagar union in Ashashuni. One and half month have been passed after the cyclone but the broken parts were not repaired. In some places the work is almost finished but at the last moment it is collapsing again.
Former union parishan chairman Alhaj Abu Daud said, "We are trying to protect ourselves. If we wait for the government's response then we will be washed away. If the people of this union got bamboos and other materials to repair dams in time then the area would be free from waterlogging soon."
Volunteer repairing works were seen in various areas after the cyclone. Of them, Gabura of Shamnagar, Burigoalini, Kashimari, Padmapukur, Harinkhola of Kaira, Hazatkhali areas are mentionable. However, repairing tasks were not possible in some areas due to additional water pressure. Again, people of some areas are in relaxed mood as the repair work of dam has been completed. In most of the cases, locals have built the dams in their own efforts.
Mobarak Hossain, a senior citizen of Nildumur said, the culture of building dams voluntarily in this region has been going on for a long time. Once upon a time, there was a dam named Astomashi Dam. The eight month long dam was built to harvest Aman paddy. Dwellers built that dams by their own efforts."
While visiting the repaired dam areas, this reporter found that those were actually ring-dam. That means – a small size round shape dam was built through the crop land and houses of people to stop flow in crop lands. Therefore, land and houses of people were damaged. But, the local people accept the loss for the sake of lives and wealth. In return, they don't get anything. As a result, hundreds of acres of land were lost in many areas due to the ring-dam. Around six Bighas of land were damaged in Datinakhali area of Burigoalini union.
Abdul Halim, a local reporter said, "After cyclone, ring-dam is built to save lives instantly. It is not possible to check whose land or houses are being damaged at that moment. Sometimes, people lost their last shelter in ring-dam. The government should think about it. Compensation system should be taken in this regard."
Ashek-e-Elahi, member secretary of climate council in Satkhira, also opined same. He said, people of west coastal area set a rare example repairing dam voluntarily.
Satkhira water development board (division-1) engineer Abul Khayer said, water development board cannot start repairing tasks just after the cyclone. Locals do it jointly. It's a rare example. Their ring-dams is not a permanent solution. However, it's an important task.

***Assurance increases only sigh
Taposh Roy/Mukul/Nasim