Ownership of embankments has to be given to people
Rafiqul Islam Montu || risingbd.com
Published: 18:31, 14 August 2020 Update: 22:24, 14 August 2020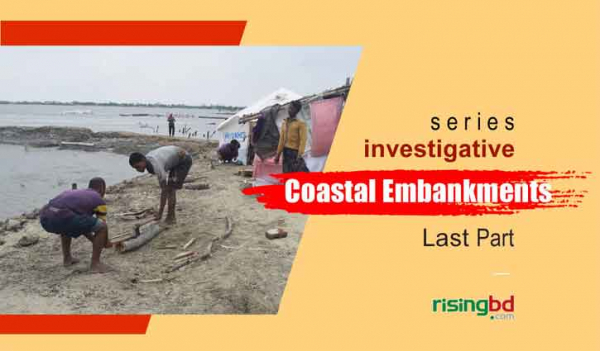 The demand for durable and high embankments is many days old. This demand becomes strong after a natural disaster hit the areas. If an embankment is damaged in the disaster, the demand becomes stronger.
The slogan "We want sustainable embankments, not relief' is also old. The slogan became strong after Amphan hit the costal belt. At the same time, another demand has arisen from the coastal people, civil society and expert level. That is-the people have to be given ownership of embankments.
Ruhul Amin Gazi, 70, a resident of Kurikahunia village in Ashashuni upazila of Satkhira, said their embankment collapsed on June 3. "If the embankment was strong and a little higher, it could not collapse and we did not suffer any loss in Amphan. Now, I have lost everything! We do not want relief, we want a strong embankment". Many people of Shyamnagar, Ashashuni, Koyra and Paikgachha upazilas also demand strong and high embankments.
Sources say after cyclone Aila hit the area in 2009, people demanded to make old embankments of the sixties strong and sustainable. They also demanded to take pragmatic steps instead of making ring embankments.
An embankment should be at least 20 feet high and 120 feet slope.
At the same time, mangrove forest should be created beside the embankments. But almost a decade has passed and no action has been taken in this regard. As a result, many more embankments collapsed due to Amphan compared to Aila's tidal surge.
It is also being said from the expert level that the allocation for the embankments should be increased, and the laws and regulations for the maintenance of embankments should be implemented properly.
Many experts suggest that the embankments should be handed over to the public. They will build and maintain embankments. They also suggest the government should hand over the responsibility for building and maintenance of embankments to the local government bodies.
In this regard, disaster expert Abdul Latif Khan said "Only when the storm season comes, the issue of embankment comes to the front. But, the protection of the embankments should be monitored throughout the year. The local government bodies know all things at the local level. So, if the responsibility of the embankments is given to them, they will work properly. The Water Development Board will provide only technical assistance".
Disaster expert Gowhar Naeem Wara supports the speech saying, "No one knows where and how embankments are used after building. Therefore, the local people should be the owners of embankments, they will guard embankments. The work can be done through the local government bodies".
Citing the example of an embankment in Charfason in Bhola district, he said, "Several years ago, the responsibility of building and maintaining an embankment was given to the local people. They built houses on it and planted fruit trees. Their life revolved around the embankment. Such initiatives should be taken in all coastal areas."
Water and disaster management expert Ainun Nishat said "The height of an embankment should be around three meters. Embankments should be built towards the sea. At one time, a water committee was formed to maintain an embankment in an area. Such committee can be effective again. The responsibility of maintenance of embankments has to be shared".
Transparency International Bangladesh (TIB)'s Climate Finance Analyst M.K. Zakir Hossain Khan demands the responsibility should be given to local communities to renovate and build embankments.
According to him, if steps are taken, the cost will be reduced and at the same time, public ownership will be established. The Water Development Board will only provide design and technical assistance to the locals. The local communities can use their hundreds of years of knowledge and experience to ensure environment-friendly and disaster-tolerant sustainable development as well as effective climate adaptation.
Gouranga Nandi, a senior journalist working on west coast embankments and river management in Khulna, said "Silt management is a major factor in the management of water resources in the area. If we ignore the issue of silt management in implementing sustainable embankments, it will be difficult to sustain settlements in the region. We built embankments for controlling the rivers as a result the nature is now taking revenge. The new catastrophe has been created due to the control of rivers and neglecting silt".
After the cyclone Amphan, the civil society again raised their voice demanding strong embankments. Various programs were observed in the capital Dhaka and at the local level. Non-government development organizations Coast Trust and EquityBD jointly organized an online seminar in Dhaka. Experts discussed the issue. The recommendations made on the basis of their discussions were sent to all the MPs of the country.
The government's allocation for the protection of about 20-25 million endangered people in the coastal areas, especially for the construction of necessary embankments, is inadequate in the budget of the current financial year, they said.
They demanded an allocation of at least Tk 10,000-12,000 crore every year for the construction of sustainable embankments. There is 5,754 km embankments and polders in the coastal areas. There are also five to seven lakh more poor people are living in different chars (islands), where there is no embankment. Over all, about 6,500 km embankment is needed in coastal areas. For this reason, about Tk one lakh 20 thousand crore is needed.
In the letter, they also said proper socio-economic development programs should be undertaken centering embankments to make the coast climate tolerant. Besides, afforestation should be created and maintained on both sides of embankments to ensure sustainability. At the same time, the formation of a 'Coastal Development Board' was also demanded.
Delta plan and embankment protection guidelines in SDGs
Construction and repair of embankment in disaster-prone coastal areas of the country are an important part of the government's delta plan. The 27,738 square kilometer long coastal areas are much larger than any other special areas of the country.
According to delta planning, storm, tidal wave and salinity penetration to be prevented through existing polder activities in coastal areas. Specialists opined that strong and high dams are needed to implement these targets. But, embankment construction, project maintenance, application, approval and implementation took huge time. As a result, project repairing tasks are not being fulfilled.
On the other hand, there are some directions in sustainable goal or SDGs in the context of effect of climate change in coastal areas. Three main aims are mentioned there to tackle the problem. These are - Climate related risks, adversity- tolerance in dealing with natural disasters and adaptation ability should be increase; National policy strategies and plans related to climate change should be coordinated and awareness on climate change, adaptation, mitigation should be increased, human and institutional skills should to be improved.
CEIP issue
With the assistance of World Bank, Water Development Board started Coastal Embankment Improvement Project (CEIP). In first phase, the five years long project was scheduled to end June, 2019. But, the project was extended till this year showing the reasons of lack land, river erosion causes. Under this project, embankment tasks are underway in Khulna, Bagerhat, Satkhira, Barguna, Patuakhali and Prirojpur. In first phase, Tk696 crore of Tk3,280 are being used in the project. Although, the names of various areas in Satkhira and Khulna are mentioned in the project but the phases are uncertain.
While contacted, CEIP executive engineer Ashraful Alam said, "We are working on it. Tasks in some areas are completed and some are incomplete."
Why an under construction project washed away due to cyclone Amphan? He replied, "The area was in a miserable situation due to river erosion. River governance was not considered during project formation. That is why the work of the project is being delayed."
Why Shyamnagar, Assasuni, Koyra upazilas are not included in first phases of CEIP whereas those areas were vulnerable?
Replying to this question, Water Development Board Satkhira-1 executive engineer Abul Khayer on June 2 said, "The project is being funded by foreign donors. Their interest was a fact here. However, we have submitted a project to strengthen the dam of the areas. We hope that that project (Satkhira Polder number 15 Rehabilitation project) will get approval within one month."
Final research
Engineer Habibur Rahman, Additional Director General at Bangladesh Water Development Board also Chairman of Institute of Engineers Bangladesh Civil Engineering Division said, a research study was taken titled 'Long Term Monitoring, Research and Analysis of Bangladesh Coastal Zone'. Joint Venture of DHI, Denmark and Stichting Deltares, The Netherland" in association with IWM, Bangladesh, University of Colorado, Boulder and Columbia University were appointed as advisory institutions. The tasks are going on right now."
He also said, "After the proper study, following its report, the existing infrastructure of the polders will be made suitable for at least 100 years to ensure sustainable development of the coastal regions."
Providing emphasize, Habibur Rahman also said, "We all are waiting for this ambitious study report. On the basis of it, the long-term crisis of the coastal areas in Bangladesh will be eradicated and a new window of possibilities will be opened too."

***Bloodshed to get rid of shrimp farming
Taposh Roy/Mukul/Nasim