Bangladesh at high risk of HIV infection
Hasibul Islam || risingbd.com
Published: 21:44, 21 January 2022 Update: 21:48, 21 January 2022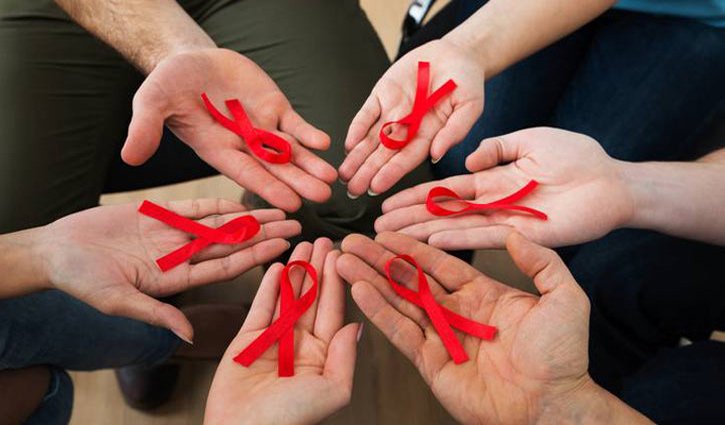 Bangladesh have reported 8,761 patients infected with HIV (human immunodeficiency virus) so far. Of them, 1,588 died, estimating 18.13 percent death rate, according to the Directorate General of Health Services (DGHS).
However, the field of HIV infected patients has increased under the programmes taken by the government. Experts believe, 95 percent of HIV patients will come under treatment by 2030 in compliance with the tasks taken by the government.
Meanwhile, health experts suggest the government to take more initiatives and plans to combat against the deadly virus. They feel need to increase identification test and coverage to detect the people who bear the virus. Particularly, more attention needs to be paid to Rohingya people, migrants, people who have been pushed back and AIDS-prone areas. They also opined to bring everyone under the HIV test in border areas as like the coronavirus.
According to UNAIDS, the Joint United Nations Programme on HIV/AIDS, Bangladesh has so far registered more than 14,000 AIDS infected patients which is 0.1 percent of the total population. However, only 8,000 patients are currently under the treatment. Till November 30, 2021, Bangladesh logged a total of 1,588 people who died of AIDS. Since then, no record has been found in this connection.
After monitoring the statistics recorded by the DGHS, the number of AIDS infected people is increasing in the country day by day. Most of the newly HIV infected people are from expatriates or members of their families. Infections among general population increased over the past year, although new cases had been found in four type of population earlier.
According to the latest statistics, a total of 6,104 HIV infected people have been brought under the treatment. The rest of 1,125 AIDS patients still out of the treatment privilege.
However, Bangladesh National AIDS/STD Control Programme claimed that the rate of bringing AIDS patients under the treatment coverage is increasing every year.
The awareness rate in 2019 was 52 percent which raised to 63 percent in 2021. Some 65 percent of AIDS infected people was under the treatment two year ago which currently increased to 77 percent.
It was learned that most of new cases detected in Dhaka division. Some 218 new cases of HIV have been detected in the division while 127 in Chattogram, 64 in Khulna, 45 in Sylhet, 28 in Barishal, 27 in Rajshahi and 15 in Mymensingh and Rangpur each.
According to age analysis of new cases, some 12.24 percent is above 50 years old while 74.20 percent between 25 to 49, 8.5 percent between 19 to 24 and 2.07 perecent between 10 to 18 years old.
Meanwhile, UNICEF said a staggering 360,000 adolescents are projected to die of AIDS-related diseases by 2030. Unless additional investment in HIV prevention, testing and treatment programmes, 76 teenagers will die every day.
According to the report titled 'Children, HIV and AIDS: The World in 2030 of UNICEF' warned that if current population growth continues, the number of HIV-infected people aged 0-19 will reach 270,000 by 2030, about one-third less than current estimates.
The current situation of AIDS in Bangladesh is almost the same, the organization said.
The United Nations aims to bring 95 percent of people living with AIDS under treatment. This goal must be achieved within the next four years.
According to UNAIDS, the estimated number of people living with HIV in Bangladesh is 13,000. Of them, 6,455 people have been identified through public-private level examinations. People who are unrecognized are not receiving treatment, increasing the risk of infection.
the number of people living with HIV in Bangladesh at 13,000. Of them, 6,455 people have been identified through public-private level diagnosis. Unrecognized people are not receiving treatment, but they are increasing the risk of infection.
History of AIDS in Bangladesh
The first case of HIV in Bangladesh was detected in 1989. Since then, 10, 20, 100 or 200 new cases have been identified every year. In 2018, the number of new cases stood at 869. Bangladesh registered the first death of HIV-infected patient in 2000.
According to statistics till November 30, 2021, Bangladesh tested a total of 6,28,312 people for HIV last year. In addition, 6,62,757 people went through blood screening. Bangladesh detected 729 more HIV infected people in 2021. Among them, 188 are Rohingya refugees came from Myanmar. With them, the number of potential patients infected with HIV in the country is 14,000.
During the same period, among the new cases, general population was 186 (26%), Rohingya 188 (26%), expatriates and members of their families 144 (20%), injecting drug users 81 (8%), female sex workers 17 ( 2%), homosexuals 67 (9%), male sex workers 53 (7%) and transgenders 13 (2%).
DGHS Line Director Dr Md Khurshid Alam, also the project director and line director of Tuberculosis-Leprosy and AIDS STD Programme (TB-L & ASP), said, "The rate of HIV infection in the country is very low, only 0.1 percent. Although the rate of infection is low, there is a risk of HIV surge due to overcrowding, internal and international migration and lack of awareness. Alongside, the risk is increasing for Bangladesh as the rate of HIV infection is much higher in neighbouring countries like India, Pakistan, Myanmar, Thailand, Malaysia and Indonesia.
Treatment and services for AIDS in Bangladesh
According to the Bangladesh Country Coordinating Mechanism (BCCM), the scope of treatment and services for AIDS in the country is enough than the need. But due to lack of awareness at the grassroots level, it has not been possible to implement many of the government's plans. However, AIDS treatment has not yet been introduced at the private level.
AIDS treatment is provided in Bangladesh by the government. There is no opportunity to take this service at private level yet. There are 27 AIDS detection centers across the country while medical services are provided at 11 centers.
There is no need to get admitted in a hospital for AIDS treatment. Most of the patients seek treatment at home. However, they have to take regular medication from the designated center and keep in touch with the doctor. Adults are given oral medication while children are given syrup. However, if someone has any other physical complication along with AIDS, he has to get admitted to a hospital for treatment.
Home coming expatriates increase concerns
Since 2019, many who went abroad legally and illegally, have returned home due to coronavirus pandemic. The matter of concern is that the number of migrants is high among the newly identified AIDS patients. Even the rate of infection is high among their family members. At this time, the government was more focused on ensuring coronavirus and home quarantine. So it is feared that some people will be left out of the test for AIDS. In addition, it has been observed over the years that some of the migrant workers are returning home after contracting HIV.
According to statistics, 30 percent of new HIV patients surveyed are migrant workers or members of their families.
Lack of awareness
According to experts, the awareness about AIDS is not at the desired level yet in the country. Though, it is slowly growing, it needs to increase.
According to officials National AIDS/STD Programme of DGHS, nearly 50 percent of those infected with HIV are not aware of the infection. Those who know that they are infected, more than one-third of them, do not take treatment. People who get infected with HIV need to take regular medication (antiretroviral), blood tests. The government does not have information on the physical condition of the people receiving treatment. However, at the end of 2019, the government started the work of reserving information in this regard.
According to sources, the rate of HIV/AIDS infection among the general population is below 0.01 percent and this has been possible due to various effective measures taken by the government.
Experts say, the incumbent Awami League government is conducting massive campaigns to raise awareness among general people. Now people are much more aware than ever before. Earlier sex workers were unconscious over the disease. Now they are much more aware. In addition, home returning expatriates are also now much more aware of HIV. The risk of AIDS can be further reduced if awareness activities are strengthened.
What experts say
Dr Zahidul Kabir, chief of Virology Department of Suhrawardy Medical College Hospital in Dhaka, told risingbd that Bangladesh has less HIV infected patients than neighbouring countries. Still, it is important for us to be careful over the matter. Otherwise, there is a risk of increasing AIDS patients in our country.
"It simply came to our notice then. Basically, Bangladesh is a high risk country for HIV. Although the number of victims is relatively low now, it is likely to increase at any time.
"Our country can be stated now as low prevalence. Basically, Bangladesh is a high risk country for HIV. Although the number of victims is relatively low now, it is likely to increase any time," he added.
When asked about importance of HIV testing in border areas, Dr Zahidul Kabir said, "I think this initiative has now become a mandatory issue. Because we have borders with India and Myanmar. Both countries have high rates of HIV and we are at high risk. More people come from these countries by land through border than by air. That is why it is important to ensure HIV scanning in all our ports. With the importance of AIDS, measures should be taken to install scanning machines in these places as soon as possible."
He further told risingbd that the coronavirus infection rate now is on the rise again. In the meantime, the government has imposed 11-point restrictions. Coronavirus scanning machines have been installed at various places to detect the deadly virus. The government has also set up hundreds of RT PCR labs. These labs can also be used for HIV diagnosis. It is possible to get tested for HIV by adding a few tools to these labs.
When asked how is rehabilitation or assistance in Bangladesh after recovering from AIDS, Dr Zahidul Kabir said, "There are efforts in Bangladesh for this. But it is being done in a limited way as there are less patients. Those are infected with HIV in our country are mostly from the lower class. As a result, they do not receive the necessary attention in policy-making. However, the UN provides assistance or rehabilitation for AIDS patients through some NGOs. But I do not know exactly how much it is."
Saima Khan, UNAIDS Country Manager in Bangladesh, said, "UNAIDS is focusing on AIDS prevention. Our strategy for the next five years is: You are equal to you. Undetectable is equal to untransmissible. In other words, if I could take the medicine and reduce the virus to a level when it could no longer spread. If my HIV is not spreading, then I can live longer."
She said, "There are a lot of modern medicines with much less side effects, but a lot of effectiveness. The medicines can reduce the virus in a person's body significantly, but cannot eradicate it completely. The treatment is so good that if you take regular medication, you will have to continue it for life and reduce the viral load. As a result, it will not have any effect on his own body, nor will it spread to bodies of others. So, even if someone is infected, he/she will be able to lead a normal life."
Dhaka/Hasibul/AKA