Three young men in Rajkot at night
Published: 16:34, 27 May 2023 Update: 17:06, 27 May 2023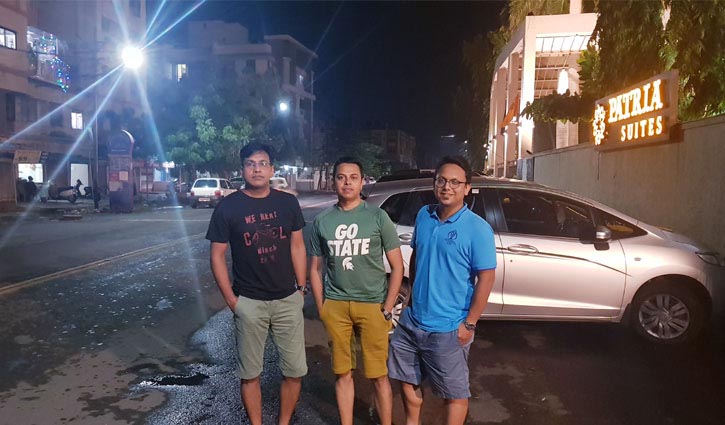 On a Rajkot road at night
After landing at Rajkot Airport, I remembered Humayun Ahmed and one of his books. When receiving treatment for cancer in a hospital of New York, he wrote the book 'New Yorker Akashe Jhokmoke Rod' (The Sun shines in the sky of New York".
I passed four days after coming in India on the occasion of Bangladesh-India cricket series. I went directly to Delhi from Dhaka. I was in the field for the first T20 match on November 3. But not as a spectator, I was in the field with a camera in hands, just as a photographer.
I witnessed the moment of extraordinary victory. At the end of the match, I was able to congratulate the players of Bangladesh team and take some photos. It was a great opportunity for me at Arun Jaitley Cricket Stadium in Delhi.I was also scheduled to cover the second match in Rajkot. I have forgotten to say that senior colleague Firoj Alam was with me. Cricket branding is a big part of my job. As our company Walton was the co-sponsor of that historic cricket series, so I had to go there.
Our flight schedule from Delhi was at 12:55pm. We reached the airport on time. In the last two days, I heard several times that there is a less possibility to take place the second T20 match as Rjkot weather office forecast a major storm may occur there.
Many journalist brothers and friends who came to Delhi to cover the series were seriously discussing the matter. For this reason, Firoj Alam Sir who came with me remarked, "It is a dangerous practice". Besides, while talking over the mobile phone with some people in Dhaka, everyone expressed their concerned, what will happen, if storm occurs. Arriving in Rajkot, I noticed such a message sent by one of my friends in Facebook, advising me "Remain careful in Rajkot".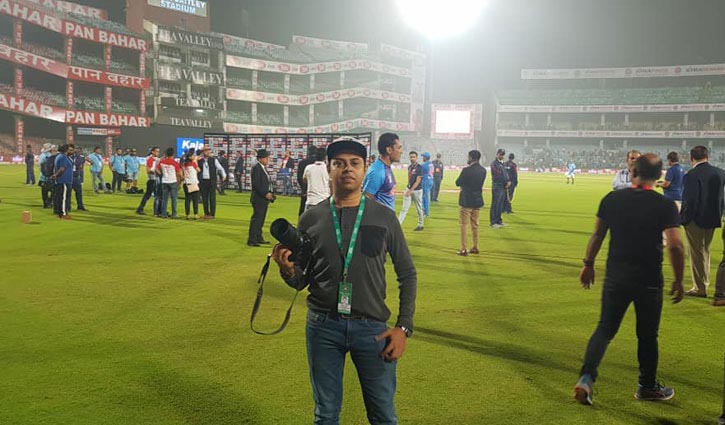 Arun Jaitley Cricket Stadium in Delhi
Due to the reason, I felt unwell. Firstly, if the match is not played, we won't get the joy of victory for the second time. Secondly, if the match doesn't take place then our branding will incur many losses. Bangladesh won the first match, so the hope of win and expectations would increase for the second match. There is no end to the interest of crores of fans of the two countries. Due to the reasons, the no-match was a matter of concerned.
When we landed at Rajkot Airport, nothing came to my head that no match would take place because the sky was clear. It seemed that there was no possibility of any storm in the next two-four weeks.
Rajkot is one of the famous cities in India and the fourth largest city in Gujarat. Rajkot ranks after Ahmedabad, Surat and Vadodara. After coming here, I understood why Rajkot has been named as the ninth cleanest city in India. So clean and tidy, it can't be understood without coming here. It is the thirty-fifth largest metropolitan cities in India.
From Dhaka, we booked the hotel through booking.com. The distance of this hotel is about one kilometer from Rajkot Airport. This five-star rating hotel was booked by Firoj Alam Sir at a very cheap rate. While booking we were in doubt whether the five-star rating is really true or not. Because, we rented the suite for only three thousand rupees. In other words, two persons had to spend Tk 3,000 per day to stay there.
The flight of IndiGo Airlines delayed to leave Dhaka. But the Air India flight left Delhi for Rajkot on time. After flying in the sky for an hour and a half, we landed at Rajkot airport. We took an auto-rickshaw, which dropped us in front of the hotel within five minutes. As soon as we left the airport, we began to witness the beauty.
Before going there, I heard a little about this. ITW's Mohammad Sharik, who is a man of Kerala and travels all over India for cricket purposes, told us about the beauty of Rajkot. Moreover, it is a common matter that one will say about his/her own country. When Sharik visited our office for a meeting to sell sponsors for this series; Then we heard from his mouth that Rajkot is unbelievably beautiful.
When we reached the hotel, our worries went away. The hotel was really amazing. A matter was hitting hard when we would go out to see the city. We both got fresh and went out. Let's say a little, why it was so important to enter the field. The tri-nation cricket series was held in Bangladesh last month, and I got permission to take photos from the field. And that time, I got permission from BCCI to take photos from the India's field. I think this was a big achievement for me.
But, I was feeling that I have missed something in Rajkot. I was really missing Uday Hakim Sir, who used to fall in love with such a beautiful place and get a great opportunity to write. His presence always increases pleasure four folds. There are many opportunities to learn a lot from him.
Time was short. We had a portion of the day on the day and the whole day tomorrow. When we went out from the hotel, it was around 4:30pm. Generally, we don't think about taking foods when we go somewhere. The duo believe the same philosophy-'Sleep and eat less, see more with eyes'.
Firoj Sir and me avoided taking lunch on the day. We came to a decision to visit a place as we ate something at the flight. I saw in internet that there is Inox Cineplex in Rajkot which is not so far our hotel. So, we will watch a movie today and eat something nearby.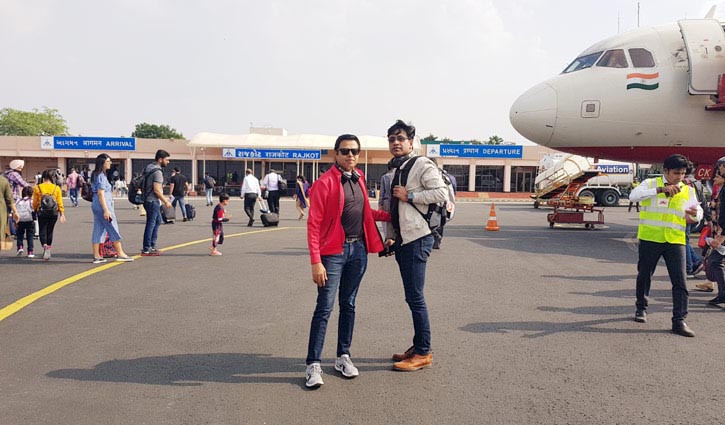 Rajkot Airport
We got out. After waiting for two or three minutes in front of the hotel, we got an auto-rickshaw. But we did not be able to understand its driver where we will go. I mentioned names of three or four places and showed the Google map. We also failed to understand another three/four drivers. Finally, we discovered that the people of Rajkot are not fluent in Hindi. Their own language is Gujarati. After buying cinema tickets, we tried to spend our extra time and to eat something. But we did not see even a letter of Hindi anywhere. All are written in Gujarati language.
Fifteen minutes before the end of the movie, GTV's Taib Ananta called me and said, "Where are you, brother? Let's watch a movie today". I said, "I am at a cinema hall and watching a movie". Then Ananta asked for the address, I said, "Brother, there are only fifteen minutes remain to end the movie". He said in a disappointed voice, "I thought I would spend time with you. So, we will take dinner?" I agreed to have dinner and told him, 'Come to our hotel'.
We didn't go to the room as it would take 10 minutes for Ananta to come. Waiting for him, we went to the reclining chair next to the swimming pool and sat down. The pool is located at the last end of the hotel area, passing the lobby. In the neon light of the deserted pond, our attention was on the mobile phones. I already knew that the hotel has a rooftop restaurant.
Ananta came and wanted to know, "Brother, are you hungry? I am very hungry. Let's have dinner first". I went to the roof. We completed our dinner with talks and chats. Vegetable biryani, with dal bhuna, great recipes both. I took those with satisfaction.
After taking dinner we went down and walked around the beautiful area for about thirty minutes. About half a kilometer distance. There are small houses and most of them are two-storey. Feroj Sir, Ananta and me. It will be around 11:30pm. We are walking. In the lonely streets at night, the soft fragrance of flowers is coming to our noses. A great feeling! I remembered a novel by Humayun Ahmed – 'Chander Aloy Koyekjon Jubok' (several youths in moon light). In that novel, three young men walk around the streets all night. Today we are three young people from Bangladesh. It seemed that Humayun Ahmed's three youths in Rajkot. If it's Houseful Four, if it's Terminator Four, then a few youths in the moonlight – what's wrong if several youths become the sequel of the novel?

Dhaka/Mukul