How we got fascinated in Nagpur Orange City
Published: 18:29, 2 June 2023 Update: 18:36, 2 June 2023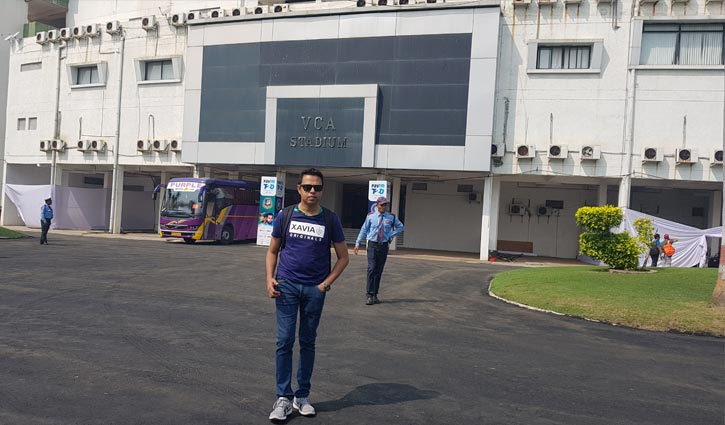 Vidarbha Cricket Association Stadium
We arrived in Dr. Babasaheb Ambedkar International Airport around 2.00am. Feroj Alam sir and some other familiar persons were on the same flight. Among them, they were Rana Abbas Bhai of the 'Prothom Alo', Sekandar Bhai of the Samakal and Ehtesham Sabuj of Ekattar television channel. Everyone went there to cover the Test match between Bangladesh and India. Everyone felt anxiety and uncomfortable as the flight was delayed and landed at midnight. Some were in pressure as they had to find out hotels in that midnight.
We rented a taxi from the airport. After passing the parking area, the taxi started to run on an eerie calm road. Some trees were on both sides of the road. There was an isolation place. It is the common for any person to be afraid of such situation at that night. In many areas of our country, robbery is committed at night. I heard many stories of robbers in my childhood. Since then, when I feel a lonely place like that night, I remember those. The airport was similar to our Jashore Airport. Passing the eerie calm road, we entered the city. We saw the signboard of Lata Mangeshkar Hospital. Feroj sir asked the driver, "Which Lata Mangeshkar? Singer? The driver said, "Yes, Lataji".
This cancer hospital has been named after her! We saw many hospitals and clinics in the area. The driver told us "the name of the area is Heart of the City". The area is also called the heart of Nagpur city. All of the big and famous hospitals of the city are located there. The life and health of many people depend on the hospitals in that area. For this reason, the city has been named.
Nagpur city is originally called 'Orange City'. At the entrance of the city, it has been written 'Orange City'. Big size and delicious oranges are cultivated here. Besides, it is the most important trading center of oranges. Another important fruit is apple. The government of India has also termed Nagpur as 'Tiger Capital'. Some 39 tigers are in Nagpur, and the city has got recognized as the 'Tiger Capital of India'.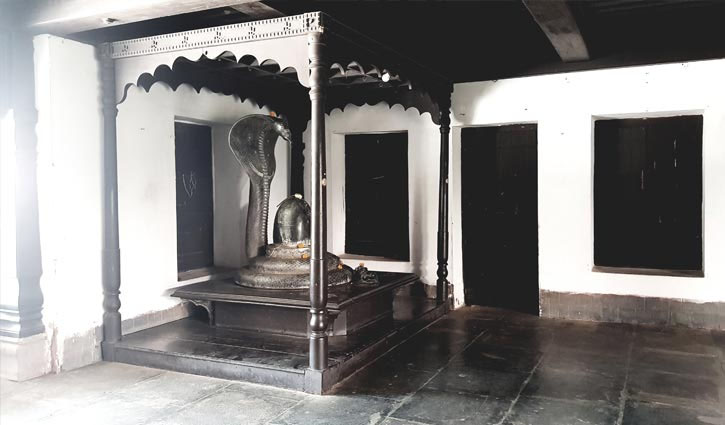 A temple
We arrived in front of the hotel after twenty minutes. A young man aged around 30/32 years welcomed us at the reception of JK Hotel located in the narrow lane. There is no system in the hotel to complete check-in at night. Besides, Feroj sir informed the authorities earlier about the matter over the phone. As a result, we did not face any difficulty in check-in. As per the hotel rule, we filled up the forms and submitted the passports and went to our room. Our luggage was delivered to the room by a 16/17 year-old boy. But we could not like the room. We went to Sri Lanka, Delhi and Rajkot through Booking.com. But we did not get such experience anywhere. There was a big difference between this hotel and the image of Booking.com.
We noticed some Bangladeshi journalists came to the lobby to rent rooms, but hotel authorities did not agree due to several problems as a result they went out for searching another hotel. All over Nagpur city, they faced same problems. There was a situation that hotels had enough vacant rooms and hotel authorities were interested to give rooms to guests. But after introducing themselves as Bangladeshi, hotel authorities said, "Sorry, there is no room". Several hotels also refused to give rooms to Bangladeshis without the permission of the police.
There were some problems, the third T20 match between India and Bangladesh will take place at Vidarbha Cricket Association Stadium, which is about twenty kilometers away from Nagpur city, just outside the city. The road leading from the highway to the stadium is covered with small trees on both sides, just like a forest. People here want to watch games sitting on the field.
It can be here mentioned that Nagpur is one of the most important districts of the Indian state of Maharashtra. Nagpur city is also called the second capital of Maharashtra. Mumbai (Bombay) is the capital of Maharashtra. It is the third largest city in Maharashtra after Mumbai and Pune. Its area is about two hundred and twenty eight square kilometers and has a population of about three million. Why the city has been named as Nagpur. It is a matter of curiosity to almost everyone who comes here. Nag means snake and pur means city or town. The place is named after the river Nag which flows through the area like a snake. There are several tourist spots in Nagpur, which can be easily visited. Some of those are Tadoba Andhari National Park, Ambazari Lake cum Park, Deekshabhoomi and Sitabuldi Fort.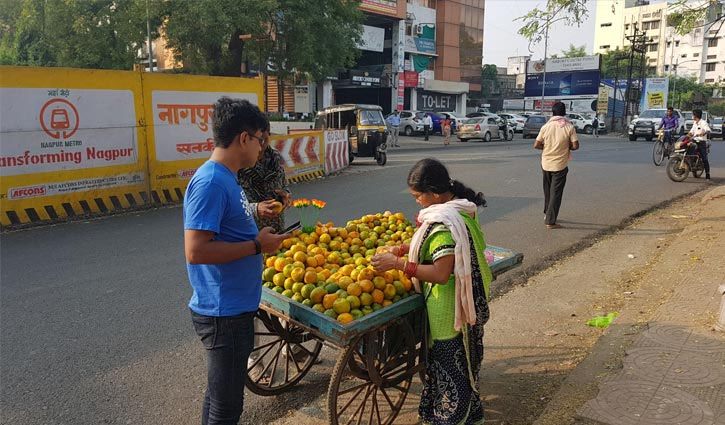 A mobile orange van
Bangladeshis faced hotel-related complications in Nagpur at night due to the announcement of Babri Masjid case. We reached Nagpur at night; the Babri Masjid case verdict is expected to be delivered tomorrow. The Indian government beefed up security measures in several areas including Uttar Pradesh as Babri Masjid was such a sensitive issue for Hindus and Muslims.
I think any government may follow the same path on this matter as it is a sensitive issue for the people of both religions. One of my Bengali friends, who lives in Rajasthan, came to know through Facebook that I am in India on the occasion of the current cricket series. She warned me at messenger not to go far away from the hotel in Nagpur city. Many universities, schools and colleges have been declared closed. Besides, the local government has issued a curfew in some places of Uttar Pradesh ahead of Babri Masjid judgment announcement. However, we stayed in Nagpur for two more days even after the verdict was announced. But, we did not see any reflection of Babri Masjid verdict.
After check-in we reached the hotel room around 3.00am. We spent about thirty minutes for freshness and then went to the bed. I have to go to the stadium at ten o'clock for an urgent work. The Bangladesh team will practise at that same time. I closed my eyes and went to sleep. When I woke up, I saw that it was 9 o'clock. This is the chance to see the Orange City in the morning. There was a quiet and peaceful atmosphere. Fewer vehicles were plying on the streets. Only several taxis, auto-rickshaws and private vehicles were seen. I saw Lata Mangeshkar Hospital in daylight.
The big road in front of the airport goes to north side of the city. Vidarbha Cricket Association Stadium is located on south side. After crossing the city, we were running on the highway. It seemed like a highway in Bangladesh. There are few houses on either side of the road. Some restaurants were seen on both sides of the road. There was sweet sunshine all around. The sun was shining through the glass window of the taxi. I wore sunglasses. We did not get any opportunity to take any food. But, such a beautiful atmosphere in the morning made me very excited! Unconsciously, I was thinking -Life is very beautiful! New place, new environment, new culture, new language, everything was new but I enjoyed.
I didn't spend much time in the stadium. Bangladesh team was practising. I have a friendly-relationship with players. I talked to Imrul Kayes, Mehidy Hasan Miraz, Sadman Islam, Liton Das and Mohammad Naim. They had confidence to win the match. Although the first three will not play T20 matches, they are also very optimistic. Imrul Kayes said that the atmosphere in the dressing room is very good, positive thing will happen.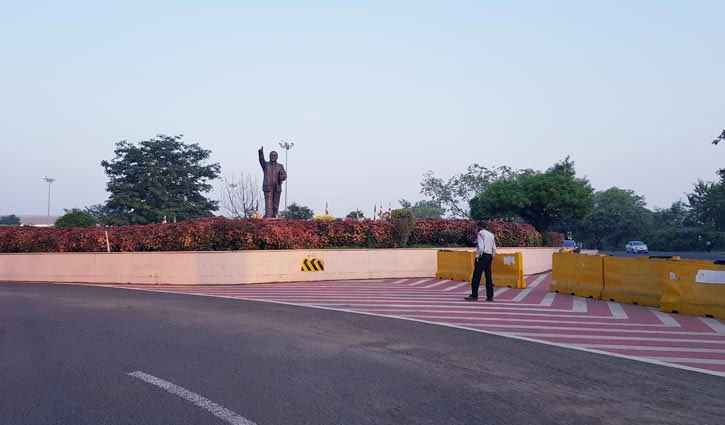 Sculpture of Dr. Babasaheb Ambedkar
When I returned from the field to the hotel, it was 2.30pm. Feroj sir was waiting for me in the room for taking lunch together. We enjoyed amazing dining experience in Rajkot! I was a vegetarian for a few days. No problem. Searching the internet, Feroj sir found out a restaurant within walking distance from the hotel. I saw the list of foods in a restaurant called Ashoka. There was no veg or non-veg item here. I ordered fish biryani for two. We took those with satisfaction, but we took some extra. We started to walk and continued about four or five hours. On the way, we bought and ate oranges from a mobile orange van. Every orange was quite large size. We bought some for five rupees. It was very delicious to eat. If we don't eat things a little, this city will mind!
Feroj sir decided to return to the country after the last T20 match and he completed his shopping. The construction works of Nagpur Metro Rail were going on in that area where we were staying. It seems when the works will be completed, the city will become very attractive. The next day was on 10 November. The last T20 match between Bangladesh and India was scheduled to start at 7.00pm. We are not people to stay in a hotel all day long. We have to go to the field at five o'clock. So Feroj sir was trying to find out a place in internet where we can visit at that time.
The Ambazari Lake was nearby, and there was a beautiful park with it. We went out with a camera. Uber dropped us in front of the lake after 15 minutes. It was not possible to roam round such a big lake. We entered the park and took some photos. After an hour, we went out and had lunch at Ashoka and returned to the hotel. We bought sponsorship from the Indian company- ITW and the company's Sharik sent a car to take us to the field. Due to traffic jam, it took about one hour although it was the way of twenty minutes. The entire highway was completely packed with spectators. We got down from the car on the main road and had to walk quite a distance to enter the field. The history was known to all. Our victory against India slipped out.

Dhaka/Mukul