Bangladesh in red zone of cyber-attack: CTO Forum
Published: 15:54, 27 June 2020 Update: 15:18, 26 July 2020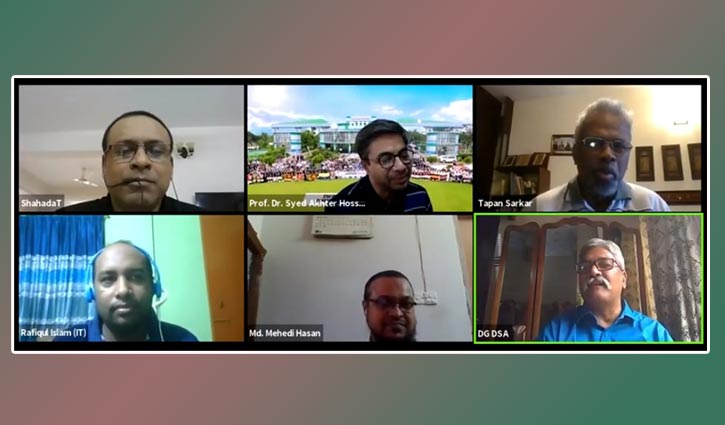 Hackers are not sitting idle during the coronavirus epidemic rather they are more active now. Because now almost everyone is using technologies knowingly or unknowingly. Interpol has also recently issued a global cyber-attack warning. Interpol has also recently issued a global cyber-attack warning. Bangladesh is in the red zone of the cyber-attack.
Security experts said this while speaking at webinar titled 'Cyber Crime and Data Breach during the Pandemic' arranged by CTO Forum (an organization of chief technology officers) on Saturday.
Director General (DG) of Digital Security Agency Parthapratim Deb was chief guest of the programme hosted by CTO Forum President Tapan Kanti Sarkar.
Professor Dr Syed Akhter Hossain, CTO Forum advisor and Head of CSE Department of Daffodil International University, Mehedi Hassan, Chief Information Security Officer of Bangladesh Bank, Shahadat Hossain, Information Security Architect of Grameenphone, spoke in the webinar.
Azim U Haque, CTO Forum executive committee member and IT Department deputy director of North South University, presented the main article.
Tapan Kanti Sarkar said various organisations including banks, essentially had to give their IT teams the opportunity to work from home during the coronavirus pandemic, had to give remote set up and services had to be increased digitally keeping in mind the risk of cyber-attack. IT team members are doing works at home environment. There are various types of software set up that are cracked or pirated versions which are not usually found in computers in office environment and this is increasing the risk. VPN or private network is being used to access the main database of a bank or organization from home, but it is not known how much action is being taken to secure that channel.
He further said almost all banks of the country are bringing mobile banking app-based internet banking and these technologies are at the highest security risk. But the banks are not paying attention to its security. Banks are on the most target for hackers. Because it is possible to benefit directly from here. We have heard that many cyber-attacks have already taken place. But news in this regard is not being allowed with an excuse of panic. In this way, the incidents are getting suppressed and becoming more horrible. This cyber risk can cause significant harm to their clients.
Tapan Kanti Kumar said unfortunately, with the exception of a handful of institutions, most of the banks particularly do not show much interest in investing in their IT or technology. However, the use of technology has empowered banks to deal with the coronavirus epidemic. Banks are always at the top of risk of cyber-attacks. But very few banking leaders see this as a complex problem.
Chief guest Parthapratim Deb said banks should continue digitalisation so that people do not have to go to banks for essential reasons during this epidemic. In addition, officials and employees as well as clients should be made aware of the highest risk of cyber-attacks.


Dhaka/Firoz/AKA
risingbd.com