'8 to 9 Bangladeshi players will remain match winner in WC 2023'
News Desk || risingbd.com
Published: 16:22, 29 August 2020 Update: 09:25, 30 August 2020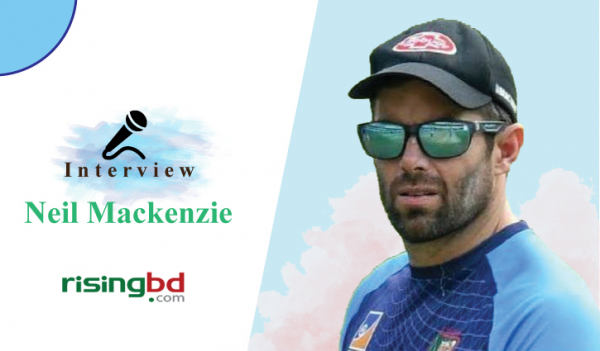 Former South Africa Test player Neil McKenzie stepped down as Bangladesh's batting coach, citing the need to stay with his family amid the coronavirus or Covid-19 pandemic. The 44-year-old was appointed as Bangladesh's white-ball batting consultant in July 2018.
Cricketers were astonished at his sudden stepping down as the batting coach as he was a very favourite face to them during his two-year stay in Bangladesh. In a virtual interview with Yeasin Hasan, sports correspondent of popular online news portal risingbd.com, McKenzie shared his working experience, memorable moments and his thinking about the future of Bangladesh cricket.
Risingbd: You have left your job in Bangladesh in order to spend time with your family members. First of all, I would like to ask you a question—what is the definition of life to you? How much influence your family had put on you at that moment?
Neil McKenzie: Well, I think that's an easy question to answer. Generally, all like to give importance on the issue that they think it is the top priority to them. To me, my family occupies the first, second, third and even forth position in the priority list. I think the remaining priorities should come after these.
When I was at 20, I decided to concentrate on playing first class cricket, giving priority on my family decision. Sometimes, we had to travel abroad. I played in England several years. And then, I joined as a coaching staff of South Africa.
I had a short break for several months after travelling two years. After the break, I got straightly connected to the Bangladesh cricket. That's why, I have been very far from my family touch for long time. Now, I have decided to spend my time with my wife and kids for being close to them and enjoying their presence.
Now-a-days, a number of coaches are working for the development of rising young cricketers. A message can be given from here that life goes pretty fast. You obviously got to balance on securing a good life and living. Obviously, these young cricketers grow up quite quickly and you wanna be present. So, just take a look back to our time. There was a bit more normalcy in our life than that of the young cricketers. However, I took all of the decisions that came from my family and still doing the same.
Risingbd: How was the journey in Bangladesh?
Neil McKenzie: Yeah, I am fortunate enough to be a part of the tigers for almost two years. I have really enjoyed my time in Bangladesh with some special memories, some special acquaintances and friends. The tigers are more enough just in terms of making me feel welcome. I have been fortunate enough to be two sets of management crews that were really enjoyable. Obviously, first one Steve Rhodes and old friend Russel Domingo. But unfortunately, it had not been possible to stay with anybody of them for long because I stepped down as Bangladesh's batting coach. I think I always be a part of them in term of my thinking and my time. It was really special to me. That's why, I like to thank all involved. It makes me feel that welcome and I will definitely be following Bangladesh and definitely, I will enquire about the Bangladesh cricket wherever I stay. Once again, I am thanking all involved for accepting me positively. And I really passed an enjoyable moment in Bangladesh.
Risingbd: You came to Bangladesh with a dream. Would you like to tell how much of your dream have been fulfilled here in Bangladesh?
Neil McKenzie: I didn't think even in dream that I am going to be included to the coaching panel of Bangladesh. Obviously, I got a chance to work with international side. I finished up Africa and got offered by Bangladesh to work there. And obviously it was an easier choice because there was a world cup around the corner and I am sort of potential in Bangladesh. You certainly have been pretty surprised to see me. There are so many talents here. I have really passed an enjoyable moment, working with both the senior and young cricketers coming through.
Risingbd: Cricketers here in Bangladesh like you most. Liton posted a status on social media where he wrote that he will be missing you much. Soumya Sarkar also does the same. What makes you so special?
Neil McKenzie: There was something special for me to work in Bangladesh. I am not on social media. I think it was a two-way thing. For me, it was to be able to do my job effectively, and the players have to open up. It has been fantastic; I will obviously be grateful for that. I had been following for many years. This is not an end of the road with them. I will be in touch with my friends about whom I was mad in Bangladesh. There were exciting players. I think Bangladesh will defiantly push for a high-quality cricket in coming years. There were many good players.
Risingbd: You have worked a lot with young cricketers like Soumya, Liton, Nayeem? You have given them a scope to play freely. Do you believe you get the best out of them?
Neil McKenzie: There are many players who do not want to represent only the Bangladesh team. I think they want to see themselves in a place of high honour. They like to confirm a berth in the world cricket by playing in the national team. It'll be very good for the players, Bangladesh cricket and everybody in the setup. The guys are no longer happy averaging 30, they are pushing to cross 40 and 45 to 50. And that's the competition in the team to get better and better. They are not thinking of becoming just the man of the match or series. In the last couple of years what Liton has done is good and that's the real potential. I'm really excited to see what Bangladesh will do in the next five or six years. Bangladesh invested in Soumya, Shanto and Fizz, and the others are good potentials. They are practicing smarter. I think the next five years are a very exciting period.
Risingbd: Shakib played an outstanding game in the World Cup. Which tonic did you give him as a batting coach?
Neil McKenzie: Obviously, Shakib is one of the best all-rounders that the world cricket has. Everybody has their own difference. Shakib is also different. He is a smart cricketer. He prepares well and brings that into his game, and you can definitely see it. The best thing about Shakib is he always finds a way to do well regardless of the condition and match situation. The biggest job of the coaching staff is to give the guys a preparation what they might face in the next series. Before the world cup, we tried to prepare the boys the best way we could. Shakib had a very good World Cup. However, it's unfortunate that he is out of cricket now. It's very unfortunate for Bangladesh cricket. But he will come back and do his best in world cricket.
Risingbd: Would you like to mention a Bangladeshi batsman who will spearhead the next batting side?
Neil McKenzie: No. I don't like to mention any name now. I am not going to mention any of the batting guys coming through. You know Tamim, Mushfiq, Riyad, and Shakib have done much for the cricket. Young cricketers will take time to reach them although they are very talented. But I think that the gap between the seniors and juniors will reduce slowly. There are lots of guys who have not played much games but they are also coming in and it's exciting to see everybody is coming in and performing for one cause. That's an exciting period for Bangladesh cricket. You know senior players will only get better and better and they have been doing it in the international cricket for many years. They have got some really great work ethic and they are good guys. They want to get their numbers up there and you see what they have done in the last year or two years back. They got the big boom to do even better. But I think the biggest thing is that they have lifted the standard and the youngsters add the competition between them have definitely lifted the standard as well. So, if that standard keeps getting lifted, certainly it means a lot about batting. That's the exciting thing for me going forward.
Risingbd: The expectation you had from Tamim in the World Cup 2019 was not met. What was the reason behind this?
Neil McKenzie: I think the cricket fraternity puts Tamim under a lot of pressure and I think they always wanted him to perform. Tamim is an integral part of the team and the batting tempo how Tamim comes in and that's a huge part of Bangladesh batting. I think every cricketer goes through little patch but he doesn't need to tell the media or anyone else that he didn't score enough in the World Cup. He knows exactly what he should do and which standard he is from. He is a quality player. You know I think if you ask Bangladesh is a better side when he is playing and that's the biggest thing for me. Guys go through this but you have seen he has come out of it as he has got great work ethics and he thinks about the game and he is a huge part. For me it's not about one tournament as it's about how you conducted yourself and how you played over the career and if you look at his numbers and career, he has done really well. And I think he is definitely going to improve which is great sign for Bangladesh cricket as he is hungry. He knows where he wants to be, he knows what he wants to achieve. So, you don't need to worry about Tamim, he is fine and he will get more runs and help win a lot of matches for Bangladesh.
Risingbd: You work so hard with Tamim and Musfiq and many seniors. Who was the easiest to work with?
Neil McKenzie: As I said it's been a privilege working with these guys when players open up and express themselves and open up their game to you it's something I don't take lightly. So, I have been fortunate enough to work with all of the batsman. All players—seniors or juniors—supported me much.
What has struck me is the work ethics of many of the senior players. The guy like Mushy is very focused and doesn't hit the ball for the sake of hitting balls as he is always in something working on. Tamim's preparation as you see him hitting millions of balls as he does hit very constructively and very prepared of what he is going to be facing. He has done a lot of thinking in terms of his cricket on he is going to be facing. A lot of these guys as I said they dot just go and hit balls and whenever they went to the gets such guy like Mushy who is so focused and sometimes, we tell him to get relax. The sort of energy, fitness and his mental aspect, he just wants to get better. He never goes in to the net without any purposes and I think that sort of shows to the youngsters as well where one senior hit a million balls and the other does not hits a million ball but they both are focused and knows what they ae going to get out of the practice. If you got a squad going to the practice trying to get one percent better, I think you are I great environment and a healthy environment. An environment that will grow both the young and the older players to grow right the way until they retire. So really good sign and I am obviously going to say thanks to all those players for making my job easier having the belief to open up their games to me and interact. And I think we every player is a different interaction as some people need a preparation talk while some players need some coffee, some players need technical adjustments. So, I think you have got to be there for every player and try to engage on what he needs and what his preparation is to be in the best frame of mind to do well not just for himself but obviously for Bangladesh.
Risingbd: What was your best moment during stay in Bangladesh?
Neil McKenzie: If you are talking about the best moment, I would say the players around the setup. Every moment I have passed with them will remain memorable. In the field, we had a series win against West Indies, really played good and handsome cricket in the World Cup. As a batting coach, I really enjoyed they scored 300 plus score in England. In the opening game of the World Cup, a win against South Africa was a huge achievement. I had mixed feelings on that. You know that's my homeland. I was shocked watching my country flag downwards but it seemed good Bangladesh won that fascinating game with my idea and preparation.
Risingbd: Would you like to say about the possibility of Bangladesh in the World Cup 2023?
Neil McKenzie: Condition for another World Cup will be favourable for Bangladesh. I think lot of players of the current squad will represent the World Cup. The current player's fitness should be up to mark and they can take this as long as the can. If the mental side is good, nothing can stop them for gathering in three years of time. I think you don't have any other side that has such experience side and you know, instead of getting 4-5 match winners you get 8-9 match winners in your side. These guys will be really experienced. You know the World Cup is a pressure. These guys will be used and thinking by a good system. The senior players really don't have any fear. By the by I really thing the under-19 guys who won World Cup don't have any fear too. They won against New Zealand. South Africa and big final against India. The victory comes through their belief and the hunger for the win, I think that is definitely improving. You are going to the WC with lots of match winners, loss of serious good cricketers. I think Bangladesh have a great chance. Conditions will be more similar too. To Bangladesh, conditions you know what to expect. Go accordingly with that. Three years are still a matter. Lots of things can happen this time. But I think the potential, the belief and the thinking of the Bangladeshi players will be on the top and big things coming up. Who knows the 2023 world cup trophy may be for Bangladesh?
Risingbd: Will you celebrate the success of Bangladesh, sitting at home?
Neil McKenzie: Definitely, I will celebrate the success as I said before. I have already drawn up a picture for Bangladesh in my cricket. Certainly, I will celebrate the success. I am really grateful to Tigers for being able to work with them. Bangladesh cricket will always be in my thinking and I believe it will also remember me. Certainly, I will try my best to watch their every match.
Wherever I am, maybe with Bangladesh or may be with another country, or may be in golf course; I will definitely support Bangladesh. It should be right to share a thing that Bangladesh will always remain as the second best team to me. In terms of the World Cup final, I definitely support South Africa against Bangladesh.
Dhaka/Yeasin/AI