M Mahfuzur Rahman: Three more customers in three districts have been awarded Tk 10 lakh each on the purchase of Walton fridge under the offer titled 'Who will be today's millionaire' of the local brand.
The customers were: housewife Shilpy Akhter in Kishoregonj, college student Humayra Akhter in Hobiganj and bus driver Enamul Haque in Sylhet.
Among them, Shilpy Akhter, wife of a Saudi expatriate in Kishoregonj, has recently purchased a 17 cft refrigerator from Udayan Electronics and Social Marketing, a distributor of Walton at Pirijpur Bus Stand in Bajitpur Upazila. Then she registered the purchased fridge with the product's bar code, her name and mobile number under the nationwide ongoing 'Walton Digital Campaign Season 4.' After a while, she got a message of Tk 10 lakh award from Walton.
On October 3, internationally renowned cricket commentator Athar Ali Khan and Walton's Executive Director Uday Hakim handed over a cheque of Tk 10 lakh to Shilpy Akhter.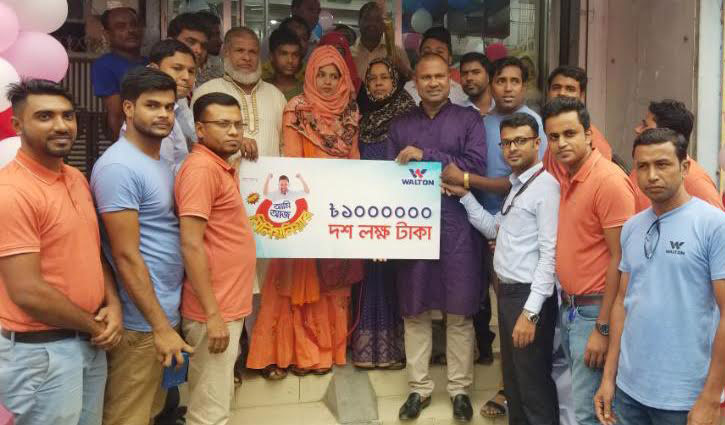 College student Humayra Akhter Pinki, who got Tk 10 lakh buying Walton fridge, is receiving Tk 10 lakh worth cheque.

The cheque giving ceremony was also attended, among others, by Bajitpur Upazila Chairman Saroar Alam, Walton's Deputy Executive Director Firoj Alam, Additional Director Rabiul Islam Milton, Pirijpur Union Parishad Chairman Jafor Iqbal Jewel, Udayan Electronics's Proprietor Delowar Hossain Mannan and local journalist Nasrul Anowar.

Cricket commentator Athar Ali Khan said, 'Walton is going to be the best global brand. Walton always patronizes the cricket and thus we will be with Walton. You, love cricket, love Walton that means Bangladesh.'
Uday Hakim said, 'Once electronics appliances loaded ships were came in Bangladesh. But now, 'Made in Bangladesh' labeled electronics goods loaded ships are going to around 35 countries. Earlier, we said that Walton would be available in every home of the country. Now we said, Walton will be in every home of the world.'
Shilpy Akhter said, 'Many neighbours got free fridge, television, air conditioner and cash vouchers through buying Walton fridge. Thus, I bought a Walton refrigerator. But I never imagined that I got Tk 10 lakh.'
Recently, a college student in Habiganj Humayra Akhter Pinki has purchased a Walton brand 9 cft refrigerator from the local brand's distributor outlet at Bogla Bazar named Ittadi Electronics and then received Tk 10 lakh through registering her refrigerator.
Walton authorities handed over a cheque of Tk 10 to Pinkin on September 29 last. During that time, Habiganj Poura Mayor Mizanur Rahman Mizan and Walton's Deputy Assistant Director M Mahfuzur Rahman were present.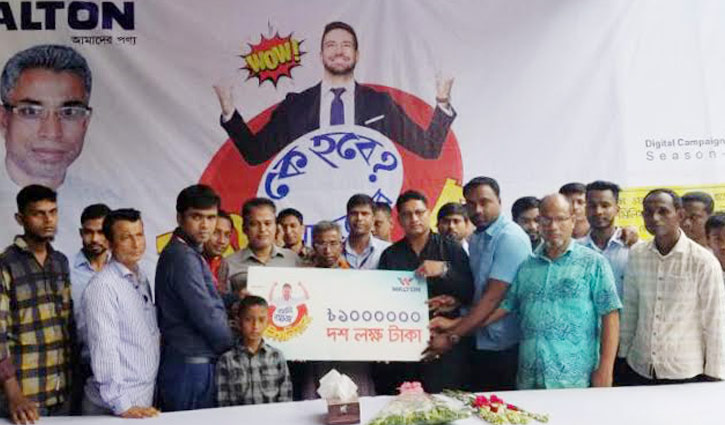 Bus driver Enamul Haque, who got Tk 10 lakh buying Walton fridge, is receiving Tk 10 lakh worth cheque.

Another customer Enamul Haque, a bus driver in Biyanibazar, Sylhet was awarded Tk 10 lakh after purchasing a 11 cft refrigerator from a Walton's distributor outlet at Ramdha Bazar named 'Dihan Kha Enterprise.
On October 1 last, a cheque of Tk 10 lakh was handed over to Enamul. The cheque giving ceremony was attended, among others, by Biyanibazar Poura Mayor Abdus Sukur, local businessmen Lutfur Rahman, Jamal Uddin and Nazib Ali, Robi's distributor in Biyanibazar Shahed Ahmed Chowdhury, Walton's Area Manager Sumon Ray Chowdhury and other localities.
Besides the Tk 10 lakh awardees, two more customers of Walton fridge got Tk 1 lakh each. They were: Mohammad Ali of Murapara village under Madhobpur Upazila and auto-rickshaw driver Nazmul Mia of Balirar Par village under Kotiadi Upazila.

Dhaka/M Mahfuzur Rahman/Nasim