8 among 84 in militant`s `hit list` erased
Md Mahfuzur Rahman || risingbd.com
Published: 10:21, 30 March 2015 Update: 15:18, 26 July 2020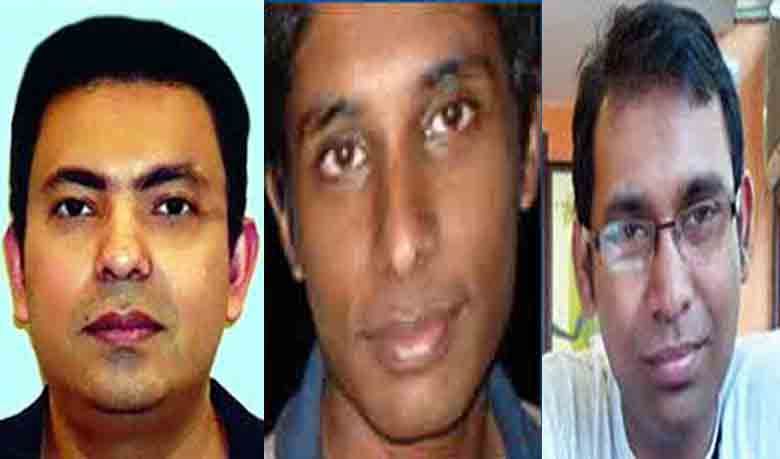 From left Avijit Roy, Washiqur Rahman and Ahmed Rajeeb Haider
Uzzal Jisan: In a bid to overthrough the Shahbagh movement that was erupted last year demanding to try the war criminals, Ansarullah Bangla Team, a militant organisation, in the country, had published what they claimed as `hit list` of 84 people to kill them.

The hit list includes bloggers and free-thinkers of the new generation who were involved in the Shahbagh movement directly and stage demonstration demanding to try the war criminals.

When the militant outfit published the list they claimed the bloggers, saying, "All of them are enemy of the Islam."

They, at that time, also threatened to murder the bloggers in separate times through facebook.

"They should be killed as they have hurt the Muslim religious sentiments," the militant outfit also stated at that time.

The `hit list` includes- Imran H Sarkar, convener of Gonojagoron Mancha, Asif Mohuddin, Avijit Roy, Ahmed Rajeeb Haider, Maruf Rasul, Aarif Jebtik, Ibrahim Khalil, Arifur Rahman, Ananna Azad and Mahamudul Haq Munsi.

A total of eight targeted bloggers and online activists have been killed till now who were included in the list along with the latest development of the killing of Washiqur Rahman, 27, today.

On February 26, miscreants stabbed Avijit and his wife repeatedly before a dumbstruck crowd near the Teacher-Student Centre on the Dhaka University campus at around 9:15pm when they were on the way home after visiting the Amar Ekushey Book Fair on the Bangla Academy premises.

Hours after the death of the author and blogger, the responsibility of the crime was claimed by a Twitter account reportedly belonging to "Ansar Bangla 7" - the group believed to be a religious fundamentalist.

Rajeeb Haider, also known as 'Thaba Baba' (Father Claw) in the blogger community, who was one of the activists in the Ganojagaran Mancha, was also hacked to death by the criminals near his residence in the capital's Pallabi on February 15 last year.

The other five bloggers who were killed by the militants are Jafar Munshi, Mamun Hossain, Jagatjyoti Talukder, Arif Hossain Dwip and Ziauddin Zakaria Babu.

Imran H Sarkar, however, said in this regard : "The militants are continuing killing as the government did not bring the killers under trial in the previous incidents."

"The authorities concerned till now could not find any of the clues, in connection with the murder of Avijit Roy, though the law enforcers have detained one of the criminals over the gruesome murder," Imran H Sarkar also alleged.

risingbd/ DHAKA/ Mar 30, 2015/ Jisan/ Mahfuz/Augustin Sujan

risingbd.com