Economic Reporter: Finance Minister AHM Mustafa Kamal noted that Bangladeshis are now satisfied on using Walton products. Walton have not been deviated from the objectives of journey. Rather they are moving forward beyond our expectations. They are bringing locally finished hi-tech products in the American market. Through Walton, we will get 'Made in Bangladesh' tagged finished products in America.
The finance minister made the remarks while visiting Walton Hi-Tech Industries Limited (WHIL) at Chandra in Gazipur on Sunday (March 1, 2020).
While visiting (WHIL), the minister inaugurated the country's first-ever elevator manufacturing factory at Walton factory. In addition, AHM Mustafa Kamal officially launched Walton's four other projects, including maiden export of 'Made in Bangladesh' smartphones to the United States, export of huge volume air conditioner to India, Walton's All-in-One PC and Walton TV's own operating system 'ROS'.
Meanwhile, Walton factory has been declared as Private Hi-Tech Park and thus Bangladesh Hi-Tech Park Authority and Walton inked an agreement in this regard.
During that time, Posts and Telecommunications Minister Mustafa Jabbar and State Minister for ICT Division Zunaid Ahmed Palak were also present.
Addressing the function, finance minister said, "Starting journey with a dream for Bangladeshis, Walton has been moving ahead with a perfect road map towards the fulfillment of dream. They are exporting locally finished mobile phone, laptop, compressor, household appliances etc. to the global market. For that, Thanks Walton."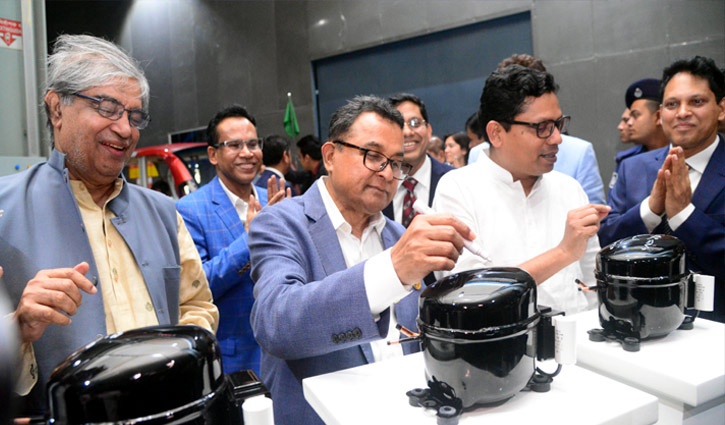 Earlier, the ministers and other guests were greeted with flowers by Walton Hi-Tech Industries Limited Chairman SM Nurul Alam Rezvi, Vice-Chairman SM Shamsul Alam, Managing Director SM Ashraful Alam, Director SM Mahbubul Alam, Walton Digi-Tech Industries Limited Chairman SM Rezaul Alam, Managing Director SM Monjurul Alam, Walton Group Director Tahmina Afrose Tanna, Raisa Sigma Hima and Rifah Tasnia Swarna.
The ministers also visited various production plants including refrigerators, compressors, televisions, air conditioners, mobile phones, computers, laptops, home appliances, electric appliances and mould and die, etc. These products are being exported to different countries around the world after meeting local demands.
Mentionable, the annual production capacity of the newly built elevator factory is 1000 units which will be upgraded to 2000 units soon. With the opening of factories in the country, the sector will save huge amount of foreign currencies. There will be no need to import elevators from abroad at higher prices.
The ministers also inaugurated the exporting of the first 'Made in Bangladesh' smartphone in the US. Walton will supply the smartphones to a renowned American brand as the OEM (Original Equipment Manufacturer). As a result, Walton smartphones will compete with the renowned global brands in the market.
Walton inaugurated country's first ever mobile phone production plant in October 2017. Since then, the Bangladeshi OEM has manufactured 60 lakh handsets (17 lakh smartphone and 43 lakh feature phones). Walton meets its entire demand from local production and since 2018, they stopped importing any handset.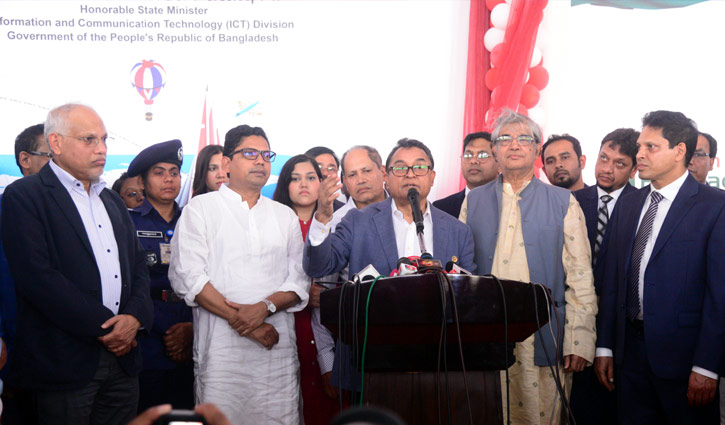 At present Walton's production capacity is 8 lakh smartphone and 20 lakh feature phone per month.
Besides, handsets, Walton also manufactures mobile phone accessories and meets its entire demand of accessories from local production. The local made accessories and mobile parts include charger, battery, earphone, housing, PCB (printed circuit board), USB cable etc. Currently, Walton produces 10 lakh Charger, 5-6 lakh batteries and more 5-6 lakh earphones. However, it has double production capacity.
The newly built operating system ROS (Rezvi Operating System) is a complete operating system for televisions. It has been developed according to the needs of the people of the country. As a result, the TV will work faster. Changing from one channel to another will take less time than before.
Besides, the pictures of the TVs will be livelier. The quality of the sounds will be improved and stronger than ever. ROS is being used in all Walton basic TVs.
Walton manufacturing and marketing 3 models of all-in-one PC that features Intel's 8th and 9th generation Corei3 and Corei5 processors, 8GB RAM, 1 terabyte hard drive etc. These PCs prices 46,950 to 55,500 BDT.
During the visit, the ministers gave away laptop and cash cheque to 54 meritorious students.


Dhaka/Augustin Sujan/Nasim