India makes it intent clear to expansionist forces
Published: 12:46, 4 July 2020 Update: 15:18, 26 July 2020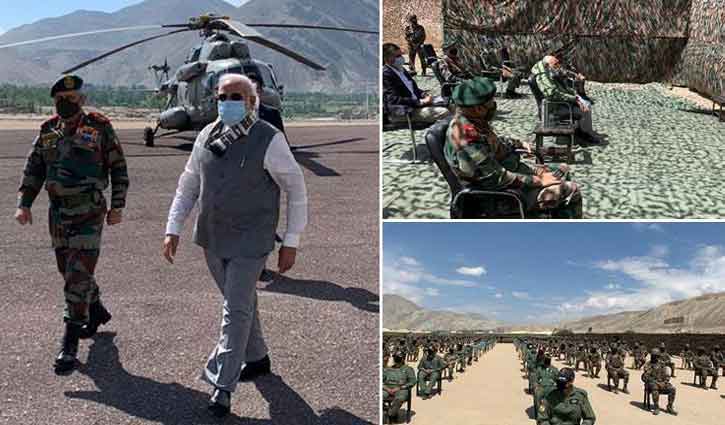 China stands shocked and rattled by India's aggressive and proactive resistance to its attempts to encroach into the latter's territory in Ladakh, with Prime Minister Narendra Modi himself leading India's wholesome response to force the Dragon to back off.
For the first time since the intruding Chinese troops killed 20 Indian soldiers in the Galvan Valley on June 15, China's official reaction lost a lot of its sting as it sought to digest the surprise visit of Prime Minister Modi to the border region in Leh to boost the morale of the Indian military.
He was also tapping into the growing anti-China sentiment owing to the latter's growing brazenness in the post-Covid world. In a sense, the Prime Minister provided a definite channel to this sentiment by locating the Ladakh incursions of China into the larger picture of its global expansionist plans.
The Prime Minister went for the jugular in Leh as he admonished China without taking its name: "The age of expansionism is over, this is the age of development. History knows that expansionist forces have either lost or were forced to turn back."
Modi did not stop there. He went the whole hog, saying: "The weak can never accomplish peace, the brave do."
The reference to expansionism is a tactical strike by Modi. It not refers to China's unauthorised advances into the Indian side of the LAC in Ladakh, but points to China picking out territorial fights with all neighbours with which it shares a border. In one sentence, India sought to isolate China on the border disputes issue, arraigning itself with the 21 harassed parties.
China was silent throughout the day. Even the social media handles of known Chinese supporters remained mute. Towards afternoon, it came out with a peremptory statement. Chinese foreign ministry spokesperson Zhao Lijian was quoted as saying: "India and China are in communication and negotiations on lowering the temperatures through military and diplomatic channels. No party should engage in any action that may escalate the situation at this point."
Compare the nuanced, back-footed and neutral tone of this message with what China said a day after it killed 20 Indian soldiers. The spokesperson of the western theatre command of the People's Liberation Army (PLA), Zhang Shiuli, ranted on that occasion: "The sovereignty over the Galvan Valley area has always belonged to China."
Simultaneously, foreign ministry's Zhao was using language not generally heard in diplomatic circles, blaming Indian army for its "adventurous acts" that breached "basic norms governing international relations". He described these actions thus: "They are of a vile nature and have severe consequences". Not stopping at that, China also demanded that India "strictly discipline" and "severely punish" its troops.
This bellicose jingoism was absent in China's reaction to Modi's visit. In fact an indication of China's thoughtful reaction to India's concerted response to the June 15 violence was available when 59 Chinese apps were banned.
Zhao of the foreign ministry initially said "China is strongly concerned, verifying the situation". His full statement was shorn of China's usual insolence. It was instead appealing: "We want to stress that Chinese government always asks Chinese businesses to abide by international and local laws-regulations. Indian government has a responsibility to uphold the legal rights of international investors including Chinese ones."
China sure is a mighty and powerful adversary, but then even its bluff can be called. And that is what India has done in the last one week. Modi's visit to Leh is the icing on this cake.
India has in the last fortnight taken a host of decisions which seen in the perspective of the stand-off with China represent its mettle; they constitute a string of initiatives on several fronts – military, diplomatic, economic, social – to make China pay. And importantly, convince China that India means business this time.
Hitherto, India never took sides with or against China on the Hong Kong protests. But this time around, it took a strong stand on the passage of a neew Chinese law that is aimed at stifling demands for democracy and protests against human rights violation by mainland China.
India used the occasion of the presentation of the annual report on Covid-19 by the UN High Commissioner for Human Rights to react to the new law. India's permanent representative to the UN Rajiv Chander said: "Given the large Indian community that makes the Hong Kong Special Administrative Region of China its home, India has been keeping a close watch on recent developments."
He observed on record how several countries issued "several statements expressing concern on these developments" and added: "We hope the relevant parties will take into account these views and address them properly, seriously and objectively". He did not have to name China.
India is strengthening its military presence in the Ladakh region to neutralise any Chinese advantage. It has blocked Chinese firms from investing in India under the free FDA route. It has taken several initiatives to force a global probe into the source and origin of Covid-19. It has banned 59 Chinese apps.
India's railways ministry has cancelled a signals and telecom contract to a Chinese company to a mammoth freight corridor project in Uttar Pradesh. Bharat Sanchar Nigam Ltd (BSNL) and Mahanagar Telephone Nigam Limited (MTNL) have decided to exclude Chinese firms from providing telecom equipment and cancelled their tenders for upgrading 4G services. The roads department has announced that no highway projects will be awarded to China. The power ministry is looking to curtail imports from adversarial nations like China. The move is aimed also at reducing the scope for the adversarial nations to indulge in cybercrime to cripple the power infrastructure.
Several Indian states have followed up on the Union government moves. There is a demand to deny a Chinese firm, Shanghai Tunnel Engineering Co Ltd, a contract for the construction of a critical section of the Delhi-Meerut RRTS corridor. The firm had emerged as the lowest bidder on June 12.
Maharashtra is on the verge of cancelling three agreements worth Rs. 5000 crore with Chinese firms. It includes a MoU with China's Great Wall Motors (GWM) to set up an automobile plant near Pune and produce electric vehicles there. The state is however going ahead with nine other agreements signed with the US, Singapore and South Korea, indicating to China the things to come.
Apart from the military build-up in Ladakh, India has taken several steps to augment its military stance. On June 27, the Indian navy and the Japan Maritime Self Defence Force conducted a goodwill training in the Indian Ocean.
India's defence minister Rajnath Singh returned from Russia in late June with a commitment from the Russians to speed up the delivery of five regiments of the S-400 Triumf anti-missile system apart from detailed agreements on new fighter aircraft and upgradation of older squadrons.
On July 1, US Secretary of State welcomed India's ban on 59 Chinese apps:" We welcome India's ban on certain mobile apps that can serve as appendages of the CCP's surveillance state. India's Clean App approach will boost India's sovereignty. It will also boost India's integrity and national security as the Indian Government itself has stated."
Prime Minister Modi had a telephonic conversation with Russia President Vladimir Putin on July 2 and had the satisfaction of the latter "(reiterating)… his commitment to further strengthen the Special and Privileged Strategic Partnership between the two countries in all spheres".


Dhaka/Hasan
risingbd.com