Uday Hakim, Back from Dublin (Ireland): It was 2017 when first time I got Ireland's visa in just two hours. A wonderful memoir of my life. I was traveling to Delhi for getting the visa by a Jet Airways flight.
When I entered into the Dhaka Airport's boarding lounge to get on the flight, I saw Physician Dr Iqbal Kabir. After a long time, we met with each other. There are some appearances that will always give you good feelings. Iqbal Kabir is seemed such an appearance to me. You will find him with a happy smile always. I have never seen him getting upset as well.
Once if you visit Dr Iqbal for a moment, half of your disease will be cured. Medical practitioners should actually be like him. Sometimes India's Devi Shetty is compared to God! I will say Dr Iqbal is also a God in Bangladesh. Those who are thinking I am overdoing on him, they can meet him once.
Dr Iqbal asked me, 'Where are you going Uday Hakim?' 'Delhi,' I replied. 'Why are you here,' I enquired. 'I'm going to Delhi to join an international seminar that will be organized by the World Health Organization,' he replied.
'Why are you going to Delhi', he asked me. In response, I informed Dr Iqbal, "A tri-nation cricket series including Ireland, West Indies and Bangladesh is going to be held in Ireland. Bangladesh Cricket team has already reached there. You will be glade knowing that Walton is the title sponsor of this series. And, the authorities concerned nominated me as a representative of Walton to be present during the prize giving ceremony at the end of each match. Thus, I am going to the Embassy of Ireland in Delhi to manage visa. But the matter of concern is that I will have to manage the visa within a very short time."
"Let's see what happens," Dr Iqbal gestured with smiling face and asked, "Which hotel I booked"? I replied, 'Still, no hotel is booked.'
I heard that all the Embassies in Delhi are situated in Chanakyapuri, a diplomatic enclave centered on sprawling Nehru Park, a landscaped expanse with ponds, a Lenin statue and regular Indian music performances.
The name Chanakyapuri is very striking to me. It may be named after Chanakya, an ancient Indian teacher, philosopher, economist, jurist and royal advisor.
There is no hotel in Chanakyapuri. This place is recognized as the aristocratic area in India. But, one of my elder brother named 'Swadhin' told that I found lots of hotels in Paharganj, a nearest city to Chanakyapuri. No need to book those hotel in earlier.
Then, Dr Iqbal proposed me to stay with him in La Meridien Hotel. He said, "Earlier, I have booked a double room there. So Uday, you can stay with me if feel no problem."
I thought, La Meridian would definitely the best hotel there and also closest to Chanakyapuri. So I agreed with Iqbal and decided to stay with him.
We finished the immigration work together in Delhi. A car was sent from the hotel for Dr Iqbal. One of the WHO's representatives was also inside the car. Within a short time, Dr Iqbal made a good relation with the representative and the driver through speaking in Hindi. As I hardly know Hindi. So it's a strategy not to open mouth in a situation like this. Dr Iqbal requested the driver to go towards the Embassy of Bangladesh at Chanakyapuri.
The first time I got sizzling in Delhi city. It's much like Dubai city. The trees are small in number beside the roads. The small trees like in the desert were seen in the roadsides from the airport to Chanakyapuri. But I have seen green plants from the aircraft. Undoubtedly, the trees are on the other side of the city.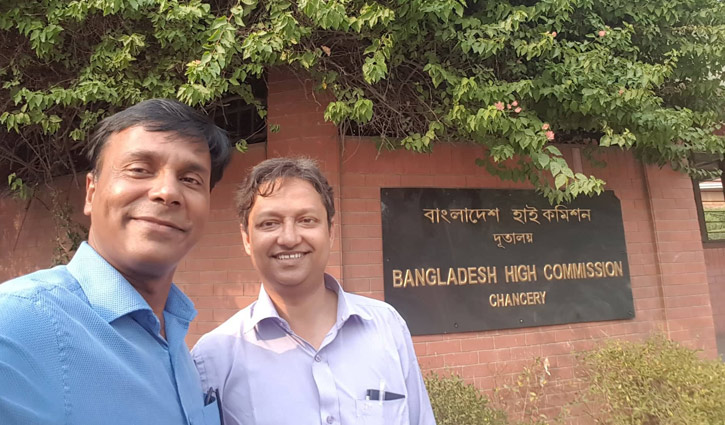 Uday Hakim and Dr Iqbal Kabir in front of the Embassy of Bangladesh.
Shortly thereafter, we went to Chanakyapuri. For instance Baridhara embassy area of Dhaka is more beautiful than any other areas here; Delhi Embassy area is even more beautiful than that of Dhaka. Driver took us to the Bangladesh High Commission Bhaban within short time at EP-39, Dr. S Radhakrishna Marg area in the city. Don't' be confused! Marg means symbol, path or something to remember.
On the way Iqbal Kabir asked me whether I do know Farid Hossain. Journalist Farid Hossain has served the Associate Press (AP) for long. He is well known to many people in Bangladesh. He was a trainer in various training session on journalism arranged for journalists in Dhaka.
Farid Bhai (brother) is a nice and gentleman. He is now working as the Press Minister of Bangladesh High Commission in Delhi. Dr Iqbal talked with Farid Hossain. I also talked with him over phone and said, 'I'm coming to meet you Farid Bhai.'
Bangladesh High Commission building in Delhi is very large, beautiful to look and well organized as well. I went straight to his room there. I have a mug, a wallet and my book 'Beautiful Fisherwoman and Mysterious Cave' ('Sundari Jelekonnna and Rohossomoy Guha' in Bangla accent) for him. I handed him. The man is very sincere. He was also happy to meet us.
After hearing words from me he said, 'How do you get visa in a short time? It seems impossible. I will talk with some Ireland embassy officers in the evening at the diplomatic clubs.'
I went out of the room and requested the driver to go to the Ireland Embassy hurriedly at C17 Malcha Margi in Chanakyapuri. The road is well-known to the driver. Otherwise it was difficult to find out for me. It is situated beside a narrow road near a park. Heat wave was blowing from the park.
The embassy gate is closed. The gate is also small in size. The front door of an embassy could be a bit bigger. It was assumed to have a pocket gate. Everywhere is silence here. Silence like a haunted house!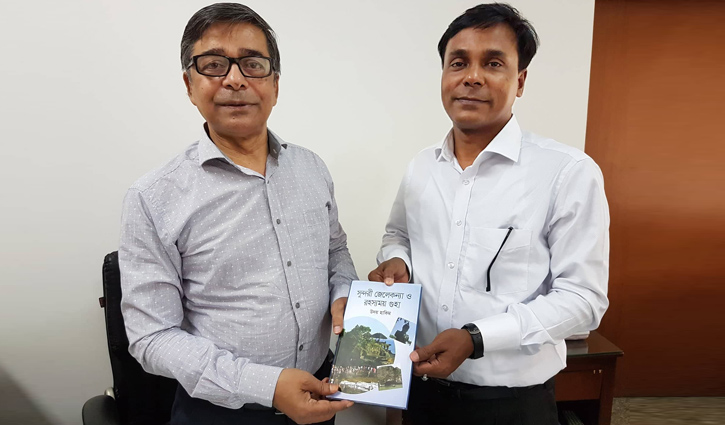 Uday Hakim is presenting his book 'Sundari Jelekonnna and Rohossomoy Guha' to Press Minister of Bangladesh High Commission in Delhi Farid Hossain.

It's a small shaded house outside the embassy gate. There is a giant man sitting on a bench. The man wearing uniforms and olive colored cap on the head was from Ireland. When I asked about the visa related issues he said, 'Where are you from?' I answered. He said, 'Visa related paper must be submitted in Kolkata. There is no application process for Bangladeshis in Delhi. But those who can apply in Delhi are required to give papers by courier only. It's through DHL. You can go out and make a courier.'
'We have to go inside now, it's special case,' I told the man. 'Come tomorrow morning,' the man suggested. I was frustrated then and felt a great anxiety over the issues. I told myself that I couldn't go to Ireland this time!
The next time I talked with him, it seemed that the man was speaking English like the Indians. But why is the man so grim at me? I only requested him to let me get in and meet someone else inside to discuss. I only wanted him to say other way to my problem. But his 'no' means 'no'. He also said that there won't be the visa from here. But I have to take a visa. It's badly needed. Otherwise, who will hand over the award of the man of the match?
(To be continued . . .)
(Uday Hakim is the advisory editor of risingbd.com and also an executive director of Walton Group)

risingbd/Dhaka/July 14, 2019/Mahfuzur Rahman/Nasim

**Ireland's visa so easy to get!