Marcel Digital Campaign Season-6 starts
Published: 09:22, 25 February 2020 Update: 15:18, 26 July 2020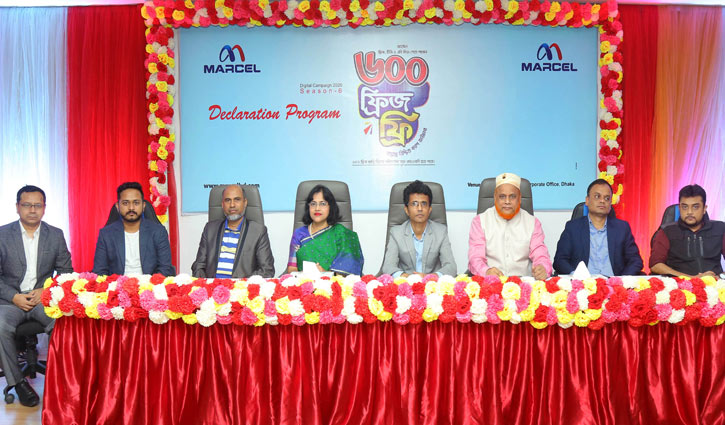 Local electronics manufacturer Marcel has started Digital Campaign Season-6 across the country aimed at accelerating the process of forming 'customer database,' an initiative for delivering online-based after sales service and improving products' quality as per the customers' feedback.
To encourage customers' simultaneous participation in the campaign's Season-6, the local brand has declared some special benefits, including 600 units of free fridge and different values' sure cash vouchers, on the purchase of fridge, TV and air conditioner during the period of February 24 to May 31, 2020.
Marcel officials announced these benefits at the 'Declaration Program of Digital Campaign Season-6' held at Marcel Corporate Office' conference room in the capital on Monday.
In Season-6, customers can get 600 units of fridge as free by purchasing any model of fridge, TV or AC from Marcel outlets across the country. Otherwise, sure cash vouchers up to Tk 10,000 are available for each customer. In addition, customers of Marcel AC are also offered maximum 12 years equivalent electricity bill.
The declaration program was attended by the company's Chief Sales and Marketing Coordinator Eva Rezwana, Executive Directors Amdadul Haque Sarker, SM Zahid Hasan, Uday Hakim and Ariful Ambia, Refrigerator Department's Chief Executive Officer (CEO) Golam Murshed, AC Deptt's CEO Tanvir Rahman, TV Deptt's CEO Mostafa Nahid Hossain, Deputy Executive Director Firoj Alam and other senior officials of the company while the programme was moderated by Additional Director Robiul Islam Milton.
At the event, Marcel officials informed that they brought the post sales service under the online network. Thus, they have been creating customer database through conducting digital campaign for the last two years.
During the campaign, products' bar code, customer's name, address and contact number have been stored on Marcel's customer database.
As a result, customers are getting desired after sales service from any service center of the local brand without showing their product's warranty card. Besides, Representatives from Marcel service centers are knowing customers' feedback or opinions on the products after sales service and forwarding those to the respective product's research and development center for the product's further improvement in line with customers' satisfaction.
It may be noted that Marcel's fridge customers are getting one-year replacement guaranty and 12 years guaranty for fridge compressors. And, AC are also enjoying 1 year replacement guaranty and maximum 10 years guaranty for compressors while 6 months replacement guaranty, maximum 4 years guaranty on TV panels and 5-year service warranty are available on Marcel TV. For delivering swift after sales service, the local brand has 73 service points across the country under the ISO standard service management system.
Dhaka/Mahfuz/Mukul
risingbd.com